What Is BLI and Why Should You Apply?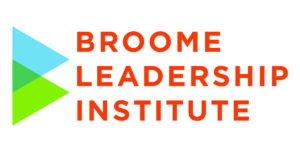 The Greater Binghamton Education Outreach Program (GBEOP), a non-profit affiliate of the Greater Binghamton Chamber of Commerce, will be hosting the Broome Leadership Institute (BLI) Class of 2023 Recruiting Event and BLI Alumni Association Annual Meeting on Thursday, June 9, from 5:00 PM to 7:00 PM at Traditions.
The Broome Leadership Institute has brought together hundreds of professionals from a wide range of industries for 35 years to provide critical instruction and foster a network of leaders committed to improving the quality of life in Greater Binghamton. The Broome Leadership Institute is an immersive six month community leadership program; each BLI class is comprised of 20 selected candidates that reflect the diversity of the community and represent a cross section of business, government, education and non-profits. BLI affords participants the opportunity to form invaluable connections while deepening their understanding of the region. Throughout the program, class members will meet with key stakeholders and decision makers from several industries, such as education, agriculture, healthcare, and more, as well as receive critical leadership training including sessions on emotional intelligence, current issues, and diversity, equity & inclusion. Each session provides a behind the scenes look at our community, how it works, who makes it work, what problems we face and learning how and where we can help. Participants gain an increased knowledge of the resources, services, and issues that affect the larger community, and utilizing their collective networks & experiences, work together to identify and pursue an impactful community service project.
At the recruiting event on Thursday, June 9, prospective BLI members will have the opportunity to hear from BLI Alumni firsthand. The Broome Leadership Alumni Association is an incredibly active group in the region, continuing their community development efforts through programs such as Kids CAN Build, formerly known as Canstruction, an annual fundraiser focused on raising awareness surrounding food insecurity while also promoting STEM education which provided both monetary and food donations to the Community Hunger Outreach Warehouse (CHOW). Alumni often credit the Broome Leadership Institute program for helping them develop a new perspective when approaching issues at work or within the larger Broome County community as well as facilitating lifelong personal and professional relationships. Prospective candidates are invited to attend the BLI Annual Alumni Meeting immediately following the recruiting event at 6:00 PM to see how alumni further their commitment and the long term benefits of joining this highly acclaimed program.
BLI Class of 2022 Alum Mark Ropiecki, Execuitive Director, Care Compass Network, said this about the program, ""BLI is a great program that helps display and highlight our community. Leaders in our region are very proud of their work and mission and were extremely generous with their time to share their stories with us. I enjoyed the hands on approach which allowed us to get immersed at each session
and really get to know the local businesses. I will walk away from the program with many new friendships and contacts as well as a much deeper understanding and awareness of our community – which has already helped me professionally and personally."
Gary Gates, the Operations Manager at Coughlin & Gerharp LLP, (BLI '22) said, "BLI opened my eyes to the incredible potential that Broome County has to offer. Not only do I have a new outlook on the community I live in, but I was also privileged to meet and become close with my fellow classmates in a way that will continue long after the program ends!"
Employees that go through the Broome Leadership Institute not only work more effectively within their own office and industry, but are more prepared to pursue innovative and collaborative solutions to the issues they may face in their professional, personal, civic, and/or community roles. Those interested in attending the recruitment event can register here. Applications for the BLI Class of 2023 are due on August 1, 2022; more information on the application process can be found here. Any questions regarding the program should be directed to GBEOP Director, Rose Olsen, at rolsen@greaterbinghamtonchamber.com