Market Your Business
The Chamber offers exclusive, cost-effective ways to market your business to fellow members and the community through a variety of methods.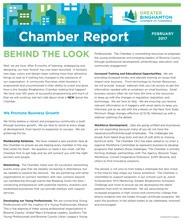 Chamber Report Newsletter
The Chamber's monthly printed newsletter distributed to all Chamber members and throughout Broome County.
Circulation: 3,000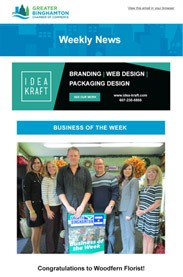 Member News and Events E-blast
A twice-monthly electronic publication that gives members an opportunity to promote an upcoming event or announcement to other members.
Circulation: 1,400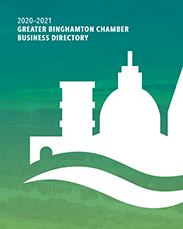 Business Directory
The easiest way to find businesses and members in the Greater Binghamton Chamber of Commerce. The Business Directory is organized by category and lists comprehensive contact information for the Chamber's 850 member companies.
Circulation: 1,200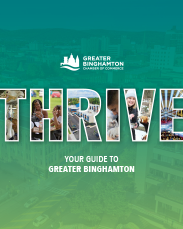 THRIVE: A Guide to Greater Binghamton
This newly revamped piece showcases our community's growth through engaging copy, interesting content and vibrant visuals. Rather than simply being a reference piece, THRIVE can become a quality retention tool and lifestyle guide for the area. The guide is primarily distributed to all Chamber member companies, newcomers, visitors, businesses relocating employees into the area, and others.
Circulation: 4,000