SAM A LUPO & SONS, INC HONORED AS INAUGURAL FAMILY-OWNED BUSINESS OF THE YEAR AT BINGBIZCON 2021!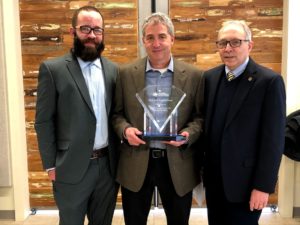 The Greater Binghamton area is fortunate to be home to many family-owned businesses; some are on the fifth generation! The Greater Binghamton Chamber created the Family-Owned Business of the Year Award to recognize and celebrate these remarkable businesses and to honor their long-standing commitment to this community either as a first-generation company with multiple family members in ownership or a multi-generation company that has completed at least one generation transfer within the family.
Sam A. Lupo & Sons, Inc. was honored as the inaugural recipient of this award at the virtual BingBizCon 2021 by Peter Newman, Regional President of M & T Bank, and the event's Title Sponsor. Theirs is a great story of perseverance and family ties.
In 1951, two brothers, Sam Lupo, Sr. and John Lupo, whose Italian parents came through Ellis Island, opened Lupo's Meat Market on the corner of Watson Boulevard and Rogers Avenue in Endicott.
In the 1960's, Sam Sr., John and cousin Bart opened the Endwell Char-Pit which is now owned and operated by John Jr. and son Phil.
In 1978, Sam Jr. and brother Steve purchased an old Dairy Queen building and opened what is now known as S & S Char Pit on State Street in Binghamton.
Eliott Lupo, Sam's son and third generation, started with Lupo's seventeen years ago and is kept busy learning all aspects of the business.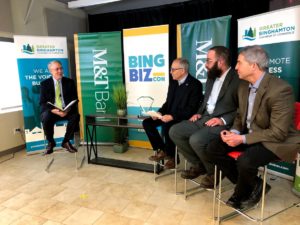 Family businesses are unique in many ways but in particular, once you leave the workplace, you are still with the family! Those dynamics present challenges to maintaining family peace while building a successful business.
The Lupo family is large, both with immediate family and extended family as well. Family members all have pride in their family story and the family products.
Competition and disagreements have arisen over the years but have been worked out because of the mutual understanding and respect family members have for each other.
Innovation is critical to the success of all business. Sam A. Lupo & Sons have thrived because of their innovation with chicken spiedies.
Currently plans are in the works to move their bottling plant to their former meat processing plant on Campville Road. They are re-purposing that building to accommodate their bottling operations and it will then be less than a mile from their brand-new headquarters and meat processing plant.
Spiedies had been around for many years, but were always beef, lamb or pork. In the early 1980's Sam Lupo, Jr. was convinced that chicken would make for a better option, especially given certain family members' heart conditions. He thought chicken would prove to be a healthier version.
Sam's idea failed that first year of experimentation. No one liked the idea at first; customers would not try them. As Steve said to Peter at BingBizCon "it was a flop". But Sam persevered and, with marketing and offering free tastings, chicken spiedies caught on and now outsell other spiedies four to one!
Their first USDA meat plant was opened on Front Street in Vestal, then it was moved to Campvile Road in Endicott. It now is housed in their renovated offices and brand-new 9,000 square foot plant on Dickinson Street in Endicott. As Eliott said at BingBizCon, "Everything is automated and state of the art. I can check the temperature of the cutting room right now on my phone."
In 2013, the Lupo family purchased a building in Kirkwood with a full complement of bottling equipment and started their own bottling operation. In 2017 they more than doubled the size to accommodate increasing business and storage.
Community involvement has always been a priority for the Lupo family. As Sam says: "We have a moral responsibility to give back to the community."
He goes on to say this attitude was ingrained in him and Steve by their parents.
That commitment to the area shows in where the family chooses to live. Sam Sr. was born in Endicott in 1923 and forty-seven years later, the owners of Sam A. Lupo & Sons still live in the Endicott and the Town of Union area.
The list of organizations  they have helped and continue to help is extensive and the boards Sam, Steve and Eliott serve include most of the non-profits in our area! Included in that list are Spiedie Fest and Balloon Rally Expo; UHS at Ideal; UHS Foundation; Mom's House; Dick's Sporting Goods Open Food Committee; Endicott Rotary and Tioga State Bank Community Board.
In addition to serving on boards, they are involved with many local events and area organizations like Catholic Charities; CHOW; Binghamton Devils; Binghamton Rumble Ponies; HCA; Make-A-Wish and the list goes on from there.
As Sam says: "Broome County is blessed by the number of businesses and individuals that give their time and talents and, when necessary, their financial assistance. We want our community to be successful!"
Congratulations to Sam, Steve and Eliott on receiving the inaugural Family-Owned Business of the Year Award! We wish them continued success and look forward to their next innovations!