Leadership Alliance Ready to Lead Our Recovery Effort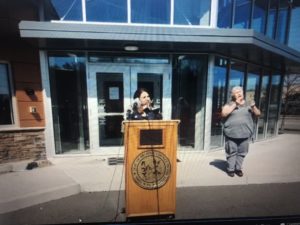 The Leadership Alliance, the informal merger between the Chamber and The Agency was formed with the recognition that the community's largest business and economic development organizations were stronger together than they were apart.
Moving into 2020, our goal with the Alliance was to create a dynamic and powerful "economic blueprint" for our future, on the heels of the most positive economic data our community had seen in decades. What we could not have foreseen was the immediate and powerful impact of COVID-19.
The pace at which this virus has affected our "main street" businesses, as well as many of our largest employers has been staggering. COVID-19 has been called the "great equalizer" as it has touched every part of the economy with no clear date of closure.
The timing of our coming together through the Leadership Alliance could not be more appropriate as we work to navigate our community through this crisis. Our vision for an economic blueprint will take shape in the form of our COVID-19 Response, Recovery and Resiliency Task Force. The Task Force includes an "Economic Recovery Cabinet" comprised of elected officials and government representatives, industry leaders and education and non-profit partners. This effort will also include the creation of three distinct "Recovery Teams," focused on financial and business continuity; workforce & talent retention and attraction; and tourism & quality of life.
Together, we will assess the current economic situation and mitigate as economic losses to highest degree possible. We will avail businesses every resource available including federal stimulus programs and local resources to slowly recover. The Task Force will be a powerful voice in advocating for continued and targeted stimulus for small and mid-sized businesses at the state and federal levels. We will work with subject-matter experts to address long-term strategies for resiliency that include technological innovations, education for businesses on disaster recovery programs and building financial continuity so that a future event may not prove as devastating.
We've always been a resilient community and one that bands together in the toughest of times. Take optimism in that and in that our economy was strong prior to COVID-19. Let this be an opportunity to become stronger, to redefine ourselves. What lessons have we already taken from this? I think we've rediscovered the value of our small and independent businesses. The importance of gathering at our favorite restaurants and coffee shops. The joy that comes from places like Roberson Museum, the Tri-Cities Opera and a Rumble Ponies game. The innovation of many of our manufacturing companies, like Johnson Outdoors that have risen to the challenge of adapting their operations to provide relief where needed. The compassion of our area school districts, churches and businesses that have provided meals for our students and families in need. And perhaps, most powerfully, the strength of our health care and front line emergency service workers who have put themselves in direct contact with the virus just so others can be well.
There is no doubt that we will be changed by this event, perhaps more than any other in our lifetime. I believe we can be stronger and unified than ever before. How we redefine our economy is up to us.