Greater Binghamton Chamber of Commerce Hosts Second Annual Women's Conference & Expo "Be Empowered 2022"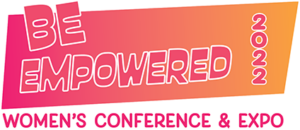 Presenting Sponsor M&T Bank and the Greater Binghamton Chamber of Commerce successfully hosted the second Annual Women's Conference Be Empowered 2022 on Thursday, June 23 at the DoubleTree by Hilton. Last year's inaugural event was received with enthusiasm and excitement and was described as "powerful, motivational and phenomenal." This year's event built on that enthusiasm and delivered an even more exciting experience for attendees! Be Empowered 2022 was designed by women for women and featured both personal and professional development programs in the form of twelve innovative breakout sessions led by inspiring, powerful female leaders. Attendees had the opportunity to learn from women in our own community on the challenges they have faced and the resources and resilience among other attributes needed to not only overcome, but to excel.
This year's conference started off with our Ice Breaker Speaker, Veronica McFall, the Associate Director of Alumni Relations for Affinity and Identity Programs at Colgate University and children's author. Veronica spoke on female empowerment and creating a seat at the table when one was not readily available to her, citing the creation of her own publishing company Knowledge is Capital when other companies turned her children's book, A Visit to The Bahamas from A to Z, away. The day continued with a dozen powerful breakout sessions led by local female leaders and the opportunity to visit the business expo highlighting local businesses owned by and catered to women. Breakout session topics ranged from "Women and the Art of Risk" and "How to Spark Innovation" to "Managing Obstacles and Overcoming Adversity" and "Reducing Burnout". Additionally, new this year, an entire track of sessions was dedicated to self-care and featured sessions on Sound Healing, Meditation, and Journaling, all sessions thoroughly enjoyed by attendees.
Leadership Alliance CEO Stacey Duncan led the impactful keynote presentation at lunch, a conversation with Kathryn Wylde, President & CEO of the Nonprofit Partnership for New York City. Kathryn shared with Stacey and the crowd her inspirational story of coming from humble beginnings to growing into an influential key player in New York City economic and community development and the key lessons she learned as a woman in the workplace over the years. Attendees walked away with the knowledge that they are not alone; they have other women such as Veronica and Kathryn, but even those in their own communities, to learn from and draw upon for inspiration to grow both personally and professionally.
The Greater Binghamton Chamber of Commerce is already hard at work planning the 2023 Annual Women's Conference. An annual conference like this would not be possible without the enthusiastic support of our amazing sponsors including: M&T Bank; IBM; Toyota; Coughlin & Gerhart, LLP; Excellus BlueCross BlueShield; Millennium Pipeline Co., LLC; The Agency; Koffman Southern Tier Incubator; Ad Elements, LLC; Syracuse Technologies; Greater Binghamton Association of Realtors; Elderwood Village at Vestal.