Greater Binghamton Chamber Announces New Program for Summer Interns at Press Conference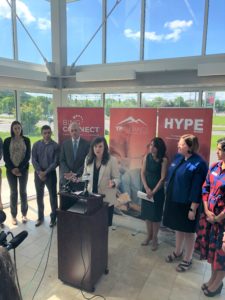 Jennifer Conway, President and CEO of the Greater Binghamton Chamber of Commerce announced a brand-new talent initiative program called BING Connect.
Bing Connect is a program designed to expose college level, summer interns in Greater Binghamton to local attractions, provide them with professional development opportunities, and connect them with their peers from other industries.
"We realize how important it is to retain talented, educated young workers," said Jennifer Conway, President and CEO of the Greater Binghamton Chamber of Commerce.  "We feel that one step toward accomplishing this goal is by connecting interns to our community with other young professionals in a meaningful way, whether they are from here or outside the area."
BING Connect is a resource to help employers engage their college interns and staff by providing opportunities to build relationships in the community. "Our experience has shown we are more successful in recruiting/retaining employees to the area when they have a 'connection' to Greater Binghamton," said Zach Staff, Aviation Manager at McFarland Johnson. "This program offers our interns a fresh perspective as 'young professionals' in the community interacting with their peers who are pursuing similar, or vastly different, career paths."
BING Connect will host a series of four events that will run from June 21 through July 30, 2019. They include a Kickoff Event, Downtown Scavenger Hunt, Young Professionals Panel, and the Young Professional Awards called hYPe, on July 30. Paired with social media and email updates, the program provides a platform for interns to engage with each other and stay informed about opportunities to get involved in the community.
For more information about the program visit www.greaterbinghamtonchamber.com/bing-connect.