Congratulations to our 2022 Building BC Award Winners
The Greater Binghamton Chamber is pleased to congratulate and recognize the Chamber's 2022 Building BC Award Recipients:
2022 Innovative Award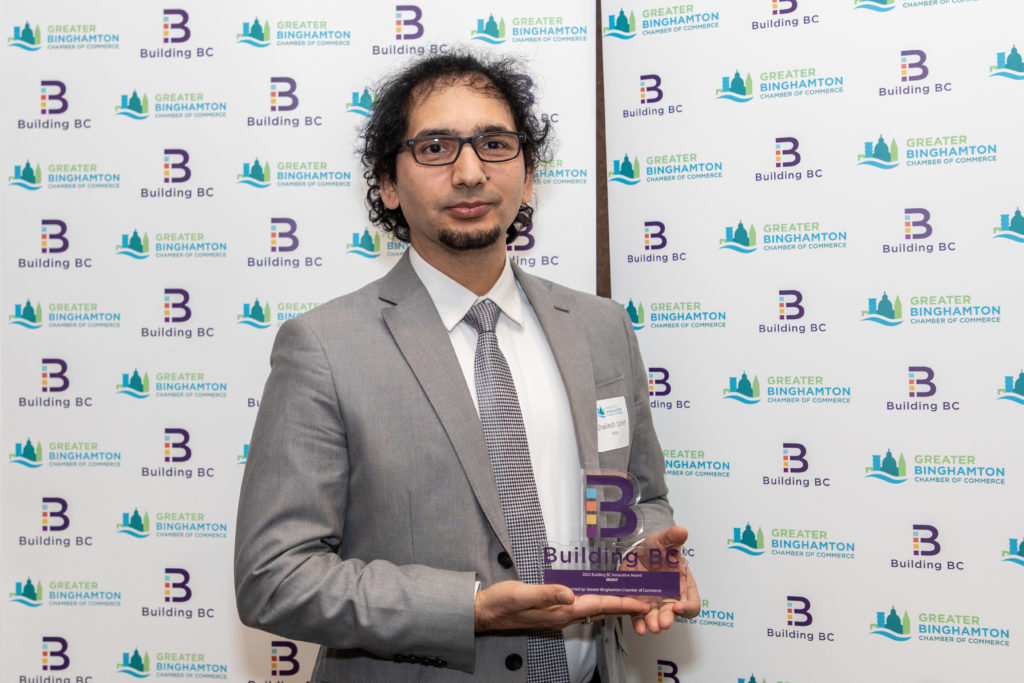 iM3NY
Accepted By: Shailesh Upreti, Chairman and Founder
This award recognizes a project, product or service that "thinks outside the box" and continues to stretch the boundaries and has proven to be a leader in innovation.
iM3NY is part of the green revolution with a focus on clean energy lithium-ion batteries. They are the first major battery manufacturer to locate to this part of the country proving that our area is well-suited for a supplier of high-tech products.
Their "outside the box" thinking looked at non-traditional battery materials that could provide greater heat management in a lithium-ion cell. Their unique formula will produce a battery with a 20% higher capacity while providing a longer cycle life, higher safety and a low environmental impact. Coupled with the fact that there is no Cobalt and no Nickel, their batteries are truly a major step forward in creating a greener planet.
We welcome iM3NY to the area as they join other innovative, high-tech companies poised for growth in the energy sector.
2022 Restorative Award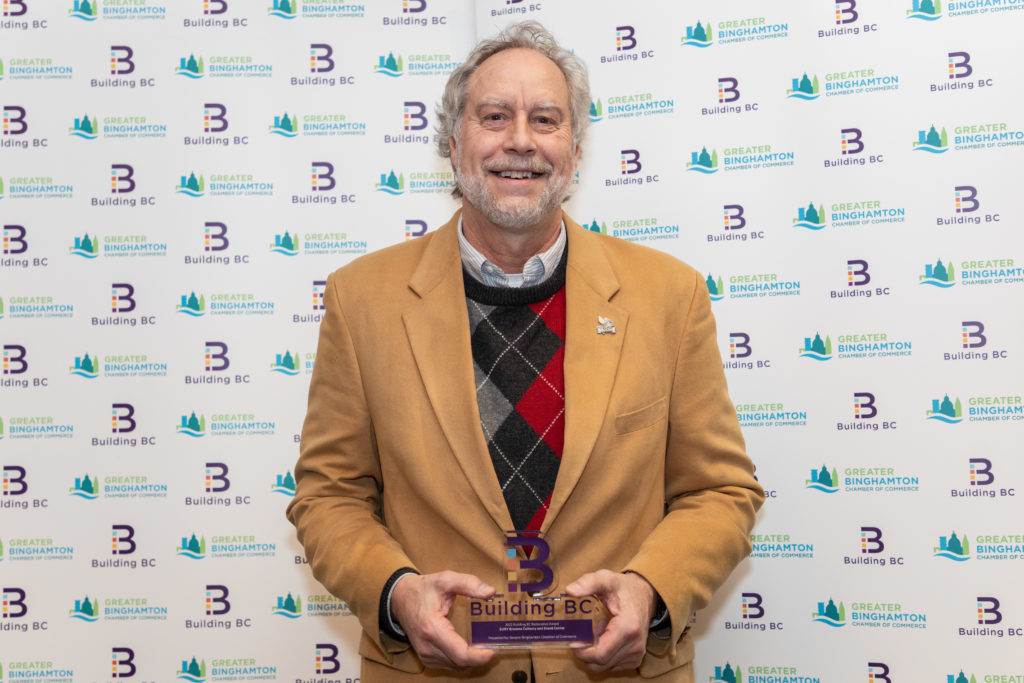 SUNY Broome Culinary & Event Center
Accepted By: Dr. Kevin Drumm, President
The Restorative Award recognizes a project that brings new life into an aging building.
The Carnegie Library in downtown Binghamton was constructed in 1903 and was charted as "The Peoples' University". The library shut down in 1999 and was left abandoned for over a decade. It was purchased in 2012 by SUNY Broome Community College and they broke ground on the $21.5 million renovation project in 2016.
The conversion of the library into a culinary arts facility started with an exchange of ideas between SUNY Broome President, Dr. Kevin Drumm and Hospitality Programs Chair, Dr. Rey Wojdat. Binghamton's resurgence as a culinary destination, fueled by the expanding local restaurant scene downtown, gave the college on opportunity to capitalize on that industry which plays such an important role in our local and state economy.
Today, this historical and much-loved building experiences new life as a cutting-edge facility that provides an educated labor pool for an expanding hospitality industry. The SUNY Broome Culinary and Event Center is a perfect example of restoring an aging, historical building and revitalizing it in a modern and purposeful way.
2022 Transformative Award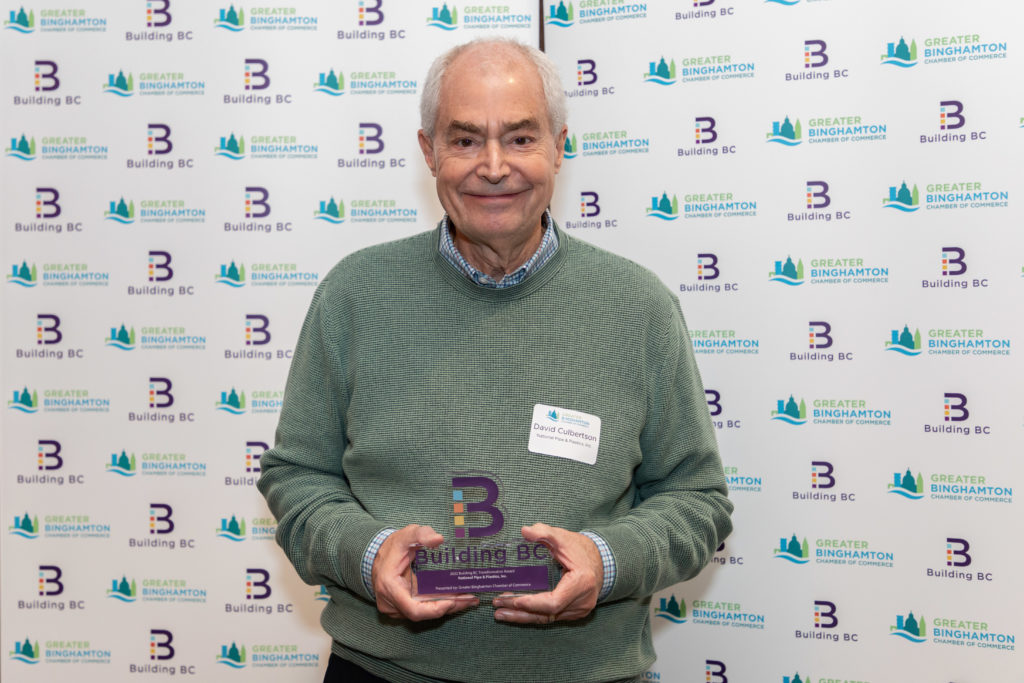 National Pipe & Plastics, Inc.
Accepted By: Dave Culbertson, President and CEO
This award recognizes a project that impacts the entire community and fosters growth of those around it.
This particular project involved the purchase of the former Endicott Johnson Shoe warehouse in 2001 with an eye on the company's future growth. The adjacent EJ factory was purchased in 2018 to make room for their new headquarters.
Work began that year with the demolition of an old six-story building and clean-up of a hazardous waste site which took a year to complete. The next step was building a modern state-of-the art office building with a park-like yard to beautify their corner of Endicott. In the process of the new build, National Pipe and Plastics expanded portions of Page Avenue and Maple Street and donated land to provide extra parking spaces for the children's park across the street. The total cost for the new building was seven million dollars.
To mitigate truck traffic through a residential neighborhood, National Pipe built a new road to connect directly to Route 17C and constructed one mile of railroad track for the delivery of raw materials. This allowed immediate rail and highway access inside the urban core of Broome County.
This economic development project has certainly transformed the Endicott community in a positive way.
2022 Individual Award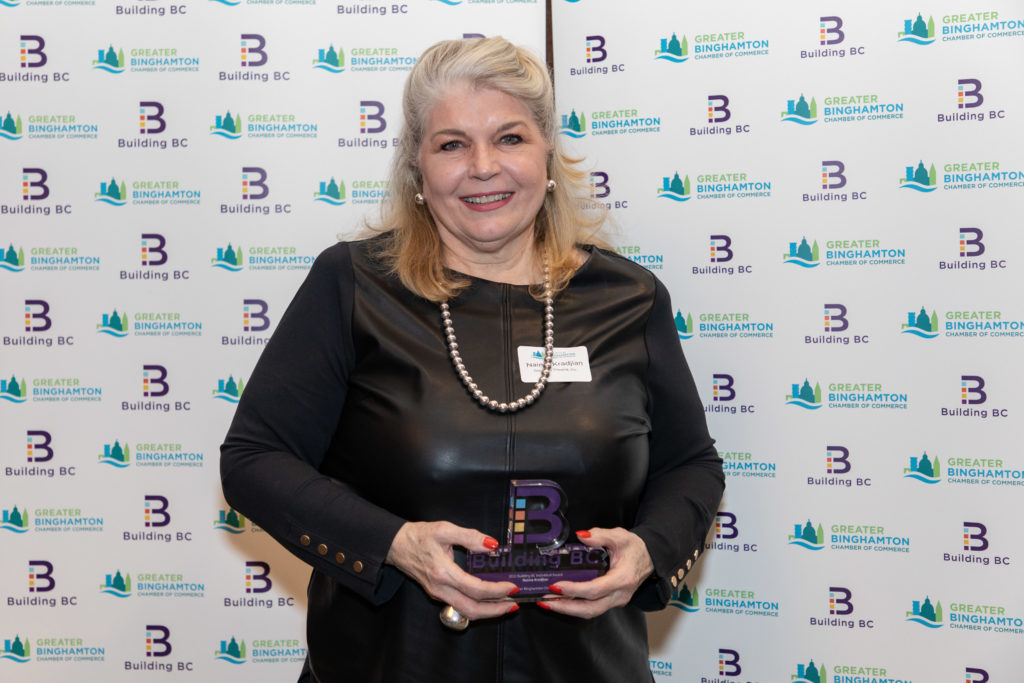 Naima Kradjian, CEO, Goodwill Theatre, Inc.
This award recognizes an individual whose investment positively impacts the quality of life and job growth to ensure the success of the region's communities and economy.
Since 1987, Naima Kradjian has devoted her efforts to making a difference in the greater Binghamton arts community. For those who don't know, she is the CEO of the Goodwill Theatre Incorporated which operates the Schorr Family Firehouse Stage. Naima had a vision for a Performing Arts Center Complex in Johnson City born when the 1920 National Register historic Goodwill Theatre was put up for sale due to delinquent taxes. Believing strongly in collaboration, Naima involved local partners in her Goodwill Theater Project—nearby UHS hospital, the Village of Johnson City and area cultural partners and, in 2011, the Johnson City Health and Cultural District was created.
In the beginning, people said that no one would come to Johnson City; Naima proved them wrong.
Seven blighted properties surrounding the theater were demolished. As her project moved forward, others joined. Binghamton University chose the former EJ factory site for their Pharmacy School and the Pioneer Shoe Box Factory for the Decker School of Nursing. UHS is expanding their footprint and other partners are advancing their own projects in the surrounding area. The lights from the Schorr Stage parking lot and their day and evening activities-sixty-five shows a year– have helped to change the neighborhood. And Naima did not let the pandemic slow down progress. In May of 2021, the Summer Performance RestArt Tent was erected in the Schorr Stage parking lot to continue to bring entertainment to all in a safe environment.
Naima says they are "shovel ready" and hope for the completion of the Performing Arts Center Complex in the next five years. As Naima says: "We are here for keeps"