Congratulations to our 2021 Fall Award Winners
2021 Non-Profit Executive of the Year Award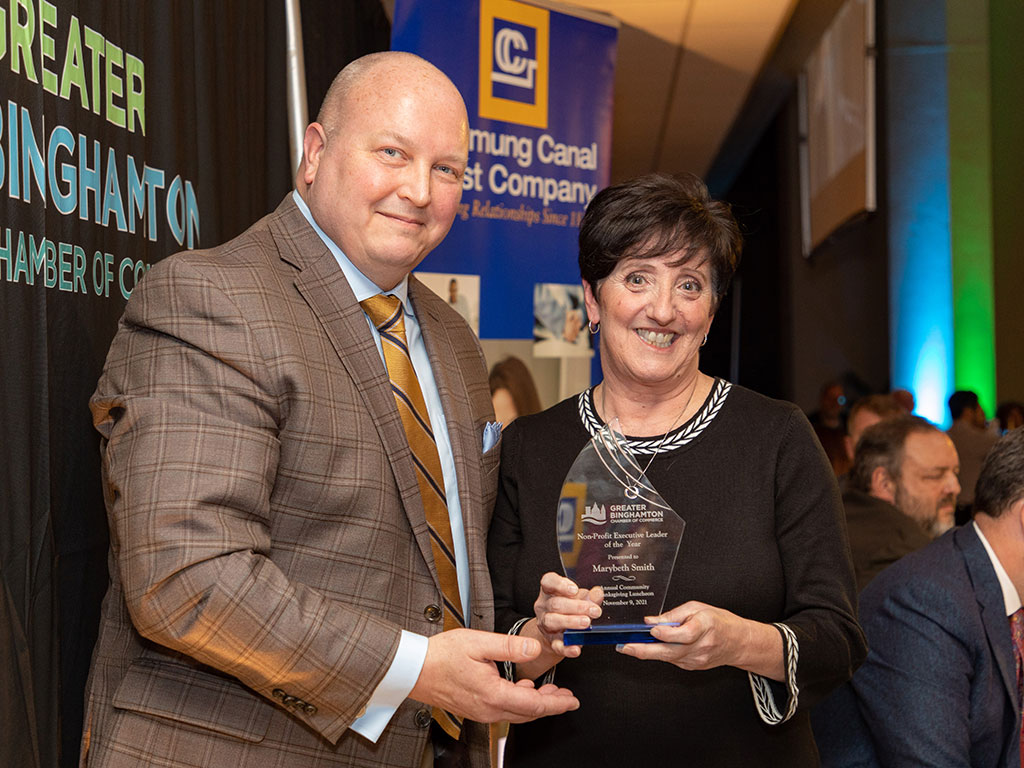 Presented to: Marybeth Smith
Accepted by: Marybeth Smith, Executive Director, Boy & Girls Club of Binghamton
This award recognizes an Executive of a Non-Profit organization who exemplifies the knowledge, skills and leadership necessary for effective non-profit management. This individual demonstrates best practices in their field and takes an active leadership role in supporting the development of greater Binghamton.
Marybeth has been leading the Boys and Girls Club as Executive Director for twenty-three years and has been with the organization for thirty-eight years! Their mission is to inspire and enable all young people, especially those who need it most, to reach their full potential as productive, caring, and responsible citizens. And what a mission it is!
Throughout the years, over 115 of them – the Boys & Girls Club has been a second home for many of their members—a supportive, loving, caring and structured place for them to be – a home away from home. The opportunities and experiences the Club provides open up a whole new world for the children it serves—this world is filled with success, security and happiness. It is no easy task, but the motto of Marybeth and her team and her Board is to do "whatever it takes."
To ensure their mission is met, Marybeth has a team of highly skilled and trained professionals. She provides on-going training, and leadership opportunities and provides a safe environment that supports diversity, creativity and professional development.
The importance of working together collaboratively with community leaders and agencies to create great futures for her children cannot be overemphasized. Marybeth is adept at bringing together those in our community who believe in the mission of the Club and who can help move that mission forward.
A strong and diverse financial base is equally important to a successful organization, and she works hard with her financial team and her funders to see that the organization remains fiscally sound now and into the future. She keeps in touch with all of them, not just asking for money but to check in and let them know how everything is going and to let them know how appreciated they all are.
One of her most important times in her career was when she cut the ribbon for their brand-new building. Raising five million dollars for the build was an overwhelming and scary challenge. But to know that a brand-new Club for the children they serve would bring joy and happiness to them and let them know that she and her team cared enough to work hard for them and that they were worth the effort—that made the obstacles easier to surmount. It also spoke volumes to the children who appreciate everything the Club does for them.
You would think Marybeth's role would take all her time, but no. She has been a member of the Binghamton Sertoma Club for over 23 years. She has been involved with the Security Mutual Life Jim "Mudcat" Grant All-Star Tournament-Black Aces for the past 18 years. She is proud that her organization is one that is supported by this wonderful event and grateful to see great things happen for the Club because of it. Bruce Boyea says this of Marybeth: "I have seen her skills and ability and her passion to make a difference for the youth in our community. I have been inspired by the work she has done and the difference that she has made."
Marybeth also actively works with the Binghamton Police Department, more so before Covid. She implemented a program to encourage and to increase a mutual respect for our local Law Enforcement Officers and to help youth feel comfortable around them and to trust them, and it has worked!
Sometimes the best way to know the impact a Non-Profit Executive Leader has had is by the words of another Executive Leader. LoriAnne Welch, Executive Director of the United Way of Broome County says this: "Marybeth is a courageous visionary who is regularly called upon to lend her expertise and provide input on many emerging and evolving issues across the community. Time and again, Marybeth had demonstrated her ability to tackle the most challenging situations and arrive at a solution that results in positive outcomes for all."
2021 Community Advocate of the Year Award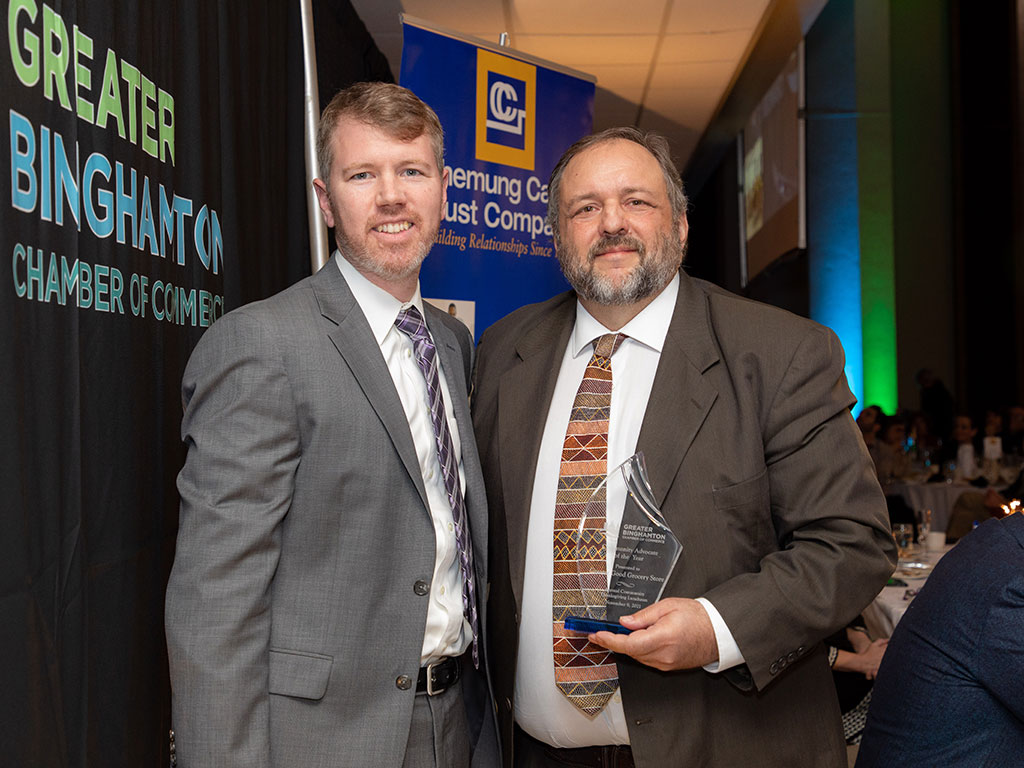 Presented to: Greater Good Grocery Store
Accepted by: Rev. Dr. Joseph Sellepack, Executive Director, Broome County Council of Churches
This Award is given in recognition of a grass-roots organization, event, or festival that has made an extraordinary contribution to the improvement and/or enrichment of the neighborhood that it serves within the Greater Binghamton community.
The Greater Good Grocery Store is located on the North Side of Binghamton, long-known as a "food desert." It is within the newly-built Canal Plaza on State Street. Opened in January of 2021, the Greater Good Grocery Store offers affordable, healthy, and good-quality food to people in Broome County. This store was a natural out-growth of the food insecurity programs of the Broome County Council of Churches—namely CHOW and Broome Bounty. The store is currently serving over one thousand customers a month. About half of their customers are from the North Side, the other half are from all over Broome County and the Northern Tier of Pennsylvania.
That neighborhood has been without a grocery store for twenty-five years. The population numbers a little over twelve thousand according to the latest census and the median income is about twenty-two thousand dollars a year. Before the Greater Good Grocery Store, if public transportation was used to shop in the nearest store, it would take up to one and a half hours to reach! This lack of accessibility to food was a major impetus for building on the North Side.
The food is secured through a partnership with Bargain Grocery/Compassion Coalition located in Utica. Through their supply chain, the Greater Good Grocery Store is able to get good quality fruits, vegetables and perishable items at very large discounts that are then passed on to their customers. These sales offset some of the items not in their supply chain which must be bought wholesale. The result is that people leave with more groceries than allocated in their food budgets.
The need for emergency food in Broome County is over seven million pounds! The Council of Churches' research determined that hunger relief programs were not enough to meet this need and thus they needed to shift and undertake something radically different to meet this need. Enter the Greater Good Grocery Store with healthy, good quality and affordable food.
This undertaking involved collaboration with the Broome County Council of Churches, the City of Binghamton and many partners and organizations. To say it was a labor of love for Joe Sellepack and Jack Seman and their team is an understatement! All of this would not have been accomplished without the collective effort between so many who believed in the vison and mission of the Greater Good Grocery Store.
Brian Jester, President of the Binghamton Noon Rotary, (whose members are here today), explained in his letter of support that Rotary was presented with the opportunity to support this project. He says: "Without hesitation, our Club believed in the purpose and intent of the Greater Good Grocery Store project. The Club supported the construction by raising revenue with internal fund-raising measures and by applying for Rotary District International grant money. Our Club would not have been as effective in gaining financial support without the purpose, intent and commitment built into the project by the Broome County Council of Churches."
There are other benefits of the Greater Good Grocery Store. The store employs 3 full-time and 4 part-time people. Property values and business opportunities have improved in the area. The profits from the store will be rolled into services that will benefit people living with food insecurity, transportation issues and those living with unsafe access to their homes.
2021 Corporate Citizen of the Year Award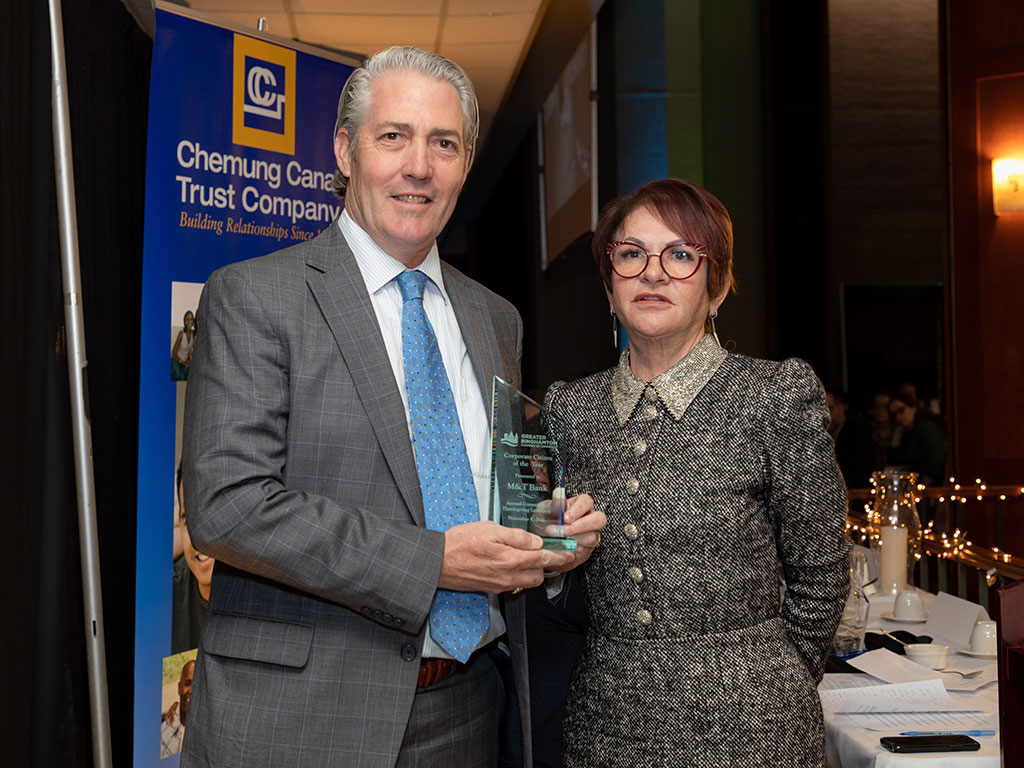 Presented to: M&T Bank
Accepted by: Peter Newman, Regional President, M&T Bank
This award recognizes a company that has made significant contributions and commitments to the greater Binghamton area through active involvement with events and community organizations.
M&T Bank is a community-focused bank whose heritage dates back to 1867. They are headquartered in Buffalo with seventeen regions that each have local leadership. The Southern Tier region is based here in Binghamton and covers ten counties from Corning to the west, Ithaca and Cortland to the north and Norwich to the northeast. Peter Newman is the Regional President for the Southern Tier.
Their financial commitment to the region has consistently exceeded half a million dollars for each of the past ten years.
Their commitment to the local arts community is hard to miss from the M&T Bank Broadway in Binghamton Season to the flagship Sponsor for Endicott Performing Arts Center to the Classical Sponsor for the Binghamton Philharmonic and to funding the community gallery for the Broome County Arts Council. Nancy Barno-Reynolds, Executive Director of the Broome County Arts Council, has a humorous story about convincing Peter to financially support this new concept of a community art gallery. She says, "I am thankful that the enthusiasm I felt for the project contaminated Peter—in a good way!"
It is not only the arts that M&T helps; they are involved with human service agencies like the United Way of Broome County, the YWCA and the Food Bank of the Southern Tier. Their donations also extend to Mercy House of the Southern Tier, Children's Home of the Wyoming Conference and the Boys & Girls Club of Binghamton.
But it is not only money that they give; their employees are hands on with many organizations. When the community rallied to build a playground, M&T Bank was there with money and their hands. They had a "team build day." When that beautiful playground was destroyed in 2020, M&T Bank was one of the first groups to volunteer to help rebuild it. And they challenged others to financially support the rebuild.
We would be remiss if we did not talk about M&T Bank's support of UHS. Peter Newman currently serves on the Board of Directors for United Health Services Hospitals after completing years of service on the UHS Foundation Board of Trustees. M&T employee Joe Moran is now completing his first year on the Foundation Board.
Over the last fifteen years, M&T Bank has contributed close to a quarter million dollars to UHS. They stepped up to renovate the Intensive Care Unit at Wilson Medical Center and to support New Horizons, the addiction treatment program as well as provided funding in pediatrics for vision screening equipment and an early literacy program. Their generosity did not stop there. Early this year, M&T approved a grant to aid in the UHS covid-19 efforts.
In addition, a generous grant of $20,000 provided the ultra-cold storage freezers and supplies needed to store Covid-19 vaccines. As Cory Jacobs, Executive Director of the UHS Foundation says: "M&T is one of the most generous businesses in our community."
To advance initiatives on diversity, equity and inclusion, M&T Bank formed a local committee in 2020. Their commitment is to share with others how to be focused and take action to increase awareness of social inequities, and ways to be more inclusive and to demonstrate their public commitment to this endeavor. Peter Newman supported and participated in the Chamber's first Diversity, Equity & Inclusion Conference this past September. The Bank has instituted, along with Chamber leadership, a scholarship program whereby they fund a year of Chamber membership for up to ten minority or women-owned businesses, thus giving them the
opportunity to experience the value of involvement in the Chamber.
One final quote comes from Michael Grasso, Executive Director of Roberson: "It's clear to me as an M&T customer, funding recipient, neighbor and community member that M&T Bank cares about this community's success and is actively engaged in seeing it realized."