Congratulations to our 2020 HYPE Award Winners!
Business & Professional Services Award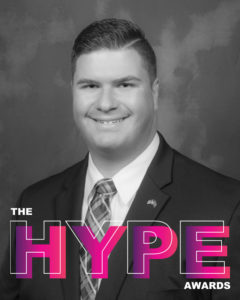 Timothy Szczesny, Director
DeMunn Funeral Home
Timothy Szczesny is a graduate of Binghamton High School and SUNY Binghamton and is currently in his third year as a licensed funeral director. Tim has risen above the role of Funeral Director and has served his community by volunteering as Lieutenant in the Town of Binghamton Fire Department. In addition, when the pandemic began in March, he assumed the role of Coordinator for the Broome County Coroner's Office in setting up the Disaster Mortuary Operations for the County.
His colleagues have shared that there are few individuals like Tim in the funeral industry who can interact with confidence, empathy and knowledge, at a time in people's lives where they are under great stress and have little or no experience in where to turn or what to do next. He has been recognized as a leader in his field, chosen to present at the National Funeral Directors Association conference this past March, which won high honors.
Congratulations, Timothy!
Creative Award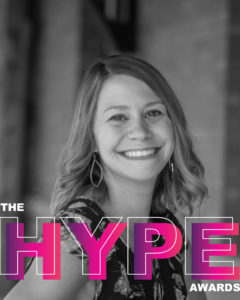 Erinn Kovitch, Art Director
Idea Kraft
Erinn has a Bachelor's degree in Computer Art from SUNY Oneonta, as well as a Master's degree in Communication Design from Pratt Institute. After finishing her education and internship in the publishing industry in Manhattan, she returned to Binghamton, NY to pursue her love of design. From setting up new business pitches to running photo and video shoots to designing a new brand identity, Erinn delivers exceptional quality and attention to detail while show-casing a work ethic that is so hard to find these days. She very much deserves this recognition because she never seeks it and always lets her work speak for itself. She doesn't brag about work – she does the work.
Erinn has been influential in running CAST (Communications Association of the Southern Tier) for many years and she has brought a wealth of knowledge and creative expertise to our region. Erinn serves on the EatBing committee and has volunteered her time for many local events, such as Restaurant Week, Martini Walk and Wine & Tapas, to mention a few. She has also been involved in the LUMA projection Festival for the past several years.
Congratulations, Erinn!
Education & Training Award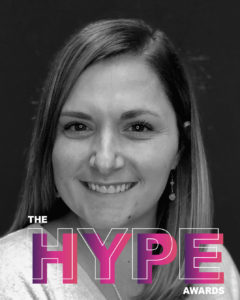 Gina Chase, Interim Director
Career and Academic Services at SUNY Broome Community College
Gina Chase is the Interim Director of Career and Academic Services and has worked in higher education for the past ten years since earning her master's degree at Binghamton University in 2010. After being away from the area for the first five years of her professional life, she returned home in 2015 to join the SUNY Broome family. Gina believes that SUNY Broome plays a critical role in our community and prides herself on collaboration with the K-12 Education efforts in the area and is involved with the SPARK! Steering Committee, GBEOP Board, Broome-Tioga Talent Taskforce, BOCES PTECH Executive Partner, Perkins Advisory Council, United Way Strategic Volunteer Engagement Committee & Campaign Cabinet. In her current role, it is her responsibility to lead critical areas of student support and regularly collaborates with faculty and staff to ensure the classroom experience is supported by Career and Academic Services. Student success is her core mission, as well as connecting students to opportunity.
Congratulations, Gina!
Health & Wellness Award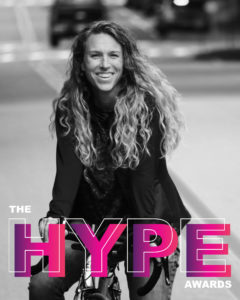 Jenna Jenks, General Manager
Confluence Running
A transplant from the North Country, Jennifer Jenks graduated from Binghamton University, both from the undergraduate and graduate programs in Biology and Education, respectively. After having three children she realized she needed to start an exercise program and competed in a Warrior Dash Obstacle Course in 2010. This led to her professional career with Confluence Running in 2013, beginning as an ambassador and eventually to being the General Manager in 2016 where she has developed the company from $500k to $1.5 million.
While Jenna took the reins as the General Manager in 2016, she continued grow more than just the retail portion of the business. She took the responsibility to develop a fitness coaching portion of the business called "Kaio Coaching" while working as a part time sales associate in 2014. Currently there have been hundreds of athletes trained by her in the Southern Tier. Jenna has been active in helping volunteer in countless Triple Cities Runners Club non-profit events, has volunteered many times to help organize key components of the Binghamton Bridge Run, consulted with numerous race directors including the Race Director of the Noah Farrelly 10k, and has created kids runs, beginner runs, pub runs, and free couch 2 5k programs.
Congratulations, Jenna!
Law & Government Award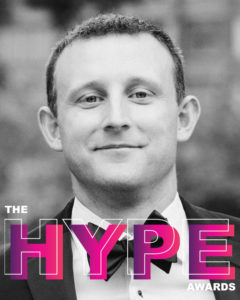 Michael Keenan, Commodity Manager
Corporate Procurement at The Raymond Corporation
Michael Keenan is Binghamton native and resident, who after college and law school, returned to Binghamton to become a licensed attorney, focused on supporting Business Law. Several years ago he left private practice, with a local firm, to join Raymond to use his legal background to support the Procurement organization. His legal background and skills help him develop close supporting relationships with many different stakeholders within Raymond, including the engineering department, legal team, and internal business unit leaders.
In addition, he creatively engages with many startup companies to help them work with Raymond and grow their business. He's been described an exceptional listener and carefully weighs input received from others, approaching conventional procurement problems with creative and "outside the box" approaches to problem solving. A regular guest lecturer to Business students at Binghamton University and a mentor to several, Michael is truly deserving of this award.
Congratulations, Michael!
Mentor to a YP Award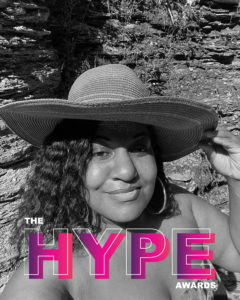 Sulaiminah Burns, Consultant
Support Black Business 607
Sulaiminah Burns is an advocate working tirelessly against the economic disenfranchisement of marginalized people. She moved to Binghamton in 2016 after being raised in Bronx, NY in a Muslim household where black pride and black history were taught. She was homeschooled by her mother, Loretta, until the age of nine. She founded Support Black Business 607 to provide a platform where the community and allies could do just that. Through Support Black Business 607, Sulaiminah began advising local Black-owned businesses on successful strategies for growth and sustainability.
She has done this by providing public forums to connect businesses with potential customers and taught valuable marketing and sales strategies to help Black-owned businesses succeed. professionally as a consultant and as a community service, lending her voice and experience to up-and-coming Black entrepreneurs so that they can grow their businesses in competitive markets. Young professional business owners who specifically credit Sulaiminah's mentorship and advocacy as a critical component of their success include Cecil Hopkins (Nox Grooming), Yohance Bailey (Yohance Bailey Photography), James Howard (Direct Details auto detailing service), Tati Dott (Vedova la Couverture (clothing store), and Katrice Pierre, (Sinful Indulgence). Her work in the community even inspired a new weekly segment on NewsChannel34 called Black Owned 607, which highlights a local black-owned business each week. Businesses who work with Sulaiminah and Support Black Business 607 see revenue increases up to 40% within weeks of engaging with her.
Congratulations, Sulaiminah!
Non-Profit Award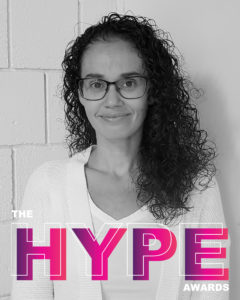 Autumn Loke, Lead Counselor
Liberty Partnerships Program
Autumn Loke is the Lead Counselor for the Liberty Partnerships Program (LPP) and works directly with the Binghamton City School District (BCSD) preparing our most vulnerable youth for success in college, their careers and life. She is a Licensed Master Social Worker completing both her master's and bachelor's degrees at Binghamton University.
Autumn has worked with LPP and at the BCSD site since 2009. She designed and created a program at the district that is considered elite not only within her school, but throughout the state network of LP projects. Her work is often referenced as a best practice and her strategies for engaging young people has been proven effective time and time again. She takes time to mentor and teach others how to implement effective strategies with youth serving as a leader not only within our LPP team but to teachers, masters at teaching students, master level social work students, and other community support staff. She leads by example. She trains young minds to be outstanding leaders through a comprehensive summer program she developed and through her day to day interactions and high expectations. Her success as a leader is best demonstrated through the outstanding achievements of 12 years of graduates and alumni.
Congratulations, Autumn!
Service Industry Award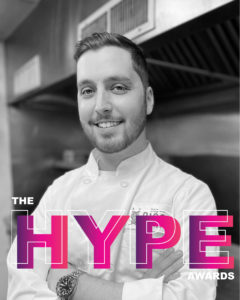 Aaron Laughlin, Executive Chef
Dos Rios Cantina/The Stone Fox
Aaron Laughin grew up in Endicott, NY and has had a passion for cooking since he was young. His first professional position in a local restaurant was Frank's Italian Kitchen in the Town of Maine. He worked there for several years until he was given an opportunity to co-manage a kitchen in Downtown Binghamton. He co-managed the kitchen at Sake-Tumi, a local Japanese restaurant, from 2013 to 2016. His cooking and management abilities certainly impressed the owners of the restaurant leading to a Kitchen Manager and Chef position at The Colonial upon the grand opening. When the equity partners in The Colonial were brainstorming about their next bar/restaurant, they brought Aaron to the table as their newest equity partner.
He became Executive Chef with full creation and oversight of the menu at Dos Rios in 2018. More recently, he has partnered with several others in the newest restaurant in Downtown Binghamton, Stone Fox. Aaron currently holds two positions as Executive
Chef and owns share at Dos Rios and Stone Fox at age 26. He's been a volunteer in the community in several capacities; most recently, he participated in The Shopping Cart Challenge where local businesses shopped for non-perishable goods as part of a Broome County CHOW program. This program helps families in the Greater Binghamton area gain access to foods they cannot necessarily afford or do not have access to. Aaron is also involved in annual sponsorships of the Binghamton Devils and Rumble Ponies to keep local sports in Binghamton.
Congratulations, Aaron!
Skilled Trades Award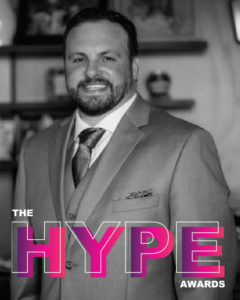 Leland Moxley, Fabrication Supervisor
The Raymond Corporation
Leland Moxley graduated from Greene Central School in 2005 and went to SUNY Oneonta where he graduated with a BA in History and a BS in Psychology with a focus in Industrial Organizational Psychology. Lee started out on the factory floor as a grinder on the rail line, and then became an assembler in the transmission room. From the transmission room he joined the Total Process Reliability (TPR) department where he was a very integral part in the implementation of TPR across all Raymond locations. In 2017 he stepped into the Supervisor role in Fabrication on second shift where he was over the rail line and fabrication, and he has now moved into the role of first shift Fabrication Supervisor.
Lee has taken it upon himself to be a mentor for several people, including co-workers that are at the same level as he is. He is always willing to lend a helping hand, even if it is on a different shift. Outside of work, he is a wrestling coach for Greene High School as well as a wrestling club in the off season. He serves on the Manufacturing Education board at BOCES and participates in career days to help kids get on the right track to finding a career in the manufacturing industry.
Congratulations, Leland!
STEM Award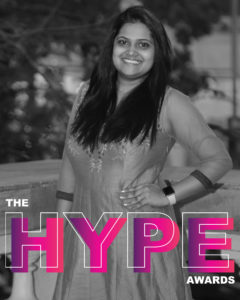 Rucha Kulkarni, Supplier Quality Engineer
Universal Instruments Corp
Rucha Kulkarni has earned a MS in Industrial Engineering from Binghamton University and a B.E. Instrumentation and Control Bachelor of Engineering from Sir Parshurambhau College HSC. Not only does she use many quality and technical tools; including extensive use of GD&T, she steps up when her team needs her.
During this trying year that is 2020, Universal had two key members of the Supplier Quality Engineering group depart the company. Rucha was very instrumental keeping the important work moving to meet the demands of our Incoming Inspection area, Manufacturing and Customer Support groups. Universal has hired new SQEs, and Rucha not only maintained the workload, but also was key in training the new members. She is an active member of various organizations such as American Society for Quality (Program Chair), Binghamton Alumni, GoLeanSixSigma, Center for Civic engagement, and the International Society of Automation, Pune Section. She also actively promotes ASQ events with co-workers within UIC.
Congratulations, Rucha!
Biographies were compiled from the individual's nomination as well as personal statements to the selection committee.
Couldn't make the live event? Watch the recording of the event here.
Thanks to our sponsors for supporting this event!