Congratulations to our 2020 Fall Award Winners
2020 Community Advocate of the Year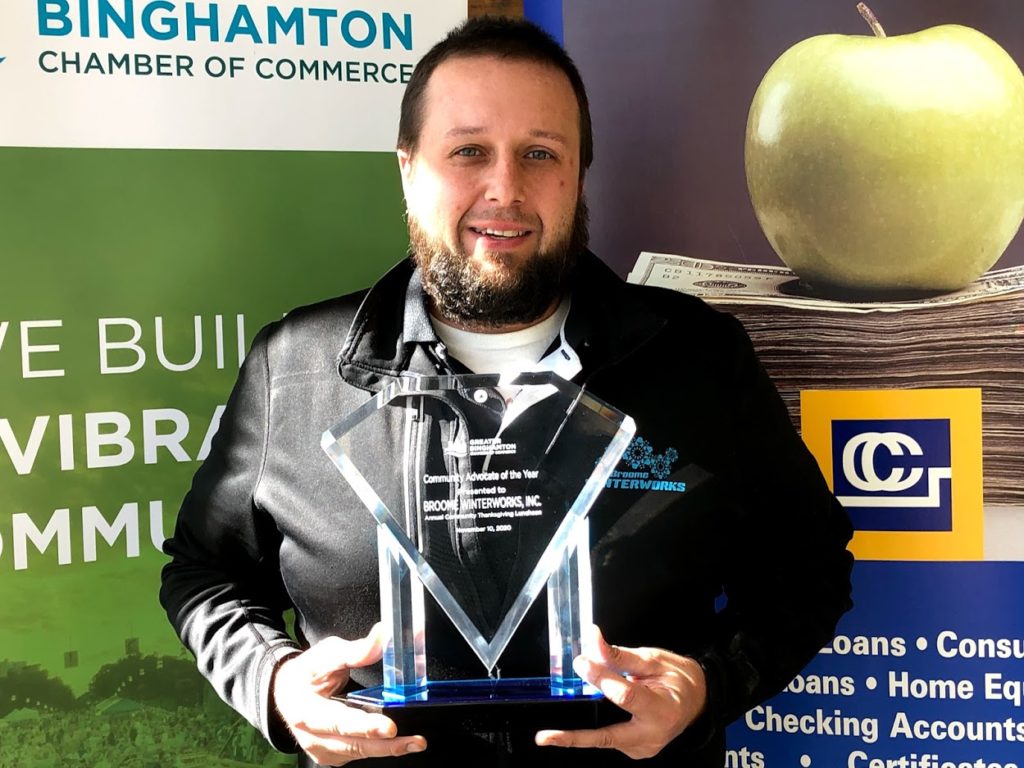 Presented to: Broome Winterworks, Inc.
Accepted by: Tytus Haller, Executive Director
This Award is given in recognition of a grass-roots organization, event, or festival that has made an extraordinary contribution to the improvement and/or enrichment of the neighborhood that it serves within the Greater Binghamton community.
Under the guidance of Founder and Executive Director, Tytus Haller, Broome Winterworks, Inc. which is the non-profit under which Binghamton Pond Festival operates, annually hosts a variety of skating and winter activities in Broome County while distributing proceeds from the events to local non-profit organization that provide youth support, education and sport programs.
Founded in 2016, Binghamton Pond Festival is a multi-weekend winter event that works in collaboration with the New York State Parks Department, Chenango Valley Stare Park and dozens of local and out of town businesses. Due to the fickleness of Mother Nature in our area, Tytus and his partners now construct what is possibly the largest outdoor mechanically refrigerated ice sheet in North America! And this Festival is not just all about ice hockey at the park.
The Binghamton Pond Festival creates an atmosphere in which people can embrace and enjoy the winter season with lots of family activities include sledding, s'mores buffets, live music, an obstacle trail run and a fireworks display. The positive economic impact for our community can be seen via out-of-town foot traffic during the usual lull after the holiday season. Participants, both adults and children travel from around the country and outside of the country to play hockey here.
Parallel to the Pond Festival's commitment to hockey and enjoyment of winter is their commitment to supporting the Mental Health Association of the Southern Tier in its mission to spread awareness of the challenges facing our local youth and specifically their Do it for Darin campaign dedicated to youth suicide prevention. Since 2016, their contributions have reached over $33,000! Over $5,000 in additional donations have been made to other local non-profits focused on serving our local youth like the Friends of Chenango Valley State Park, the Southern Tier Hockey Association, and the Binghamton Blizzard Girls Hockey Association.
In late 2019, a new element was added to the Pond Festival—ice carvings and ice sculptures in downtown Binghamton called Ice Fest. In spite of the weather, the event brought people to downtown and was a success.
In January of this year, Binghamton Pond Festival was held over three consecutive weekends for both youths and adults. Over 1,000 players participated and over 8,000 people attended to watch games, participate in auxiliary events and enjoy fireworks.
Joanne Weir, Development Director of the Mental Health Association of the Southern Tier said this: " Tytus's motivation is simple: get people outside to enjoy Winter! He has exhibited leadership and ingenuity and has forged successful business relationships and has created a memorable experience for everyone involved."
2020 Non-Profit Organization of the Year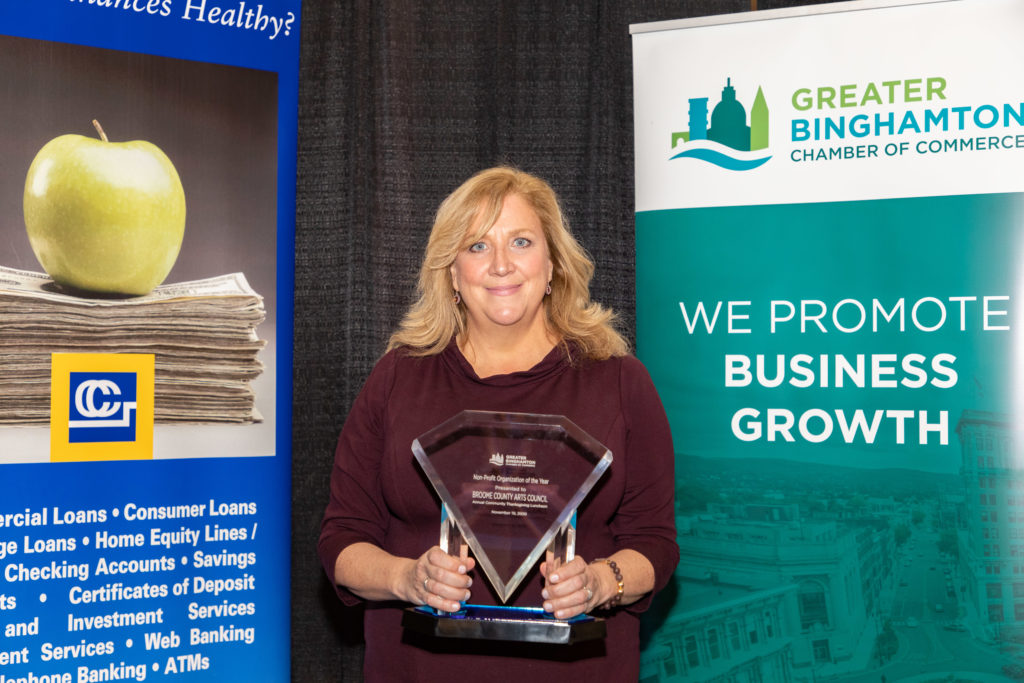 Presented to: Broome County Arts Council
Accepted by: Nancy Barno-Reynolds, Executive Director
This award recognizes a non-profit organization for their excellence in innovative programming and their community impact. This organization must exemplify leadership, excellence and innovation in utilizing their resources to benefit the greater Binghamton community.
The Broome County Arts Council is led by Executive Director Dr. Nancy Barno-Reynolds, with two other full-time employees and two part-time, a host of dedicated volunteers and an enthusiastic Board of Directors. The mission of the Broome County Arts Council is "to promote a thriving arts community essential to the quality of life in Broome County". They are committed to serving the community through free, unique programming and workshops like: First Friday Gallery Exhibition, Author's Showcase lectures, Poetry Writing and Business of the Art Educational courses and more. They preserve existing arts treasures and arts organizations through the United Cultural Fund Campaign and they transform the community through art-based public initiatives. The cultural, creative and economic vitality of a community is closely tied to the level of healthy arts initiatives and organizations.
The Arts Council's United Cultural Fund is the only active combined campaign for the arts in south/central New York and one of only four such programs in the State. The Broome County Arts Council tallied the economic impact of the twenty-three arts organizations funded by the United Cultural Fund in 2019.
Here are some of those results:
Those twenty-three organizations that received grants generated over $853,000 in ticket sales in 2019.
Six of the organizations that received grants spent over $3 million in Broome County!
Audiences for and participants in the UCF-funded programming were estimated at over 165,000.
Over 51,000 children attended performances and events held by the twenty-three non-profit arts organizations funded by the UCF.
Collectively, the United Cultural Fund's grantees bought more than 4 million dollars' worth of goods and services from other Broome County businesses in 2019!
These UCF grantees accounted for nearly 1,500 full-time, part-time and contract jobs and over 40,000 volunteer hours.
The organizations who receive funding include Binghamton Philharmonic, Endicott Performing Arts Center, Goodwill Theatre, Inc., Roberson Museum and Science Center, LUMA and Tri-Cities Opera. All of them are a source of community pride.
Then came 2020—what did Broome County Arts Council do? They developed COVID Programming and participated in COVID Partnerships. They created Virtual First Friday and are part of the COVID Tourism Task Force for the reopening plan of the County. They have paired with the Community Foundation to initiate research on the health of area arts organizations and they collaborated with the Hoyt Foundation to create new virtual arts programming to lift spirits and inclusively engage anyone in the community.
Cindy Henry is a new Board member and an artist and she summed it up very well: "…I have witnessed the growth of the Broome County Arts Council and the events and programs that it has supported and promoted. I have been excited at the new opportunities offered and the increased visibility of the Council within the community. I am very proud …to support community engagement with the arts."
2020 Corporate Citizen of the Year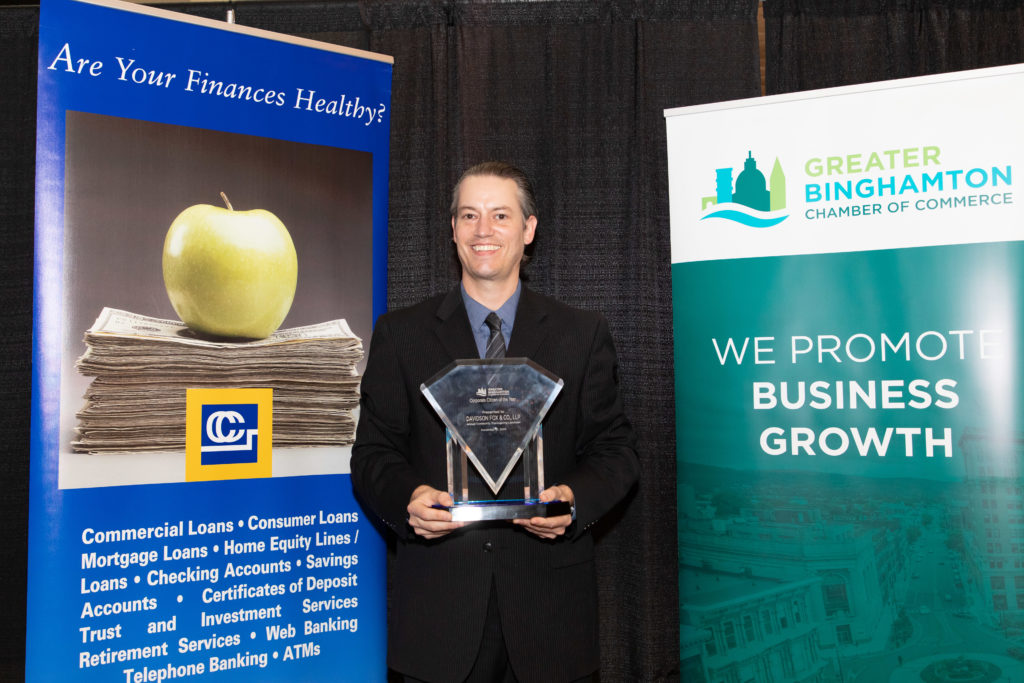 Presented to: Davidson Fox & Company, LLP
Accepted by: Jesse Wheeler, Co-Managing Partner
This award recognizes a company that has made not only a financial commitment to the Greater Binghamton area, but has also demonstrated leadership and hands-on employee participation.
Davidson Fox & Company is a full-service company of certified public accountants that offer tax, accounting and consulting services for clients ranging from sole proprietors to entities with revenue in excess of 250 million dollars. Over 2,400 returns were filed in 2020 for clients in 45 states and the District of Columbia. They service a variety of industries from manufacturing to retail to construction to not-for-profit. Beyond providing the highest standard of client services they possibly can, they embrace a company culture of giving back to their community.
They are a company of twenty-two employees and in 2019, those employees donated over 1,000 volunteer hours. Their employees serve on 28 various boards and committees throughout Greater Binghamton including ACCORD, Habitat for Humanity, Rotary, Sertoma, Mothers and Babies, Goodwill Theatre and many more. Employees serve as leaders on many of these organization Boards and six Davidson Fox team members donate their time serving in the capacity of treasurer for them as well.
In 2019, Davidson Fox endowed a scholarship at Binghamton University to promote the study of accounting and to further encourage students to remain in the area upon graduation.
Let's look at the financial impact Davidson Fox & Company had on organizations in our community in 2019 alone.
In supporting over 30 local non-profit organizations last year, the total amount contributed was over $53,000! Those organizations receiving financial donations included LUMA, Tri-Cities Opera, Hearts for Hope, Binghamton Devils, Southern Tier Aids Program Ride for Life and the American Red Cross Real Heroes Breakfast, to name only a few!
Davidson Fox & Company is not only committed to their clients but strongly committed to their community. Jack Salo, Executive Director of Rural Health Network of South Central New York has this to say about them: "In addition to providing excellent accounting and financial services, Davidson Fox & Company has consistently supported our organization through our fund-raising and sponsorship programs. Their professional and philanthropic investment in both Rural Health Network and the larger community is commendable and contributes to our region's quality of life."