Congratulations to our 2020 Building BC Award Winners
The Greater Binghamton Chamber is pleased to congratulate and recognize the Chamber's 2020 Building BC Award Recipients:
2020 Innovative Award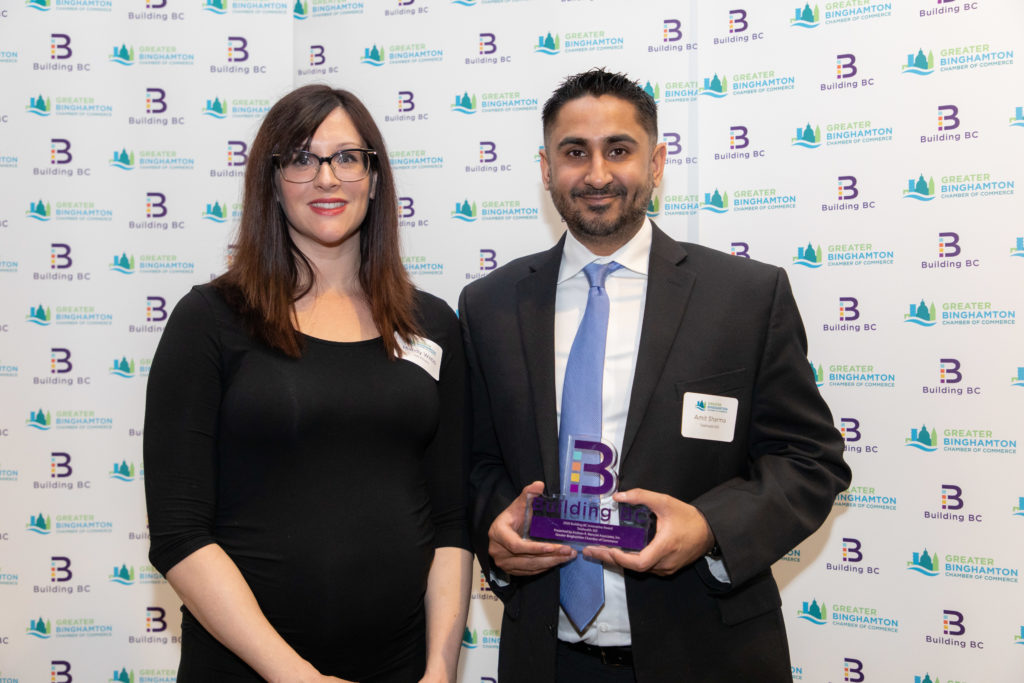 Presented to: Telehealth365 Inc.
Accepted by: Amit Sharma, VP of Technology and Collaboration
This Award recognizes a project, product or service that "thinks outside the box" and continues to stretch the boundaries and has proven to be a leader in innovation. This year's Award recipient is TeleHealth 365.
Telehealth365 is a leader in healthcare, providing under-serviced communities with low cost access to medical professionals. By utilizing video and audio platforms in accordance with HIPPA policy, this business reaches those in communities who would not otherwise be able to receive medical advice and care. Telehealth 365 uses advanced medical technology to enhance patient interaction. For example, they have developed a stethoscope that effectively complies with the audio/video platforms which allows a cardiologist to hear the patient's heartbeat in real time! This strategy can provide patients with advice and evaluations similar to those that they would receive in person.
Telehealth365's mission is to improve the quality of life in rural, under-served communities. One of Telehealth365's new initiatives is Tele-Dermatology program in Cooperstown, NY in which patients are able to receive immediate access to medical professionals. This has saved patients both the time and money that would be required for them to travel to Dermatologists in person and the extensive waiting period before their visit. This service allowed one patient to start skin cancer treatment immediately, rather than waiting ten months until she was able to visit her regular Dermatologist. The program has also increased the revenue of healthcare facilities, such as Bassett Healthcare Network Hospital, by referring patients for procedures such as blood tests and biopsies.
Under the leadership of Bipan Sharma, VP of Technology Collaboration, Telehealth365 is flourishing within the local community. They currently serve the Federally Qualified Health Centers (FQHC) communities covered by Medicare and Medicaid by providing an immediate access to healthcare.
Telehealth 365 is a local success story in the Incubator with hopes of growing and expanding here in Broome County.
2020 Transformative Award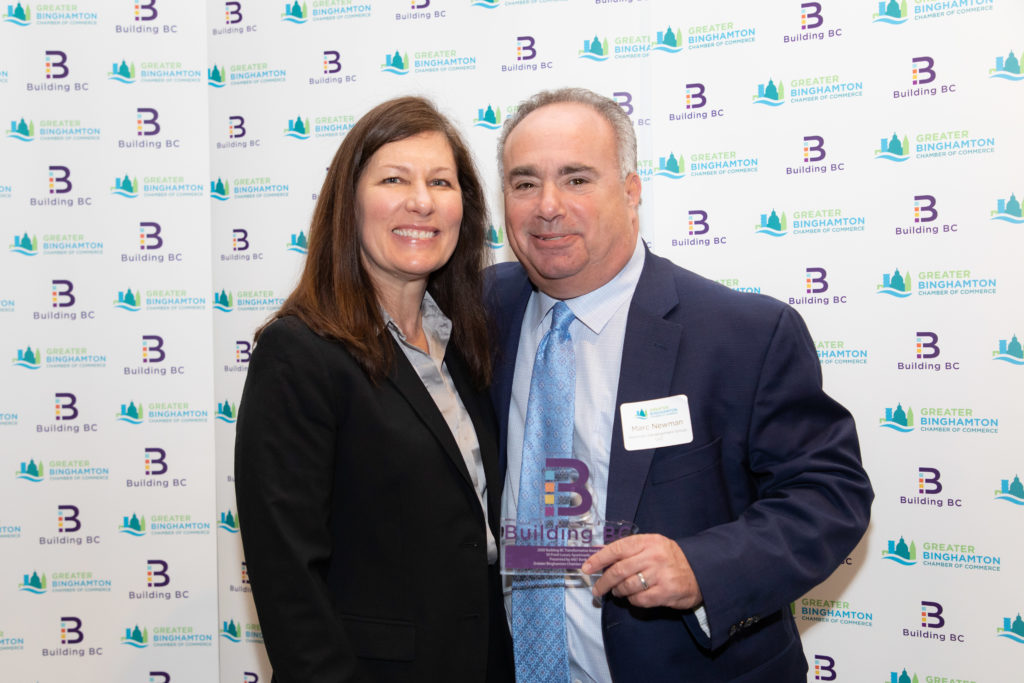 Presented to: 50 Front Luxury Apartments
Accepted by: Marc Newman, Partner, Newman Development Group
This award recognizes a project that impacts the entire community and fosters growth of those around it. This year's Award recipient is 50 Front Luxury Apartments.
The 50 Front Street project was a major investment into Binghamton. This 30-million-dollar project has the potential to spur economic development in the area and help to produce a great place to live, work and play within Binghamton. 50 Front Street was a blighted site that needed new direction and life. From the vision of Newman Development Group this concept was turned into a reality and will have a long and lasting impact on the quality of life for the residents of Binghamton's Westside.
Newman Development is a real estate development company that has been headquartered in Vestal for over 30 years. It specializes in all aspects of real estate development, redevelopment, acquisition, commercial, retail, student housing, multi-family, and mixed-use housing. Seeing the need within the community, and the opportunity to create a community transforming building, Newman Development Group revolutionized 50 Front Street into a cutting edge, urban property featuring many upscale amenities, such as security, Wi-Fi, a Clubroom, fitness center, and underground parking.
This location is one of the first new "ground up" apartment buildings built in Broome County within the past 30 years. Benefiting both residents and commercial tenants, 50 Front Street has created new jobs and has provided commercial space for businesses to locate. The initiative has also brought housing to the City in close proximity of Downtown with a beautiful view of the river.
This transformation is expected to trigger additional revitalization in the area, not limited to more market-rate housing, offices, commercial restaurants and positive impacts on existing businesses.
2020 Restorative Award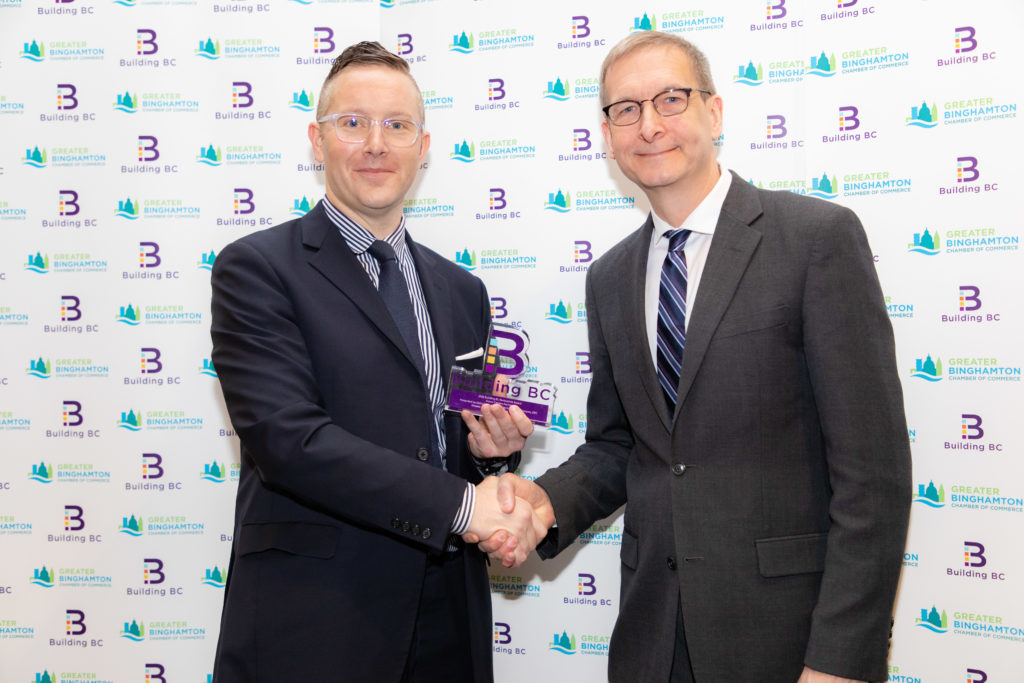 Presented to: Ansco Camera Factory
Accepted by: Matthew Paulus, President, Paulus Development
The Restorative Award recognizes a project that brings new life into an aging building. This year's Award recipient is The Ansco Camera Factory.
When Paulus Development acquired the former General Cigar Company – Ansco Camera Factory Building in June 2018, it was an aging, underutilized, and neglected building with a storied past. It was a building in need of new life. Many people may have viewed such a property with contempt, but the folks at Paulus Development saw it as a great opportunity. Paulus Development invests in underutilized urban properties and works to revitalize them into an effective catalyst for change.
In July 2019, Paulus Development completed its $25 million historic rehabilitation of the former Ansco Camera Factory in Binghamton. Located just outside of Downtown Binghamton in the city's First Ward neighborhood, it is now home to 100 market-rate lofts of various sizes and 35,000 square feet of commercial space for local businesses. All 100 market-rate lofts were leased and over 97% of the commercial space was leased. Utilizing the history of the Binghamton building, which had served as the manufacturing facility for two of the most notable industries in Binghamton history-cigar manufacturing and camera manufacturing—Paulus Development seized this as an opportunity to quench the need for high-quality, affordable, market-rate apartments and commercial space for local businesses.
While this project is not only telling of the building's tremendous story, it also fulfilled an essential desire of the community. What once was an eyesore for the First Ward neighborhood, now serves as an example of how public-private partnerships can create an intangible sense of pride for the community. This sense of pride will encourage others to continue to invest in the First Ward neighborhood, the City of Binghamton, and Broome County.
2020 Individual Award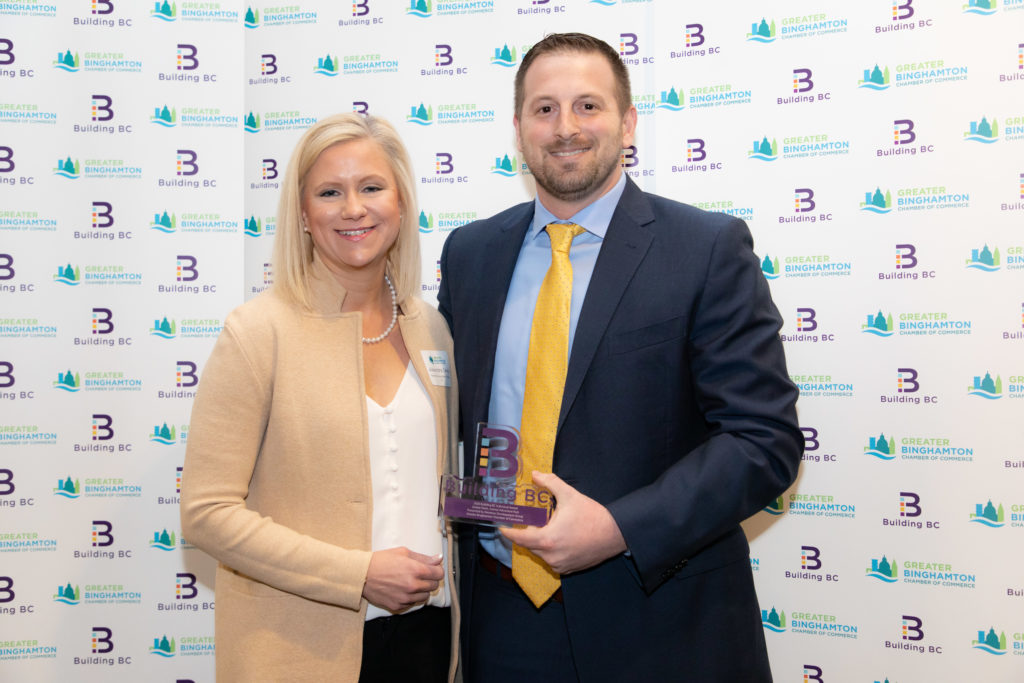 Presented to: Jordan Patch
Accepted by: Jordan Patch, Owner, Animal Adventure Park
This award's purpose is to recognize an individual whose investment of time, talent and money positively impacts the quality of life and job growth to ensure the success of the region's communities and economy. The winner of this Award for 2020 is Jordan Patch, Owner, Animal Adventure Park.
Animal Adventure Park is an interactive, educational animal park, designed to promote up close and hands-on animal encounters to develop an appreciation for animals. It aims to achieve education and conservation through understanding and appreciation.
Under the leadership and vision of Jordan Patch, Animal Adventure attracts guests from around the world, traveling to Harpursville, NY from as far as the United Kingdom, Australia and Japan on an annual basis. More than 150,000 guests attend the park each season to see the animal collection that now boasts close to 100 species, many threatened or endangered. One of the Park's most notable media presences is its world-famous Giraffe Cam.
The Park provides educational school field trips, hosting 165 groups in 2019. Additionally, the Park promotes a "Zoo to You" program, which delivers animals and educational messages to classrooms, day cares, senior centers, corporate functions, charity events, festivals, fairs, scout events, and many others.
Animal Adventure Park has been impactful on local non-profit organizations, donating to countless benefits, charity events, and initiatives. Some of the Park's notable partnerships are with HCA, First Ward Charities, PARP/ literary programs in local schools, LUMA, and Windsor Central School District's Scholastic Challenge. Providing donations, sponsorships, and merchandise, Animal Adventure Park has been an active member in supporting not only its own mission, but those of local non-profits as well. Contributions allowed the Park to gift over $42,500 to HCA (Helping Celebrate Abilities) in 2019.
The Park employs close to 50 seasonal team members from May through December, but also maintains a team of 10 full time Animal Care Team professionals that have either been sourced locally or have relocated to Broome County specifically to work at the park. Zoologists have come from many locations, including Alaska, Virginia, Massachusetts, and New Jersey.
Animal Adventure Park, also endorses the idea of "keeping it local." Every item consumed by the Park–such as construction materials, construction and engineering labor, insurances, animal and human food and drink, clothing and other logoed merchandise–is sourced locally.