Congratulations to our 2019 Spring Award Winners
2019 Small Business Person of the Year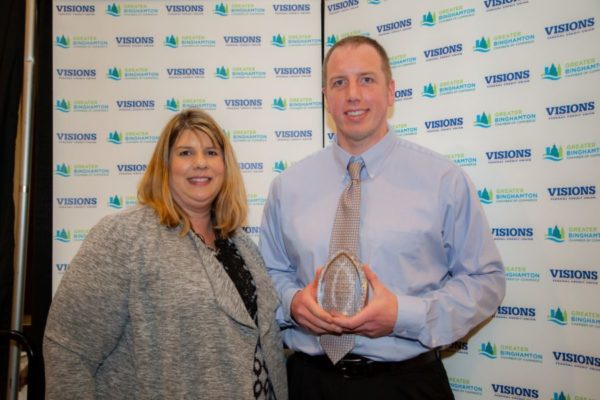 Joe Hashey, President
Synergy Athletics
The Small Business Person of the Year shows evidence of growth in the number of employees; the business must have a minimum of 5 full-time employees and growth in sales with an emphasis of the past 3-5 years. They much show innovation of their products or services and contribute to their community.
In response to requests for strength and conditioning training from the parents of local athletes, Joe and his wife Melanie started Synergy Athletics in October of 2008 in their garage. Since those early days, Synergy has grown and evolved to provide busy adults with guided and meaningful workouts they can use to stay healthy. In 2010, the business moved their 15 members from workout space in their garage to their first community location in Endwell. Today, Synergy Athletics has expanded to three locations and seven employees serving over 500 members.
Sales have also shown impressive growth for the business. When Joe opened the second location in Vestal, in 2016, the growth was 80.5%. It has continued well over 25% each consecutive year since that time.
Joe is launching an internship program for individuals looking to break into the fitness and training industry. Joe is deeply committed to giving back to his community. He enjoys speaking to business classes and at staff development days in local high schools and presents to local businesses with tips on how to keep their employees healthy. Synergy also supports and sponsors a number of local teams including M-E and Vestal football, Vestal cheerleading and the M-E world champion little league team to mention a few. Joe and his team provide speed and agility clinics free of charge to local youth, community, school and collegiate teams. Synergy also organizes charitable events, most recently a 5K to benefit the M-EALS program.
Kevin Blake, Partner with ICS says of Joe: "Joe wanted to build a place that was more than just a place to work out. Joe built a culture for healthy lifestyles and built it in a way that didn't always revolve around him. To be a Synergy member is to be a part of a family and community."
2019 Young Professional of the Year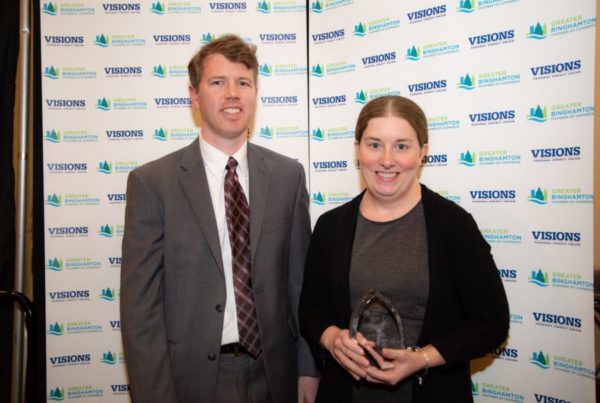 Carrie Wenban, Partner
Levene, Gouldin & Thompson, LLP
The Young Professional of the Year shows excellence, creativity and initiative as an emerging leader in their business and/or profession. They serve as a role model for peers both personally and professionally and provide valuable service to improve the quality of life for others in the community.
Upon her graduation from Syracuse Law, Carrie began her career as an associate attorney with Levene Gouldin & Thompson(LGT). The firm was so impressed with Carrie that she was invited to become a partner in 2008; she accepted and became one of the youngest partners in LGT's history. She became a mentor to associate attorneys, a role she continues today. In early 2011, she became co-chair of the firm's Management Structure Committee which is responsible for evaluating and restructuring management roles and compensation. Later that year she became co-chair of the Business Practice Group; she is responsible for providing leadership and management direction to the practice group. Two years ago, she joined the Compensation Committee and one year later, became chair.
Carrie's enthusiastic involvement extends to her community. She is a member of the Early Childhood Center Parent Committee of the Jewish Community Center; she became chair a short time later and has remained chair since. She also chaired the Playground Committee that involved creating three new playgrounds area for approximately 250 children. The Playground Committee was responsible for raising $400, 000 to cover the costs of the project. In 2011, she joined the Board of Directors of the JCC and in 2016 became President of the Board and will complete her term this June.
Sheryl Brumer, Executive Director of the JCC says of Carrie: "She is the quintessential volunteer, a dedicated leader and a very generous and caring person."
Scott Kurkoski with LGT says: "I am proud to be a partner with Carrie given her work within and outside of the firm. She is one of our area's consummate professionals."
2019 Distinguished Chamber Volunteer of the Year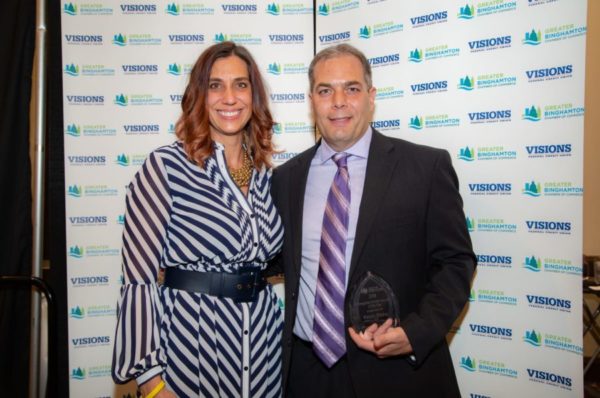 Kevin Blake, President and CEO
ICS
The Volunteer of the Year Award recognizes the dedication of one of our many Chamber volunteers. The Chamber is fortunate to have so many dedicated volunteers who deserve recognition. Without them, we would not be able to accomplish our mission.
Kevin Blake is a dedicated community volunteer. On the Chamber side, Kevin has served in a leadership capacity as president and vice president of the Board of Directors of the Greater Binghamton Education Outreach Program (GBEOP), our non-profit affiliate, since 2012. The vision of GBEOP is to help create a "talent pipeline" in our community through a business-education partnership. Over the past two years, Kevin has played a major role in GBEOP's tremendous growth in its' increased programming, reach and impact in the community.
In addition, Kevin has been an avid supporter and the Chamber's biggest cheerleader for the Chamber's Junior Achievement program. Business and community volunteers deliver JA programs in grades K-12 that teach entrepreneurship, workplace readiness and financial literacy. Kevin is not only an enthusiastic volunteer for the JA program in local schools, but someone who also recruits new people to get involved with JA.
He also serves as a mentor to students to help them prepare for the Greater Binghamton Scholastic Challenge, a business plan competition for high school students.
Not only does Kevin thoroughly enjoy mentoring high school business students in the Broome Tioga BOCES district, he also gets involved at the college level with Binghamton University's School of Management. He loves bringing his knowledge of running a successful business to them.
Kevin also has a passion for coaching youth sports for the Maine-Endwell athletes including Little League baseball, Pee Wee football and basketball.
He serves on the Davis College Advisory Board as well as the Lourdes Hospital Audit Committee, BU's School of Management Advisory Board and as a Board Member for Modern Marketing Concepts.
Lastly, Kevin and ICS have been long-time sponsors of the Chamber's annual Greater Binghamton Bridge Run. A number of his employees volunteer on the day of the Race. His team also supports and walks in the local Susan B. Komen Walk for Breast Cancer. Kevin ensures that his team becomes involved in non-profit organization events because of his belief in giving back to the community in which they live and work. Most recently, Kevin and his team volunteered to manage all the audio- visual needs for the break-out sessions at the Young Professional Summit in 2018 and again in 2019.
2019 Entrepreneur of the Year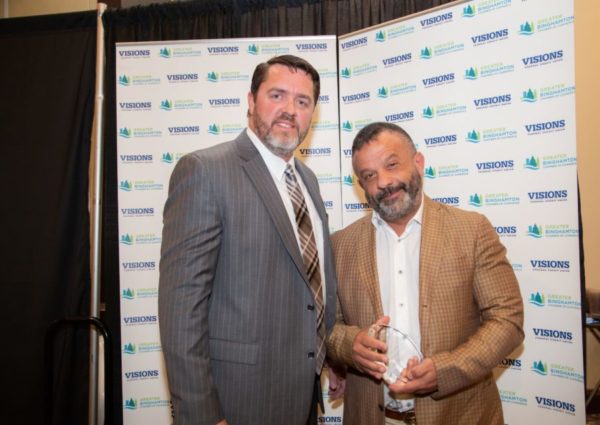 Adam Weitsman, CEO
Upstate Shredding – Weitsman Recycling
The Entrepreneur of the Year exemplifies leadership and entrepreneurial skills. They show a willingness to take risks and demonstrates exceptional vision that contributes to business success. This person exhibits personal drive, focus, innovation and business acumen.
Adam's grandfather, Ben, started a small auto parts and scrap yard business in 1938. Adam's father, Fred, took over the business and expanded into Binghamton. Adam had an art gallery in New York City but returned to Owego to help run the family business. In 1996, Adam had the idea for Upstate Shredding – Weitsman Recycling as a scrap metal processing company.
In the last 20 years, Adam has purchased properties and several failing scrap yards throughout New York and Pennsylvania. His business is now the largest, privately-owned scrap metal processor on the East coast. Adam has won multiple national and international awards recognizing him as a leader in the scrap metal industry.
Though the industry accounts for $90 billion in the US alone, it is a volatile and unpredictable business. Adam has the instincts to know when the industry will be getting difficult and plans and positions his companies to successfully weather the fluctuations. When many scrap metal companies are going out of business, Upstate Shredding-Weitsman Recycling continues to thrive.
Adam ensures that each of his company locations is environmentally safe and aesthetically beautiful for the communities in which they do business. He is committed to changing the image of the typical scrap yard.
Adam Weitsman treats all his employees like family and believes strongly in giving back to his community. He generously supports organizations like the Boys and Girls Clubs; his grandfather was one of the founding members of the Tioga Boys and Girls Club in Owego. This year, Adam pledged $150,000 to three area Boys and Girls Club if Syracuse beat Duke; and they did in a 95-91 overtime underdog win! Adam is known to generously give valuable advice to small businesses to help them grow and overcome hurdles.
When asked what one piece of advice he would give to an entrepreneur, Adam said: " I would tell an entrepreneur that opportunity is not going to come looking for you. You need to seek it out and chase it. Success is not an accident; it takes hard work, dedication, precision focus and skill. Dream big and make it happen, there is nothing you can't achieve with the right mindset."
2019 Civic Leader of the Year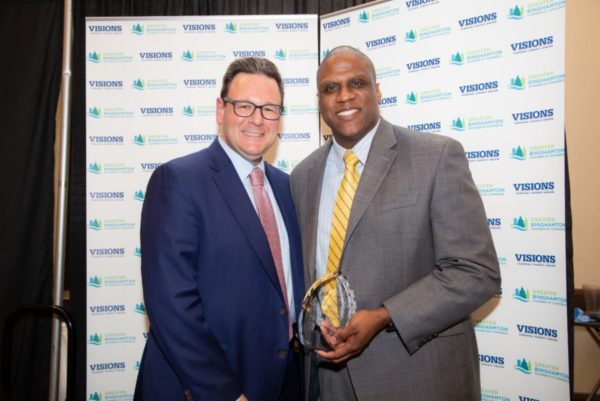 Tyrone Muse, President and CEO
Vision Federal Credit Union
This Civic Leader of the Year shows evidence of having had a long-term beneficial impact on the community. They demonstrate civic engagement by using a combination of knowledge, skills, values and motivation to make a difference in our communities.
Six years ago, Ty Muse was hired as the new President & CEO of Visions Federal Credit Union. Though Ty's roots are southern, he was raised in Wallkill, New York. Alan Hertel, Chairman of the Visions Board of Directors says: "Since that time, Ty has consistently demonstrated a sincere personal and professional commitment to civic involvement."
Ty leads by positivity, encouragement and example. Ty and his family sponsored a free track club for over 100 children, ages 7 – 17 through a partnership with the Triple Cities Running Club. He regularly volunteers his time, talents and resources to numerous local organizations. Ty has been a model for the annual fashion show fundraiser for Mothers & Babies Perinatal Network. He volunteers his time to tend bar for several Celebrity Bartending events to benefit local non-profits. Ty enjoys mentoring Binghamton University students and local youth and he serves on the Binghamton University Foundation Board.
In 2018, Ty was honored as the Broome County Distinguished Citizen Award by the Boy Scouts of America, Baden-Powell Council. He was also honored by Broome-Tioga Branch of the NAACP with the Freedom Fund Award for Achievement in Finance. He has served on the Greater Binghamton Chamber Board of Directors since May of 2014.
Ty asks of his employees to find "one thing" they are passionate about to make their lives, family, job or community better. With this approach, he believes it will lead to thousands of "one things" to make our community better.
Harvey Stenger, President of Binghamton University, says of Ty: "Ty is well-deserving of this honor. He's a great friend, colleague, partner, supporter, and philanthropist for the entire Binghamton region. We are very lucky to have him here."