Congratulations to our 2019 Fall Award Winners
2019 Community Advocate of the Year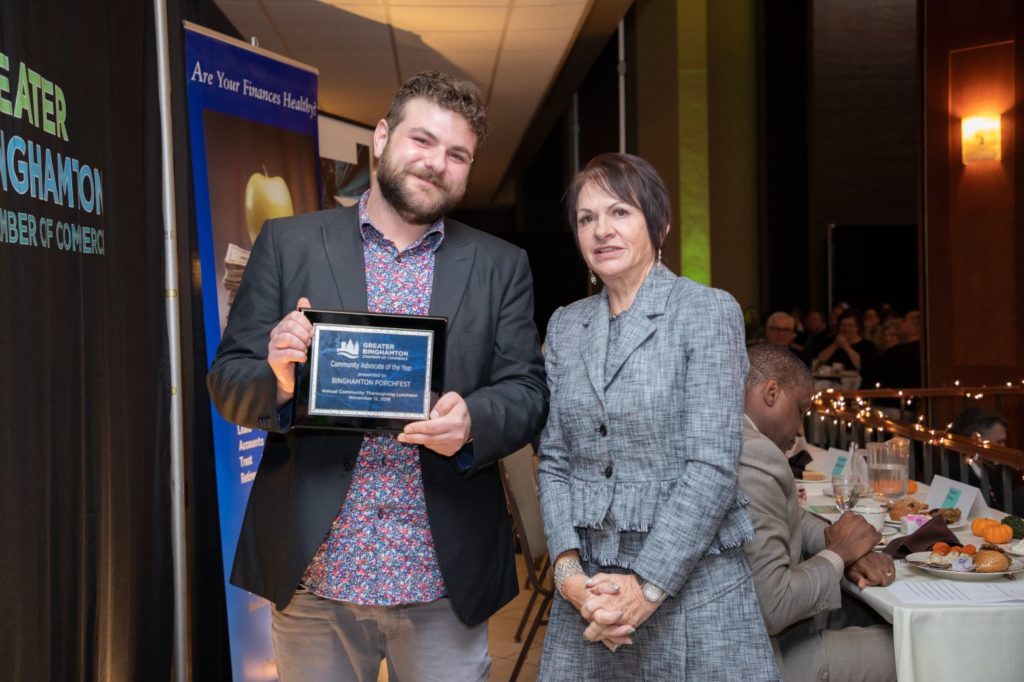 Binghamton Porchfest
Accepted by: Christopher Bodnarczuk
This Award is given in recognition of a grass-roots organization, event, or festival that has made an extraordinary contribution to the improvement and/or enrichment of the neighborhood that it serves within the Greater Binghamton community.
For those who have never experienced it, Binghamton Porchfest is a free celebration of music and community that takes place annually in the heart of Binghamton's West Side. 2019 marked the fifth year of Porchfest which was modeled after Ithaca's Porchfest, which launched in 2007. There are now 150 versions of Porchfest throughout the country!
Residential homeowners enthusiastically offer the use of their front porches, yards and driveways on the last Sunday in August to serve as impromptu open-air stages. These West Side neighbors collectively host performances by hundreds of local and regional volunteer musicians.
Performers are not only local but regional, travelling from northeastern Pennsylvania, Ithaca and Syracuse. Bands have even travelled from Boston and Washington, DC to perform!
Binghamton Porchfest had a humble beginning in 2013 with twenty porches and 163 performances.
This grew to 52 host locations, 583 individual musicians and an estimated seven to eight thousand community members participated in 2019. A digital schedule of all performances as well as a map are available so Festival goers can plan their day.
Binghamton Porchfest is completely volunteer-driven. In order to keep the Festival entirely free, sponsors provide financial support. As you can imagine, as the Festival grows, so do the expenses. Everything from porta-johns to programs to insurance, security, shuttle service and more are needed. Over twenty companies and organizations support the Festival so it remains free to all who attend. The Gorgeous Washington Street Association, a volunteer-driven 501(c)3 Non-Profit acts as the host organization for Porchfest.
The agenda of Binghamton Porchfest is simple–to get neighbors together to celebrate and dance, but it has evolved into so much more. The Festival's shared sense of ownership provides a unique opportunity for Binghamton's diverse populations to come together as one. It is truly a family-friendly event complete with dozens of children running lemonade stands!
As one of the Festival goers said of the Festival: "Outstanding, truly enjoyable day! Stellar talent, amazing organization!"
2019 Non-Profit Executive Leadership Award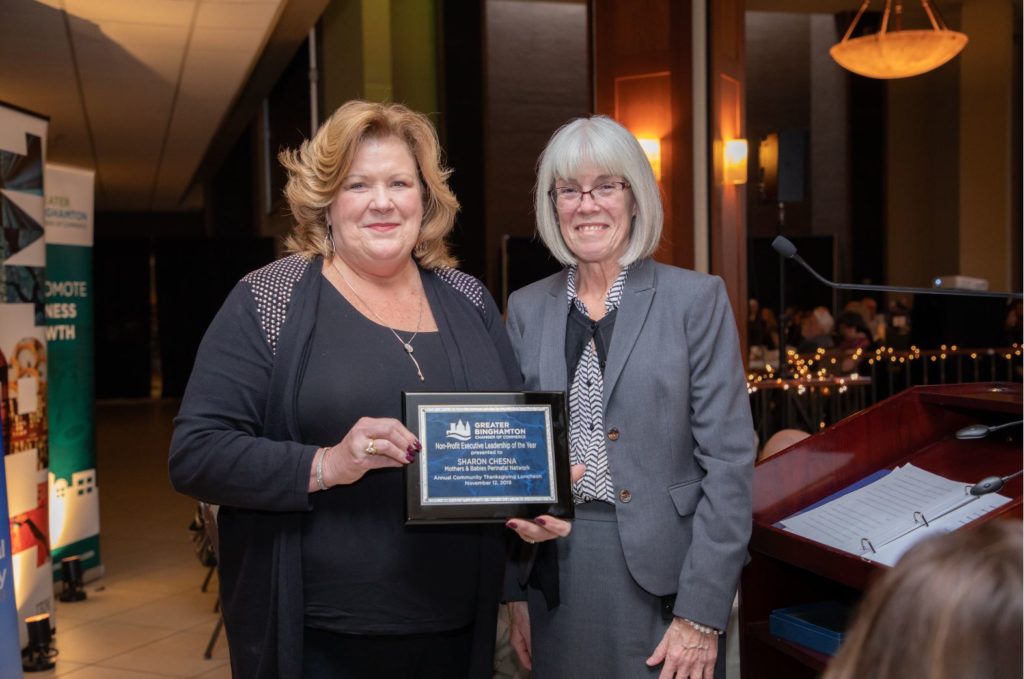 Sharon Chesna, Mothers & Babies Perinatal Network
Accepted by: Sharon Chesna
Sharon was hired as the Coordinator for the not yet incorporated Healthy Mothers, Healthy Babies Coalition in February of 1993. She incorporated the agency in July of 1996 and her title changed to Executive Director.
The organization has grown tremendously since their inception. They began in 1993 with a New York State grant for $78,000, serving one county with a staff of one.
Today their current annual budget is $2.4 million with a team of 35 staff members serving eight counties.
As always, their mission remains to improve pregnancy and birth outcomes and the health and development of all individuals and families.
They serve over 12,000 individuals annually and partner with multiple agencies to impact the health and well-being of individuals and families.
Besides running her agency, Sharon is actively involved in many of the area's organizations:
• She is a Board Member and Treasurer of Rural Health Network of South Central New York;
• A Board Member and Finance Committee member of Care Compass Network;
• A member of the Binghamton/ Broome Anti-Poverty Steering Committee;
• A member of the Broome/Tioga County Child Fatality Review Team, as well as many others.
When asked what she was most personally proud of she said her role has allowed her so many experiences with the National Perinatal Association. She has learned about national and emerging strategies and initiatives for improved maternal and infant health and has brought them back to Mothers and Babies.
In 2002, she was invited to be a part of a 30-person perinatal health excursion to Cuba to study their health-care system. In 2011, Sharon received a Presidential appointment to serve on the Infant Mortality Advisory Committee to the Secretary of Health and Human Services.
In 2015, she received a Governor's appointment to serve on the New York State Citizen's Review Panel which is responsible for the review and recommendation improvements in policies and programs for child welfare services in our State.
A colleague said "Sharon is a huge advocate for the community. Her passion and her sense of responsibility for the community result in her challenging the status quo. No one else in New York State approaches her field of work like she does….She is unafraid to go out of process to make a difference."
2019 Corporate Citizen of the Year Award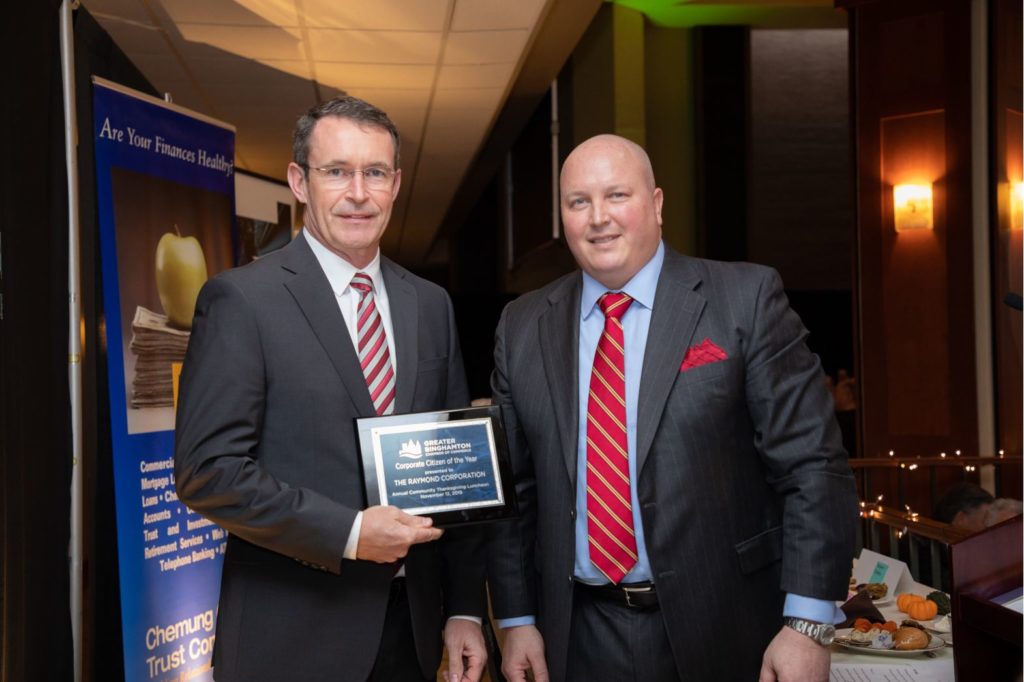 The Raymond Corporation
Accepted by: Michael Field
This award recognizes a company that has made not only a financial commitment to the Greater Binghamton area, but has also demonstrated leadership and hands-on employee participation.
Founded in 1922, The Raymond Corporation designs, manufactures and distributes electric and automated forklift trucks and warehouse solutions that enable their customers to manage their operations smarter and be more productive.
The company serves the United States, Canada and Mexico with headquarters in Greene, NY. Two additional facilities are in East Syracuse and a second manufacturing facility is in Muscatine, Iowa. Authorized Sales and Service Centers are located throughout the United States with one in Canada.
This gives you a general overview of the company; there is so much more to their story.
The Raymond Corporation continually supports more than 150 nonprofit and educational organizations with monetary contributions, forklift donations and voluntary participation in which Raymond employees give their time and talents.
The company is heavily involved in local education initiatives. Each year, Raymond invites local students from Southern Tier schools to attend Manufacturing Day, giving them the chance to learn more about manufacturing, as well as about the company, through engaging activities and real-life experiences with Raymond professionals. In 2019 Raymond also hosted its inaugural Engineering Day so local engineering students and STEM students can speak to engineers working at the warehouse.
Giving back to the community is a high priority for the company. The list of organizations the employees support is lengthy, a few examples include:
"Jeans Day" an optional monthly day in which employees can pay to wear jeans to work. The proceeds are given to local causes in the greater Binghamton and Southern Tier region. The charity beneficiaries rotate each month.
Employees organize bake sales and raffles and collect food donations for "Blessings in a Backpack" and the Green Food Bank.
Around Thanksgiving, employees donate turkeys to Roots and Wings Catholic Charities of Chenango County and other organizations in need.
Raymond and its employees donated to the Mental Health Association's new headquarters move and renovation project.
Proceeds from an annual bread sale are donated to the Making Strides Against Breast Cancer of the American Cancer Society.
Forklift trucks are donated to organizations including the American Red Cross locations throughout the United States and in Broome and Tioga Counties.
Raymond employees serve on numerous boards of local charities and organizations. The company is proud to also sponsor local community sports programs and local high school activities. The arts community such as Tri-Cities Opera and CreateABLE – Life is Washable, Inc. also benefit from Raymond.
This is a company committed to making their community a better place in which to work and live and encourages their employees to do the same. We are proud to award The Raymond Corporation the Corporate Citizen of the Year!