Congratulations to our 2019 Building BC Awards Winners
2019 Innovative Award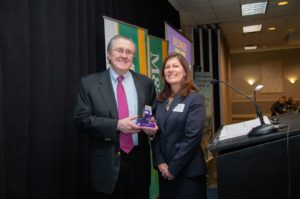 Presented to: Innovation
Accepted by: Tom Boyer
This Award recognizes a project, product or service that "thinks outside the box" and continues to stretch the boundaries and has proven to be a leader in innovation.
Innovation was recognized as a leader in pharmacy automation, offering precision counting equipment and workflow software platforms to companies within the pharmaceutical industry. The Company's prescription dispensing technology, combined with workflow, database and reporting tools place their customers at the forefront of information technology.
2019 Transformative Award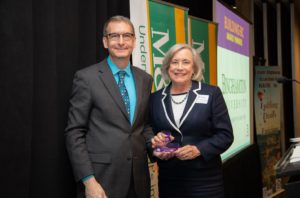 Presented to: Binghamton University School of Pharmacy and Pharmaceutical Sciences
Accepted by: Gloria Meredith
This award recognizes a project or organization that has a product or service that has influenced their industry in a cutting-edge way.
Binghamton University was recognized for their $60 million investment in the creation of a school of Pharmacy and Pharmaceutical Sciences in Johnson City. This new facility will not only establish innovative pharmaceutical science and therapies, but it will also create a thriving medical industry in the Greater Binghamton Area.
2019 Restorative Award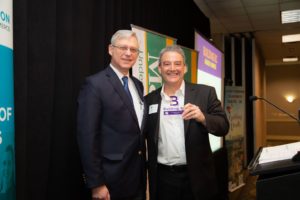 Presented to: Century Sunrise
Accepted by: Larry Reagan
The Restorative Award recognizes a project that brings new life into an aging building.
Regan Development Corporation was recognized for transforming the old Endicott-Johnson Shoe Factory into Century Sunrise Apartments. This project brought affordable housing to our community as well as residential redevelopment in the overall plan of Johnson City.
2019 Individual Award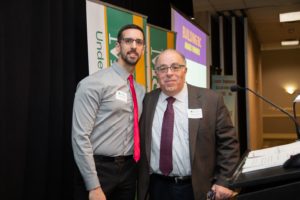 Presented to: The Ellis Family
Accepted by: Tom Ellis
This award's purpose is to recognize an individual whose investment of time, talent and money positively impacts the quality of life and job growth to ensure the success of the region's communities and economy.
The Ellis Family was recognized for their long-term investment in the Greater Binghamton community. Their tremendous commitment to our area can be seen via their newly renovated facility in the heart of downtown Binghamton as well as their dedication to purchasing goods, services and materials locally.