Congratulations to our 2018 Fall Awards Winners
2018 Community Advocate of the Year Award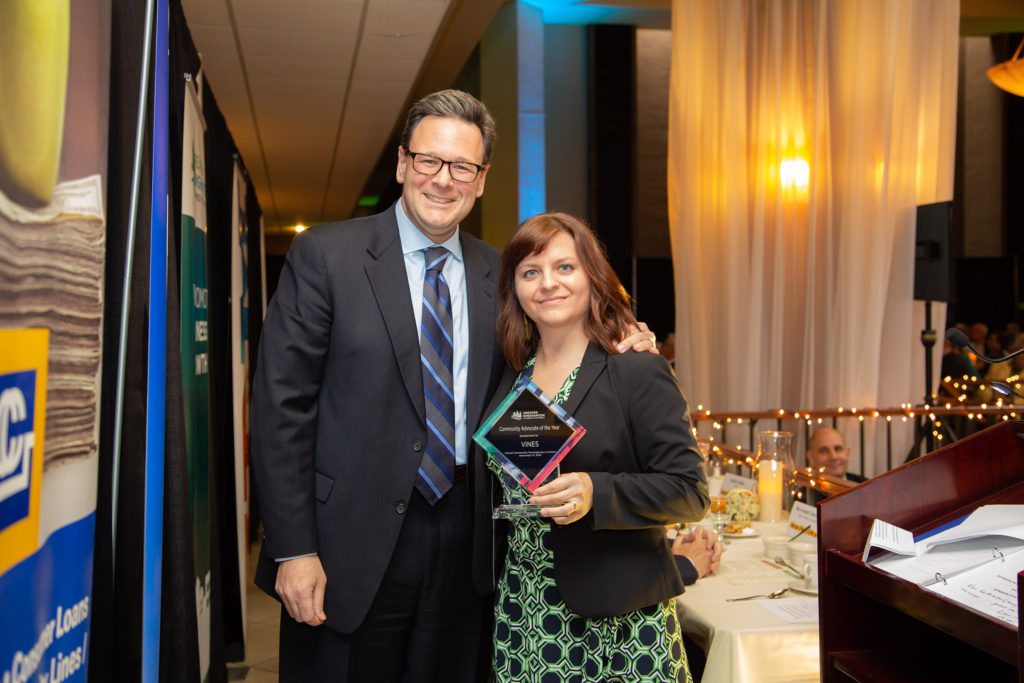 Volunteers Improving Neighborhood Environments (VINES)
Accepted by: Amelia LoDolce, Executive Director
This Award is given in recognition of a grass-roots organization, event, or festival that has made an extraordinary contribution to the improvement and/or enrichment of the neighborhood that it serves within the Greater Binghamton community.
VINES is committed to developing a sustainable and an equitable community food system. This is done by bringing together diverse groups of people, with a focus on youth development, to establish community gardens, urban agriculture and community green spaces. Their motto is simple: "growing food, growing community".
The organization formed as a volunteer-led project building community gardens in 2007 and quickly grew as demand for urban gardening space, garden-based education and access to local food exploded.
VINES became an independent nonprofit in 2010 and now manages a number of programs including a community garden program, the Binghamton Urban Farm, a summer youth employment program (Grow Binghamton) for at-risk youth, the Green Thumb Educational Workshop Series and the Binghamton Farm Share program.
They are focused on serving youth, low-income and the underserved populations.
In just ten years, VINES has gone from a grassroots organization of volunteers building community gardens to a dynamic non-profit. VINES has built ten community gardens in Binghamton with 165 raised beds and has set a goal to build another ten by 2020. In partnership with the city of Binghamton, VINES' Binghamton Urban Farm in downtown will be expanding from a half-acre to nearly 2.5 acres in the next two years!
Jessica Dillenbeck of Jessica Dillenbeck Real Estate LLC described VINES as an organization that "not only provides food for numerous neighborhoods in our area, but one that also creates opportunity and hope."
2018 Corporate Citizen of the Year Award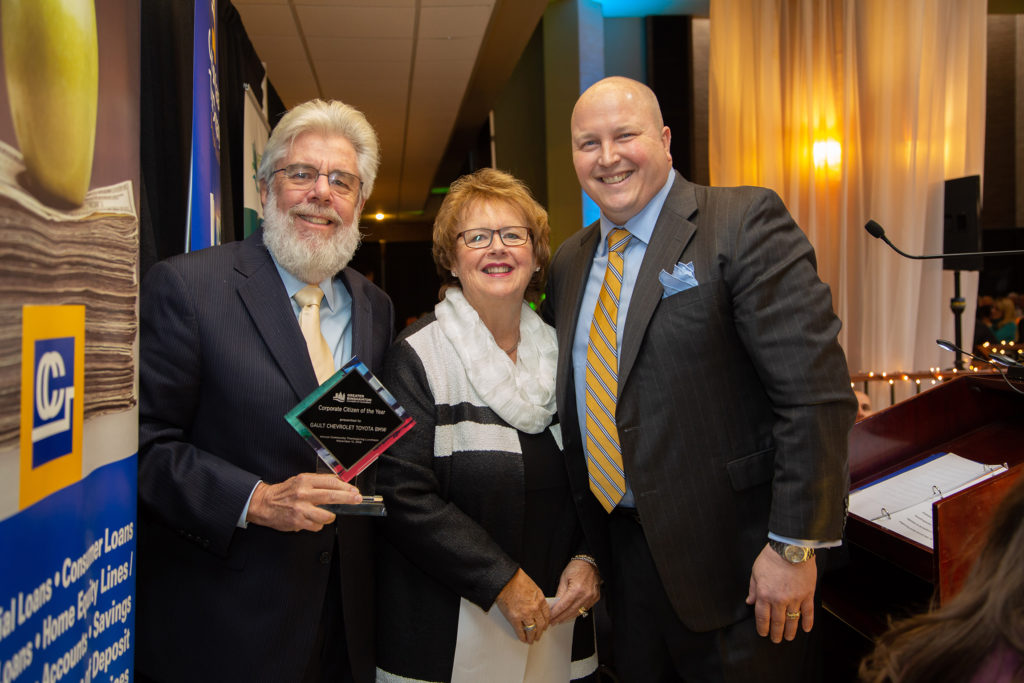 Gault Chevrolet Toyota BMW
Accepted by: Bob and Connie Gault, Owners
This award recognizes a company that has made not only a financial commitment to the Greater Binghamton area, but has also demonstrated leadership and hands-on employee participation.
JR Gault began the Gault automobile "love affair" in 1934 in Hannibal, New York! It is a fourth-generation family-owned and operated dealership. The Gault Auto business primarily serves a twenty-five-mile radius of the Greater Binghamton market. They offer new and pre-owned vehicles for purchase as well as a body shop to assist their customers with their collision needs. The Gault family have always been firm believers in supporting the community. For the past seven years, they have hosted one to two blood drives every year at both their Chevrolet and Toyota dealerships.
The Gault Gives Back program was started in January of 2017 and will continue until next month. Their pledge was to give back $60,000 a year to local organizations in Broome and Tioga Counties. You have probably seen the Facebook live presentations; the list of non-profit organizations that have benefited from this is much too long for a short speech. The letters of gratitude from the organizations receiving the funds are truly heart-warming!
In September of this year, the Gaults created "Nominate and Vote for your Favorite Teacher" program and presented $100 checks to each of the 50 "most voted" local teachers. All the teachers attending the drawing were given a bag of school supplies to assist in setting up their classrooms.
For the past three years, Gault has hosted second year local BOCES students at their dealership for half-day sessions on auto mechanics. These BOCES students have the opportunity to participate in a real-life work scenario for one year. They go to the dealership every day, wear the uniforms and get the opportunity to practice professional skills. These students gain valuable work experience in a very busy environment and see how everything functions. Gault now has BOCES graduates working in the Toyota Service Department and doing extremely well! In 2017, Connie and Bob were honored with the BOCES Community Service Award for outstanding commitment to the BOCES Auto Technology Program, Education and the Community.
When the President of the Lourdes Foundation, Robert O'Connell, received his donation from Gault Gives Back for the Lourdes Hospital Camp for Kids, he wrote "Your thoughtful kindness is an inspiration to our organization." Bob and Connie Gault are true examples of the very definition of Corporate Citizen!
INAUGURAL 2018 Non-Profit Organization of the Year Award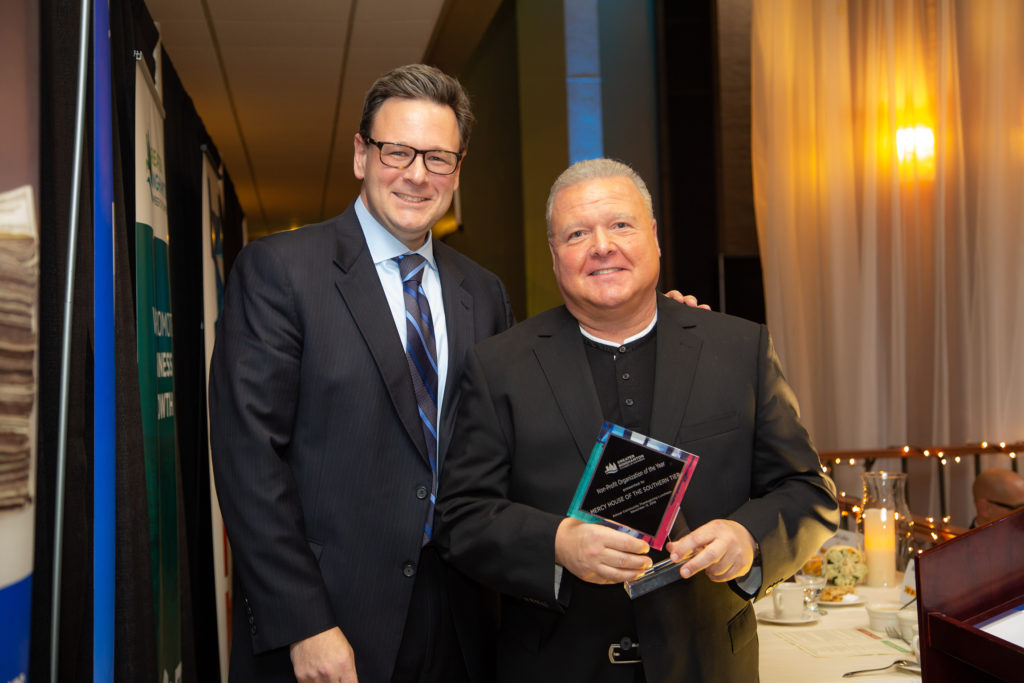 Mercy House of the Southern Tier
Accepted by: Reverend Clarence Rumble, Founder
This inaugural award recognizes a non-profit organization for their excellence in innovative programming and their community impact. This organization must exemplify leadership, excellence and innovation in utilizing their resources to benefit the greater Binghamton community.
Reverend Clarence Rumble is the visionary and founder of Mercy House of the Southern Tier.
Mercy House is a non-denominational Community Care Shelter providing a home and a supportive family to individuals suffering from a terminal illness. They unconditionally accept each Resident and ensure they are treated with dignity, respect and compassion.
Mercy House was founded after Father Clarence's personal experience of caring for a terminally ill family member. The Francis House in Syracuse inspired him to research the possibility of creating a similar facility in the Broome County area.
In 2014, he established a steering committee of twenty-five community leaders and a Board of Directors. Their tax-exempt status was obtained in March of that year; a building was acquired, and renovations were completed in February of 2016.
Mercy House is a warm and inviting "home" complete with ten resident rooms, a kitchen, chapel and a common area for families and friends to gather. Father Clarence plays an instrumental role in supporting the residents, families and friends – whether it's cooking a meal, making them laugh or spending time with them.
Mercy House has cared for over 240 residents during the past two years. Their team includes not only the administration and the dedicated Resident Care Aides but also over two hundred active volunteers who share their valuable time and talents with the residents each and every day. These volunteers work side by side with the Staff to provide loving care to each resident and their family.
Mercy House is fully- funded by the donations received from individuals, corporations and foundations. As a Community Care Center, Mercy House is not eligible for any county, state or government funding or insurance reimbursements. Less than 32% of the Residents can pay anything towards their care. The partnerships with foundations and the community are invaluable to them.
One of the families served by Mercy House said it best: "Mercy House is a blessing….the compassionate and loving care was something we will always remember. We cannot say enough about how wonderful Mercy House is."