2017 Entrepreneur of the Year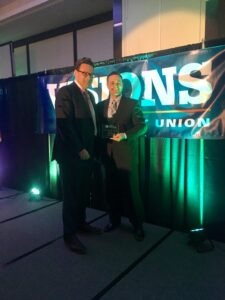 Dan Mori
Employment Solutions of New York
Binghamton University
2017 is the inaugural year for The Entrepreneur of the Year award.  It is given to an individual who exemplifies leadership and entrepreneur skills, shows willingness to take risks, demonstrates exceptional vision that contributes to business success, and exhibits personal drive, focus, innovation, and business acumen.
Dan is a Southern Tier native, focused on helping bring employees and employers together.  Growing up in a working-class family, he learned what it took to be successful.  After graduating high school, Dan joined the Army Reserves to make money for college and later returned to the Southern Tier and enrolled in Corning Community College.
Bouncing between jobs at an early age and unsure of what to do, Dan made the decision to invest in himself and set forth on his own path.
After seeing the struggles of businesses and individuals finding good employees and good companies, he took action.  When Dan and his business partners decided to start Employment Solutions of New York, an employment staffing agency, they had one goal – keep working until the work is done.
Working long nights to ensure customers were satisfied was the only was Dan knew how to do business, and it paid off.  With one of his first customers surprised they could deliver in such a timely manner, word spread and others caught wind, but growing a business from a single office with $300,000 in revenue to eight offices and $30,000,000 in revenue in 10 years can cause some growing pains and make difficult decisions.
Dan is currently involved in multiple companies, 5 in total, serving as Founder of Launch to Greatness and Pro Business Growth, President and Chair of Employment Solutions, CEO of SpinGig, and Director of Business Incubation at Binghamton University.
He believes that being an entrepreneur and showing leadership is expressed in various ways, most clearly in difficult times.  Overcoming these obstacles is the most important part of doing business because it allows an individual to see an issue from different angles.
Steve Campbell of the Eurillo Campell Group at Morgan Stanley said, "Dan's three greatest qualities are his leadership, his vision, and his willingness to give to others.  He is the kind of person people want to follow.  Dan follows through on what he promises, chooses to see the best in others, and is a constant encourager."
2017 Small Business Person of the Year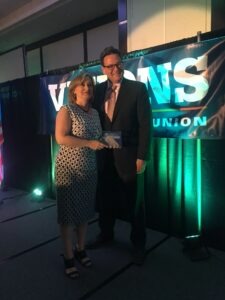 Gina Curcio
Curcio, Inc.
The Small Business Person of the Year award is given to an individual whose business shows evidence of growth in the number of employees, growth in sales for the past three consecutive years, innovation of product or services, and who is active in community – oriented projects.
Gina is President of Curcio Printing in Vestal, NY which had been locally owned and operated since 1987.  Having grown up in a printing family, Gina has more than 30 years of experience, and is an authority in all aspects of the printing and mailing industry.
She tackles the challenges of running a small business with a hands-on approach to the daily operations by meeting with clients and employees every day to ensure delivery on an excellent product.
Gina is passionate about the continued improvement and development of Curcio Printing.  She accomplishes her medium to long range goals by investing in equipment and training to keep current with the technological advances of the industry.
In 2014, she was approached by the owners of Carr Printing to negotiate the purchase of the business, which retained numerous long-term employees, hundreds of accounts, and kept the revenue within the local economy.
Since 2014, Curcio Printing has realized a 44% growth in sales and brought the total of employees to 25.
A strong believer in local economic growth, Gina sponsors the Greater Binghamton Business Expo every year and supports the Greater Binghamton Chamber of Commerce's mission and goals.  To demonstrate her commitment she supports several local non-profits, including The Children's Home, Springbrook, Missionaries of the Heart of Jesus, and the American Red Cross of Broome County, among many others.
Gina has also ventured into real-estate.  She is currently developing a 3-story, 42,000 sq. ft., Class A building targeted at attracting new businesses, bringing in new jobs, and continuing to build the community.
In her leisure time, Gina enjoys hiking and has many exciting travel experiences in the US and abroad.
Vikki Collazo, formerly with the Binghamton Rescue Mission, said, "[Gina's] local support of businesses and non-profits, including the Rescue Mission, are too numerous to mention.  She is on the leading edge of new and exciting events and business coming into the community, always supporting Greater Binghamton with her volunteer time, referring business, sponsorships, and mentorship."
2017 Young Professional of the Year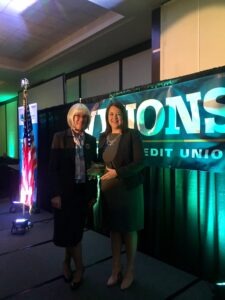 Brittany Hall
Binghamton Philharmonic
The individual selected for this award has demonstrated excellence, creativity, and initiative as an emerging leader in their business or profession, serves as role model for his peers both personally and professionally, and provides a valuable service to improve the quality of life for others in the community.
As an emerging leader in arts administration, Brittany has dedicated her career to bringing orchestras into the 21st Century.  She has worked diligently to tackle some of the challenges orchestras face – starting with budget gaps.
When Brittany was appointed to Executive Director, she searched the avenues of increasing revenue while decreasing expenses.  By diversifying programming, collaborating with other community members, and removing the boundaries created by a rigid season, the BPO was able to increase ticket sales by over 40%.
Improving the quality of life in the Greater Binghamton Area is the foremost goal of the Binghamton Philharmonic and Brittany.  Advancing education, culture, and creating a region that attracts future businesses, the BPO is leading the charge with civic and pride visibility.
Along with her role in the Binghamton Philharmonic, Brittany actively participates in other community organization, such as the Emerging Leaders Society, the Binghamton Forum, and the Binghamton Noon Rotary.  She feels that it is not only her duty to serve as a role model for the next generation of arts administrators, but also to guide and nurture relationships that build and support the innovative future of the arts within the Greater Binghamton Community.
Timothy Strong from Visions Federal Credit Union said, "Shortly after meeting [Brittany], I was asked to join the Board of Directors of the Binghamton Philharmonic Orchestra and that's where I began to see what a true asset to our community she is.  To attract and retain talent, communities need to offer culture and recreational activities and that's exactly what the BPO does under her direction.  She was quickly promoted to Executive Director because we, as the Board of Directors, saw the talent she was possessed and how much she brought to our community."
2017 Volunteer of the Year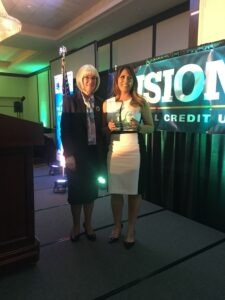 Jennifer Crawford
GHS Federal Credit Union
The Volunteer of the Year Award recognizes the dedication of one of our many Chamber volunteers.  The individual singled out for this award is an active and consistent supporter of the Greater Binghamton Chamber and its programs and services, as well as a role model for the community as a whole.
Jennifer is an outstanding member of the Greater Binghamton community and extremely involved in the Chamber's mission to create a great place to live and work.  She is the Business Development Manager at GHS Federal Credit Union, where she is tasked with bringing in potential prospects and creating a relationship with customers.
She has been involved with the Chamber for many years, and most recently organized volunteers from GHS to help at the finish line in the 2016 and 2017 Bridge Run.  Despite the sub-par weather, Jennifer and her team of fellow volunteers came out and provided a huge help to all of the runners.
Jennifer also volunteered to serve on the Chamber's Membership Committee, which is tasked with optimizing the chambers mission and goals to best suit the business community and our membership.  Additionally, she serves on the Discovery Center's Board.
Jennifer is dedicated, loyal, and is always willing to lend a hand at any Chamber function she is attending.  No matter what is needed to be done, from manning a table at the Re-Brand Bash to introducing Chamber members to each other at events, Jennifer is always there to help.
Jennifer is an exemplary representative of GHS Federal Credit Union throughout the community and it is our pleasure to have her as part of the Chamber team!
2017 Civic Leader of the Year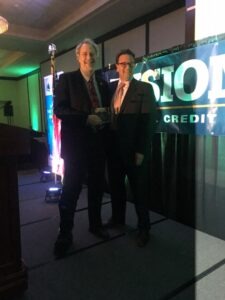 Dr. Kevin Drumm
SUNY Broome
The Civic Leader of the Year is given to an individual who shows evidence of having had a long-term beneficial impact on the community and has a history of giving back to the community.
Dr. Kevin Drumm has, over the past 7 years, transformed SUNY Broome Community College into a premier destination for community college students not only in the Greater Binghamton, but also statewide and internationally.  That in and of itself will have long lasting, immeasurable long-term benefits to the Southern Tier.
Under Dr. Drumms's leadership, the college has added new academic programs, directly addressing local industry needs, conducted over $60 million in capital improvements to the campus, introduced community locations in downtown Binghamton, among many more.
He is also one of the spearheads of the Food Hub movement here in the Southern Tier, which is an economic development focus area prominent in the URI award.
During his time at SUNY Broome, Dr. Drumm has served on the Board of Directors of Lourdes Hospital, the Baden-Powell Boy Scout Council Board of Directors and Executive Committee, the Greater Binghamton Chamber Board of Directors and Executive Committee, the Broome County Health Department Advisory Council, the Binghamton University Forum Program Committee, and he was the Chair of the New York Association of Community College Presidents.
Dr. Drumm has already had a long-lasting, positive impact on our community, and plans on continuing to do so.
James Orband and George Akel from Hinman, Howard, and Kattell said, "Simply put, Kevin is a doer.  He thinks big, but also has the knowledge and skills to accomplish his goals.  He has taken the time to develop partnerships between SUNY Broome and business and government entities, knowing that collaboration is the key to success."
Continue Reading