BLI Alumni Spotlight – Andrea Gregori
The BLI Alumni Spotlight is a feature developed by the Communications Committee of the BLI Alumni Association Board of Directors.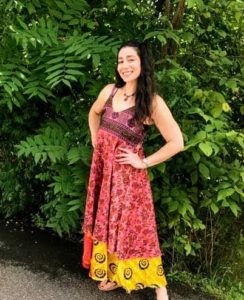 Name: Andrea Gregori
BLI Graduation Year: 2020
Company/Organization: Theatre Street Productions
Job Title: Founder & Artistic Director
E-mail address: andrea@theatrestreetproductions.com
Tell us briefly about yourself and please update your classmates on your personal/professional experiences since graduating from BLI: I'm a professionally trained opera singer, actress, and arts administrator. Since graduating from BLI, I have been able to pursue some wonderful virtual performance opportunities, in spite of the pandemic. I've also been able to continue teaching voice online – a new normal. I had the honor of premiering two new works: a one act play (by John Zimmerman) in KNOW Theatre's 2020 Playwrights & Artists Festival and the Spoon River Anthology, a collection of art songs (by Doug Beardsley) presented by the Goodwill Theatre/Schorr Family Firehouse Stage. Last summer, I was featured on national television in an episode of HGTV's "House Hunters", the first ever to be filmed in Broome County. I also started a new position with the Legal Aid Society of Mid-New York working with victims of domestic violence and became a licensed notary. This fall, I will be co-producing (and performing in) MAN OF LA MANCHA at the Endicott Performing Arts Center with performances scheduled September 23-26, 2021. The production will commemorate the 55th anniversary of the musical's five Tony Awards.
Favorite books/movies: The pandemic has given me the wonderful gift of time, reflection, and self-discovery. I actually had time to read! One book I was especially taken with is called "Boundaries", the NY Times Bestseller by Dr. Henry Cloud & Dr. John Townsend. It has been life-changing in more ways than I could have imagined. I've seen so many wonderful movies over the years, that it would be difficult to choose a favorite. However, one that certainly comes to mind is The Turning Point, featuring a very young Mikhail Baryshnikov. I was fortunate enough to meet him (by chance) when he performed at the Anderson Center in 2003.
Current and Past Notable Civic Activities: I currently serve on the Board of the Endicott Performing Arts Center, the Harmony Club, and the BLI Alumni Board. I have also served on the Boards of the Summer Savoyards, Phelps Mansion, Art Mission & Theatre and was on the Advisory Board of the International Gilbert & Sullivan Festival in Gettysburg, PA
Interests/Hobbies: I'm fascinated by the history of America's Gilded Age (especially 1880-1912) and anything Titanic-related. I've performed "living history" concerts in historic venues (including the Newport Music Festival) and had the honor of performing for a number of Titanic descendants in Watkins Glen to commemorate the centennial of the ship's sinking in 2012. I've also performed for the Titanic Historical Society. I hope to travel to Ireland this year to visit the Titanic Museum in Belfast, on the site of the shipyard where RMS Titanic was built. I also enjoy sewing (I've made my own period concert gowns), crochet, baking, and fitness.
How did your BLI experience change your perception of the community, and motivate you to become more involved in the community? Although I've lived in Broome County for over 25 years, BLI gave me tremendous insight into the many treasures of the Southern Tier, some of which I was not familiar with or didn't know much about. This area has so much to offer and participating in the BLI was a privilege. I was so incredibly grateful to have been chosen as a participant to learn more about our community and discover the many ways we can all give back.
Where would you like to see a future BLI class or leadership event held in the area? It would be fascinating to hold a class or event at one of Binghamton's historic sites (if it can be done safely), such as the Masonic Temple, Binghamton State Hospital (NYS Inebriate Asylum), Lackawanna Train Station, or Bundy Museum. The area has such a fascinating history that many people aren't aware of.
What was your most memorable BLI activity/moment? All of the sessions were interesting, but our visit to the Broome County Jail left an especially lasting impression. Touring the facility and experiencing life from the inmates' point of view was another lesson in things we tend to take for granted. I also enjoyed the team building exercises during the BLI retreat and learned that bravery is much easier to summon in a group! It's amazing what can be accomplished with the support and encouragement of others.
What was the most valuable benefit to you from your BLI experience? BLI gave me the opportunity to meet some wonderful people from various backgrounds and professions. The networking opportunities and resulting friendships have truly been a blessing.
What "nugget of wisdom" do you have for your fellow BLI alum? Try not to take any experience or relationship for granted, because it could turn into an extremely valuable resource one day.