Congratulations to our 58th Annual Dinner Award Winners
2022 Entrepreneur of the Year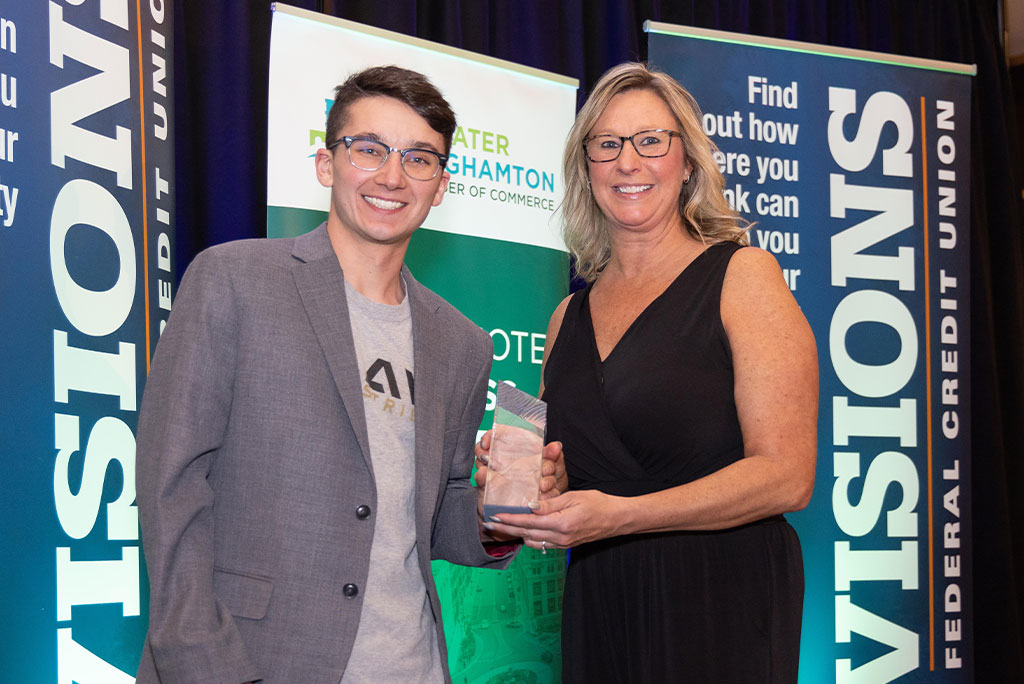 Jacob Kumpon
KLAW Industries

The Entrepreneur of the Year exemplifies leadership and entrepreneurial skills. They show a willingness to take risks and demonstrate exceptional vision that contributes to business success. This person exhibits personal drive, focus, innovation and business acumen.
As we enjoyed New York State wines last night, have you ever thought what happens to those all those bottles?
Jacob did. Jacob discovered that glass isn't recycled because it gets mixed with paper, plastic and metal, making it unusable for bottle manufacturers or anyone else. As a true entrepreneur, Jacob identified a problem in the recycling industry, now he needed to find a solution.
He started cold-calling, gathering valuable information and digging through research papers to discover that glass could be used as a reactive material in concrete. He brought a plastic "baggie" of powdered glass to concrete plants and received a great response that they wanted to pour concrete with the material right away! Jacob then knew he and his co-founders, Jack Lamuraglia and Tanner Wallis were on to something!
At KLAW Industries, they process waste glass into a cement replacement for concrete called "Pantheon". They sell this trade-marked material to ready-mix concrete plants to increase the compressive strength, lower the cost and decrease the carbon impact of their concrete!
They have performed nineteen concrete projects, which have validated Pantheon. They have raised over a half million dollars in funding and have purchased a production facility on Griswold Street. They are looking to fulfill a letter of intent for twenty-five tons per month of Pantheon!
In 2021, KLAW Industries was the winner of the Binghamton Local Development Corporation's 2021 Business Plan Competition. As Mayor Jared Kraham said, "…they have gained national recognition for their success, shining a light on Binghamton as a hub for entrepreneurship and innovation."
They won first place at the University of Oregon New Venture Competition which gave them another twenty-three thousand dollars and just recently, they were the first place winner of 100 thousand dollars in the recently completed Heartland Challenge at the University of Arkansas!
2022 Small Business Person of the Year

Patrick Snyder, President
Logowise

The Small Business Person of the Year shows evidence of growth in the number of employees; the business must have a minimum of 5 full-time employees and growth in sales with an emphasis of the past 3-5 years. They must show innovation of their products or services and contribute to their community.
Logowise is a marketing company—as they call themselves—a "melting pot" of creative "go-getters" who produce apparel, promotional products, signage and offer social media management services for schools and businesses.
What started in 2012 with Patrick and one staff person is now a team of ten who have tripled in size, space and sales with a record-breaking year in 2021 surpassing well over two million dollars!
Patrick is described by John Karedes, Executive Director of the Dick's Sporting Goods Open as always the optimist who supports our community through numerous charitable endeavors including the Open. And, thanks to Logowise, the last pre-Covid Open ranked number one across all tournaments for social media reach and growth!
Joe Mirabito says Patrick provides outstanding customer service and leadership…and is committed to being the best at what he does.
Patrick is a huge supporter of ACHIEVE as a corporate sponsor and was one of the first "platinum partner sponsors" which recognizes an organization who sponsors all four of their signature events. He is instrumental in identifying and soliciting new corporate sponsors for them.
We would be remiss if we did not mention Patrick's support of youth hockey by sponsoring several programs within the league and generously providing banners, gear and giveaways in support of their tournaments and fundraising efforts.
2022 Distinguished Chamber Co-Volunteers of the Year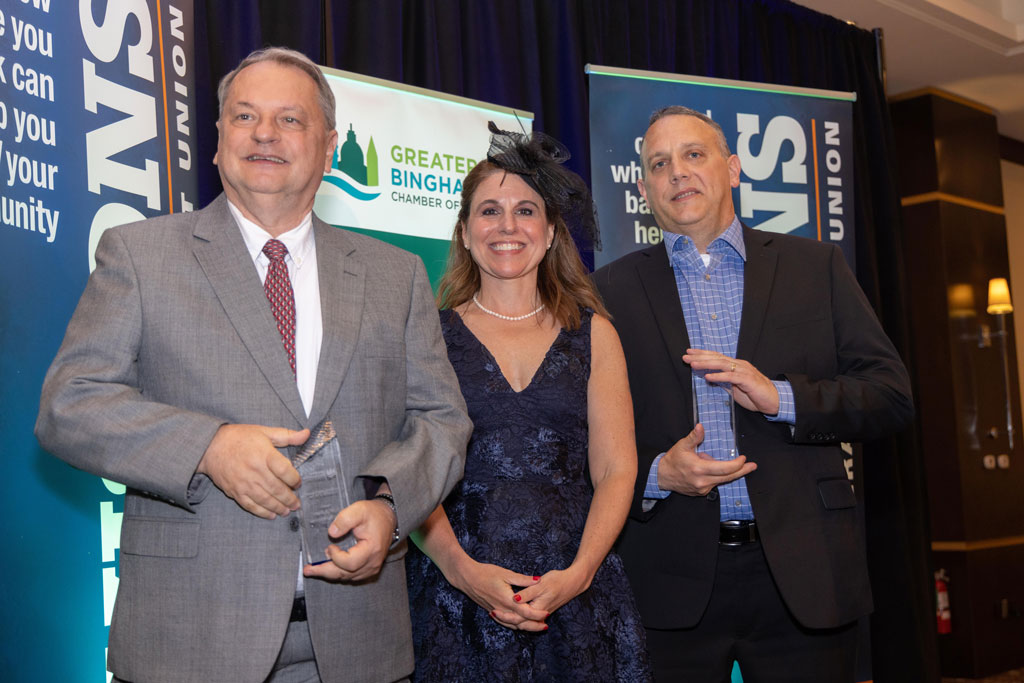 Don Entwistle, Broome-Tioga BOCES
and Joe Julian, SUNY Broome

The Volunteer of the Year Award recognizes the dedication of one of our many Chamber volunteers. The Chamber is fortunate to have so many dedicated volunteers who deserve recognition. Without them, we would not be able to accomplish our mission.
The Chamber is so very fortunate to have so many members who step up to volunteer and become, in essence, an extension of our staff. With the Bridge Run in its twelfth year, it is fitting that this year we honor two individuals who have tirelessly recruited their students in their own criminal justice programs to volunteer to work as road marshals each and every year of the Bridge Run. Their students also support other events in the community which gives them real-world, hands-on experience as they pursue their degrees.
Don Entwistle, Broome-Tioga BOCES and Joe Julian, SUNY Broome have both unfailingly ensured we have volunteers from their schools and they also worked alongside their students at each of the events they volunteered for. We could not be more pleased than to honor these two long-time Greater Binghamton Bridge Run supports this year.
2022 Civic Leader of the Year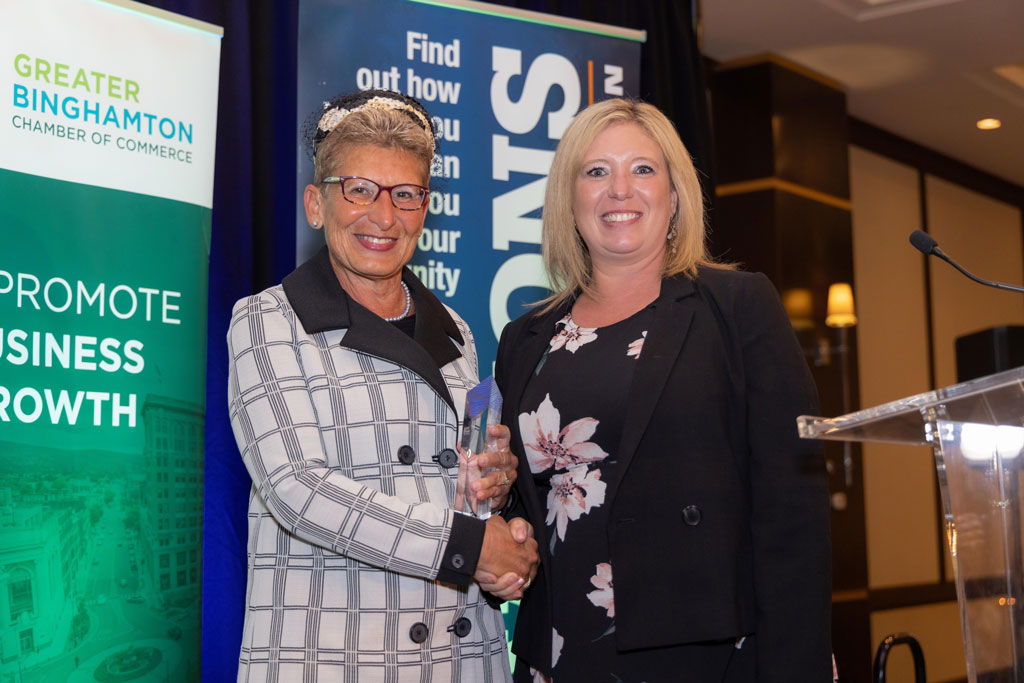 Ellen Feldman
Retired, IBM Endicott

The Civic Leader of the Year shows evidence of having had a long-term beneficial impact on the community. They demonstrate civic engagement by using a combination of knowledge, skills, values and motivation to make a difference in our communities.
Broome County has been Ellen's home for over forty years. She started her career at IBM in 1978 as an entry-level programmer and retired in 2013 as a Global IBM Vice President. Utilizing the skills she developed throughout her professional career, Ellen also followed her passion to volunteer for a variety of non-profit organizations. Ellen has focused on those non-profits who serve vulnerable, marginalized or underserved populations and those that advance the academic and social achievements of people of all abilities. And what an impact Ellen has had!
Having a son with intellectual and developmental disabilities ignited her passion to serve on the ACHIEVE Board in a variety of roles. As President of the Board for five years, Ellen worked to ensure the successful merger of Broome-Tioga ARC (ACHIEVE) with the ARC of Chenango County. As a result of the merger, ACHIEVE now serves over two thousand individuals with a staff of over three hundred employees and a budget of over 30 million dollars. Ellen expanded her role to serving in multiple leadership roles with ARC New York in addition to Central New York and Broome County. ARC New York supports a workforce of sixty thousand who provide services to over one hundred thousand individuals with intellectual and developmental disabilities.
Since her retirement from IBM, Ellen has served as a certified SCORE (Service Corps of Retired Executives) counselor to work with non-profits to help them build realistic implementation plans for sustainability.
In 2017, Ellen joined the Board of Animal Care Sanctuary, one of the oldest and largest no-kill animal shelters in the United States. She now serves as President and has led a successful capital campaign; achieved record level of adoptions, grew their revenue base and rescued more animals than in any other time in the shelter's history.
Ellen's enthusiasm for education is evidenced in the program she initiated that leverages the human animal bond by using rescued animals and the animal world as a context for applied learning for students in kindergarten through grade 12 in the Union-Endicott and Johnson City school districts. This program encourages kindness, teamwork, structured decision-making and research and will be expanding into other local school districts.
Kelli Krieger, Union-Endicott English Teacher sums it up nicely: "Ellen embodies every positive attribute that we want to see in our Civic Leaders…smart, kind and tenacious, Ellen is the leader who sees an idea through to fruition ensuring that all parties are better for having participated."
Thank you to all of our annual dinner sponsors including: Title Sponsor: Visions Federal Credit Union; Wine Sponsor: Sam A. Lupo & Sons, Inc.; Award Presentation Sponsors: Excellus BlueCross BlueShield, Security Mutual Life Insurance Co., of NY, Spectrum Reach; Theme Sponsor: Toyota; and Creative Sponsor: IdeaKraft.