Congratulations to our 57th Annual Dinner Award Winners
2021 Co-Entrepreneurs of the Year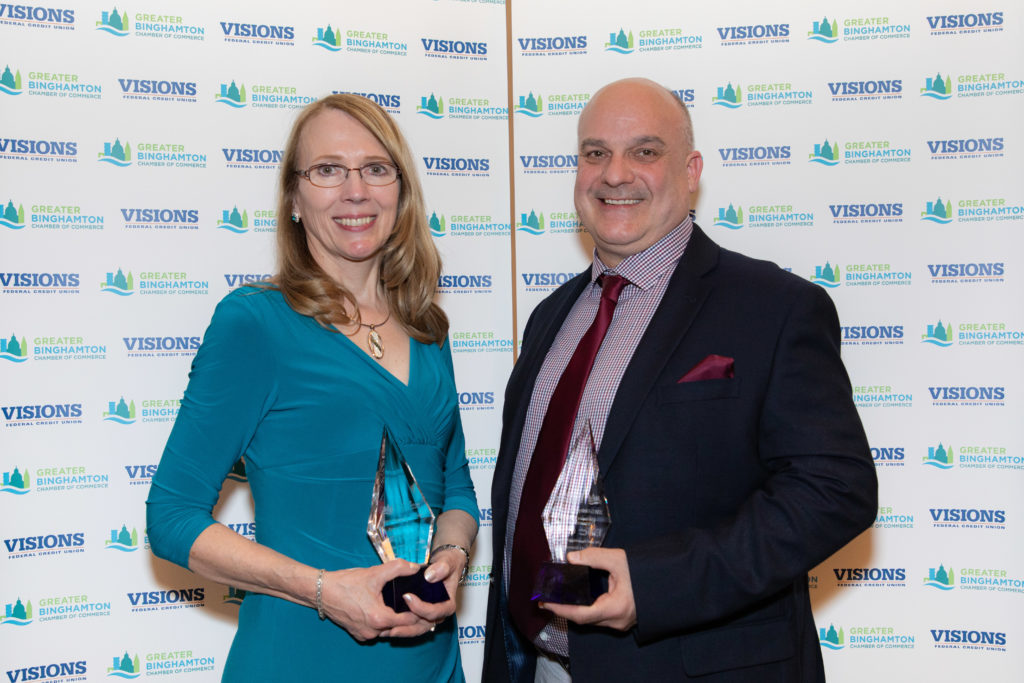 Kathy Pagnani, President and Eric Cole, Vice-President
Java Joe's Roasting Company, Inc.
The Entrepreneur of the Year exemplifies leadership and entrepreneurial skills. They show a willingness to take risks and demonstrate exceptional vision that contributes to business success. This person exhibits personal drive, focus, innovation and business acumen.
One of the successful characteristics of entrepreneurs is to take adversity and turn it into advantage. In the aftermath of nine-eleven, 2001, Kathy and Dave Pagnani discovered that the shipping lanes for their coffee to supply their successful café were closed. They were determined to not be in that predicament ever again. So, they decided to roast their own coffee! In 2002, partner Eric Cole was brought on board and Java Joe's Roasting Company was created!
They were one of the first in their industry to take their high-end customized specialty coffee to the fundraising market through their Fundraising Junction division. They soon had a national footprint with distributors in the Midwest and the West! With the onset of Covid, they again innovated and created a new and safe contact-free way of fundraising!
As the company now focuses on getting their coffees directly to consumers, they are experiencing a rebirth.
A lot of innovation has gone into Java Joe's and continues to be a part of their growth and success.
Some of the examples of innovation include: the creation of original in-house sales and production software; the creation of innovative gas controls for the roasting process and the creation of flavor mixing tools that improve efficiency. They use chemical-free, natural processes when roasting and their packaging is environmentally friendly. Over the years, they have formed working relationships with local companies to create new and exciting products with their coffees and to provide additional revenue streams for everyone involved. These products include coffee-infused chocolates, fudge, ice cream and even coffee-infused honey!
If you visit the Broome County Regional Farmers Market on the weekends, you know that Java Joe's is a cornerstone vendor and they have brought customized specialty coffee to farm stands throughout the region. Kathy and Eric are strong community advocates and very visible supporters of the greater Binghamton area.
Kaitlyn Sirna is the Program Manager at The Center for Agricultural Development and Entrepreneurship and she sums it up very well: "Java Joe's is a charismatic, service-based entrepreneurial company dedicated to lifting others up as they continue to expand and build their longstanding businesses which have exemplified resilience and dedication."
2021 Small Business Person of the Year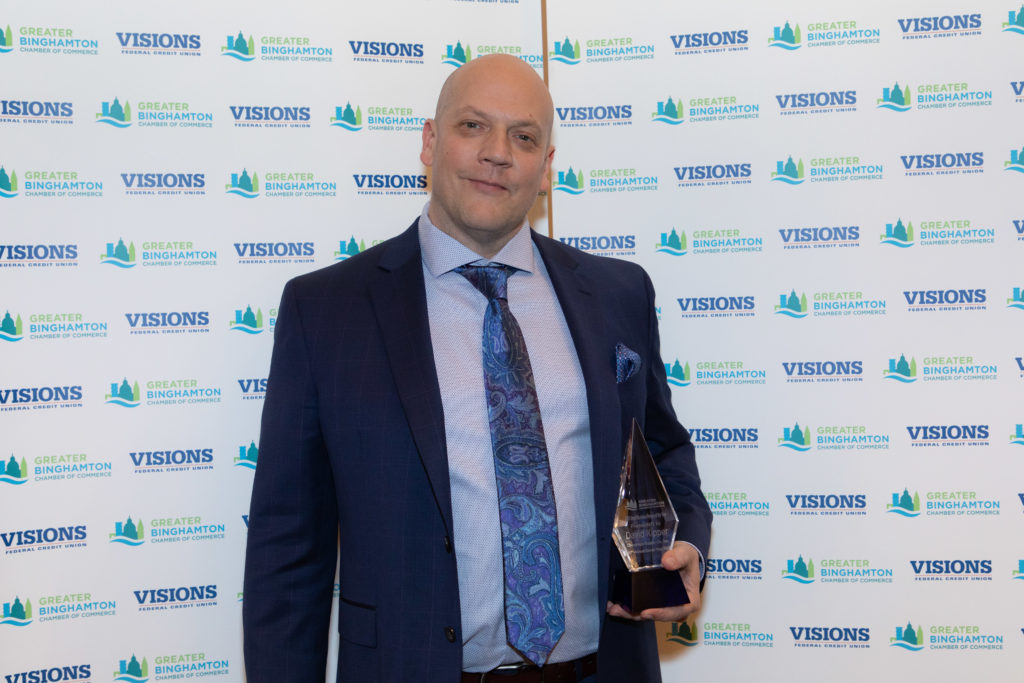 David G. Kipper, Owner
Chenango Supply Company, Inc.
The Small Business Person of the Year shows evidence of growth in the number of employees; the business must have a minimum of 5 full-time employees and growth in sales with an emphasis of the past 3-5 years. They must show innovation of their products or services and contribute to their community.
Chenango Supply Company is a family-owned warehouse on Susquehanna Street that has been in Binghamton for three generations! Irving and Josephine Kipper, David's grandparents, started the business in their garage and the trunk of Irving's car! In 1962, they purchased a garage on Susquehanna Street and that's where Chenango Supply is still today.
Let's fast forward to 2015 when David inherits the business, which is in a decline. The building had major structural issues, inventory was low with limited product lines and there were no cash reserves. With only five employees including himself, David set out to restore the company and make it viable in the twenty-first century. And he did!
With his experience as a tour manager for Feld Entertainment which involved managing employees and inventory for the equivalent of a small village that had to pick up and move one to three times a week, he was well-equipped to take on the challenge of invigorating Chenango Supply Company!
His first step was to establish a strong online sales presence, and he increased their lines of product and depth of inventory. David's goal was to have a store where contractors could find everything they needed with a knowledgeable sales team. And it worked. The sales force now stands at twenty; the building has received much-needed improvements; the showroom has doubled in size; there is now a company fleet that can make deliveries to customers and seventeen new product lines were added. Five years ago, the sales were $650,000; last year's were just shy of $4 million!
There is no success without excellent employees. At Chenango Supply they are treated like family. A brightly painted Children's Room, equipped with a homework table, television and dress up area was built so if childcare falls through or there is a snow day, which never happens in Binghamton, their employees know they can bring their child to work. With all the improvements, Chenango Supply is still committed to their community.
Every year they organize a spring clean-up on Susquehanna Street involving all the residents. Afterwards, there is a cookout for everyone involved. They collect toys for children and food for CHOW during the holidays. And they recently matched funds with the American Legion to build two new visitation booths in a local nursing home, so families had a safe way to visit during the pandemic. They are always happy to donate baskets and money to many local charities. I think their motto sums it up nicely… they are "small enough to listen..big enough to deliver."
2021 Distinguished Chamber Volunteer of the Year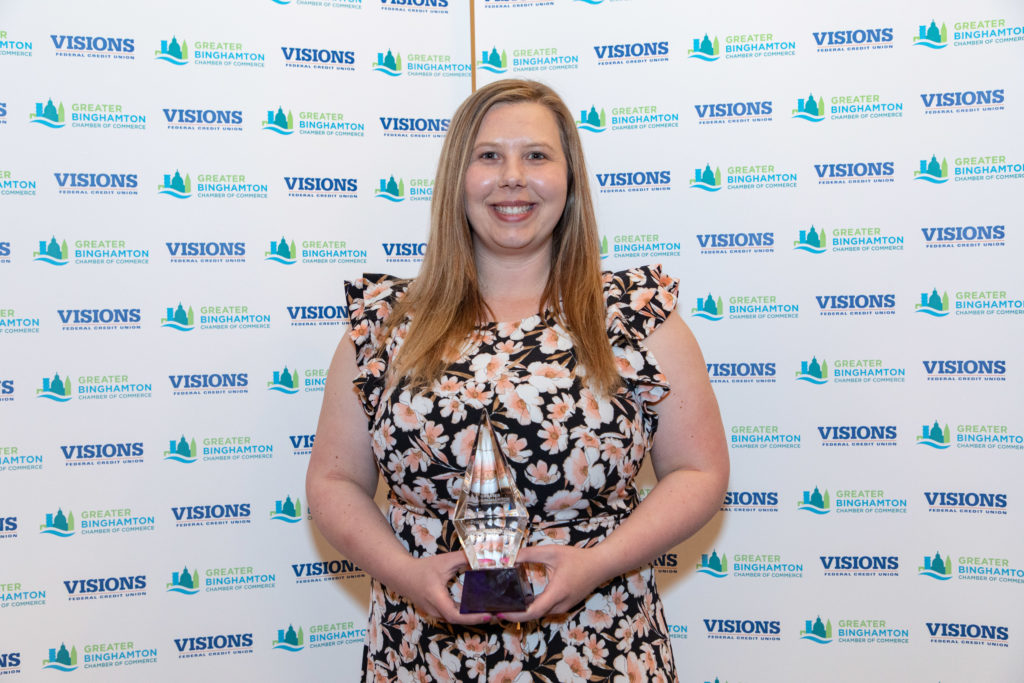 Alexa Langeland, Owner
Alexa Langeland – State Farm Agency
The Volunteer of the Year Award recognizes the dedication of one of our many Chamber volunteers. The Chamber is fortunate to have so many dedicated volunteers who deserve recognition. Without them, we would not be able to accomplish our mission.
Alexa jumped into volunteering for the Chamber from the get-go; so much so that we can't remember a time when she wasn't volunteering for us!
Alexa loves the fact that she was able to start her own business in her hometown at the age of twenty-seven!
While running your own business might be all-consuming for most people, it's not for Alexa! She gives so much of her time and talents to the Chamber and many community organizations and events!
She is an engaging and enthusiastic Planning Committee member for the Chamber's annual Young Professional Summit which is now in its fifth year. She sponsored the 2020 HYPE Awards, an event dedicated to celebrating our outstanding local YP's and she helped as a Master of Ceremonies for this all-virtual event.
She volunteered with SPARK in early 2020, which was a day-long interactive career experience for local eighth-grade students-nearly two thousand of them- and she is a Junior Achievement volunteer for Kindergarten students.
She has taken on a new role with the Chamber's Young Professional Alliance as the Chair of the Marketing Committee with the United Way of Broome County's Emerging Leaders Society. She and her team enjoy participating in the United Way's Day of Caring helping the Phelps Mansion Museum and Tri-Cities Opera in recent years.
You can always pick out Alexa and her team at the Chamber's Annual Clambake–they always proudly wear the State Farm red shirts! We are grateful to Alexa for sponsoring last year's event even if it did run differently with two shifts of attendees!
Outside of work, Alexa volunteers to coach the Vestal Youth Cheer Team. She serves on the American Cancer Society's Making Strides Planning Committee and she has been a Color Run volunteer and a volunteer for the Children's Home.
Alexa really enjoys helping around the holidays too! She has helped Synergy Athletics with their Trunk or Treat and the Santa and Mrs. Clause Drive Thru! What fun!
Over 2300 years ago Aristotle said that "the essence of life is to serve others and do good." I cannot think of a more appropriate quote about Alexa Langeland. We are grateful to her commitment to serve not only our Chamber but our community as well with her upbeat, and enthusiastic attitude and her resolve to do good!
2021 Civic Leader of the Year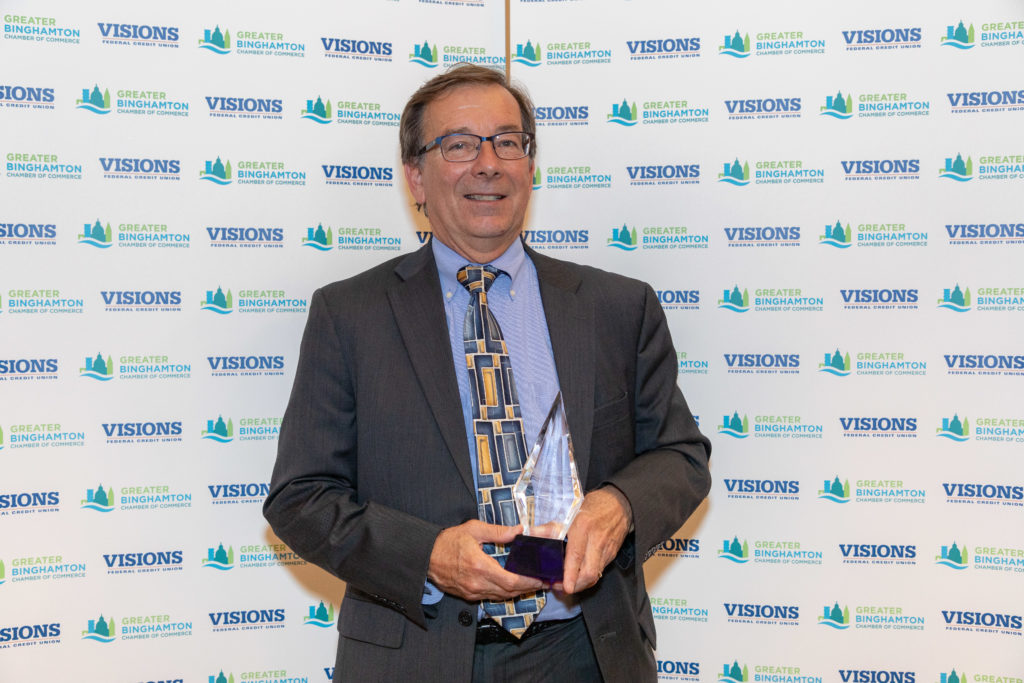 Mark Gorgos, Esq. Managing Partner
Coughlin & Gerhart, LLP

The Civic Leader of the Year shows evidence of having had a long-term beneficial impact on the community. They demonstrate civic engagement by using a combination of knowledge, skills, values and motivation to make a difference in our communities.
Mark is the Managing Partner for Coughlin and Gerhart and has been practicing law in our community since 1980. As the Managing Partner, Mark's responsibilities involve overseeing and coordinating the firm's donations, sponsorships and public service events in the community. In 2019, Coughlin & Gerhart received the NYS Bar Association President's Pro Bono Award in the mid-size firm category. Pro bono work has always been an important cause for Mark.
Arlene Sanders, Director of Pro Bono Programs for the Legal Aid Society of Mid-New York, said "Under Mark's leadership, Coughlin & Gerhart makes pro bono service a strong priority within the firm." Mark and his firm have been supporters of Legal Aid's annual fundraiser, the Race for Justice 5K Run/Walk which has raised over $50,000 to benefit its programs.
A large part of Mark's time is dedicated to the community; he has served as Roberson Museum and Science Center's Board President since 2017. Sometimes as Board President, unusual issues arise as in 2019 when, over a Holiday weekend, a pipe burst! Mark was there to lend a hand with clean up and restoration. As trustees from the Roberson Board move on to serve other organizations, they bring the examples Mark sets for Board service and thus Mark's positive impact and influence continue throughout the community.
Beyond work, for more than thirty years, Mark has been a fixture in the area's local youth sports leagues. He has coached soccer, baseball, softball and basketball. He was recognized for his accomplishments in youth soccer by being one of four finalists for the National Youth Soccer Coach of the Year.
Elizabeth Woidt, Director of Parks, and Recreation and Youth Services for Broome County talks about "Broome Bands Together", a free summer concert series presented by Coughlin & Gerhart which takes place at Otsiningo Park. Started in 2013, it is a safe, free and family-friendly event for residents and visitors. She says: "Mark is an outstanding ambassador for Coughlin & Gerhart as well as Broome County Parks. He has a burning desire to promote the quality of life in Broome County."
Mark has been a member of the Community Foundation for South Central New York Board of Directors since 2016. He is chair of their Planning Committee and a member of the Personnel Committee. Diane Brown, Executive Director jokes that being a member of their Board is a "lifetime commitment". She says Mark is exactly the person she looks to for leadership…"he is knowledgeable, thoughtful and unflappable."
Thank you to all of our annual dinner sponsors including: Title Sponsor: Visions Federal Credit Union; Wine Sponsor: Sam A. Lupo & Sons, Inc.; Award Presentation Sponsors: Excellus BlueCross BlueShield, Security Mutual Life Insurance Co., of NY, Spectrum Reach.