Congratulations to our 56th Annual Dinner Award Winners
2020 Entrepreneur of the Year
Mark Yonaty, Owner
M. B. Yonaty Development/Greater Binghamton Development
The Entrepreneur of the Year exemplifies leadership and entrepreneurial skills. They show a willingness to take risks and demonstrate exceptional vision that contributes to business success. This person exhibits personal drive, focus, innovation and business acumen.
Mark is a Binghamton native through and through and started working in the family Hess Station on State Street at a very young age.
Mark always loved downtown Binghamton and knew he wanted to make a difference somehow. He began purchasing properties in the downtown business district and renovating them. His many projects include the historical Press Building, the Lackawanna Train Station, Social on State restaurant and the upscale loft apartments above it and Craft Bar & Kitchen. His most recent project, the vacant Sheltered Workshop, is now a state-of-the-art outpatient clinic for veterans thanks to Mark's vision.
Not only is Mark busy with renovations and revitalizing downtown buildings, but he is dedicated to giving back to the community. He serves as a mentor for Launch Pad, a business plan competition for high school students and he is a Patriot Ambassador, acting as a sounding board for ideas and initiatives for the Binghamton City School District.
Binghamton Mayor Rich David says of Mark: "…he never let the negativity of others stop him from taking risks and working toward his vision for both his business and the community."
2020 Small Business Person of the Year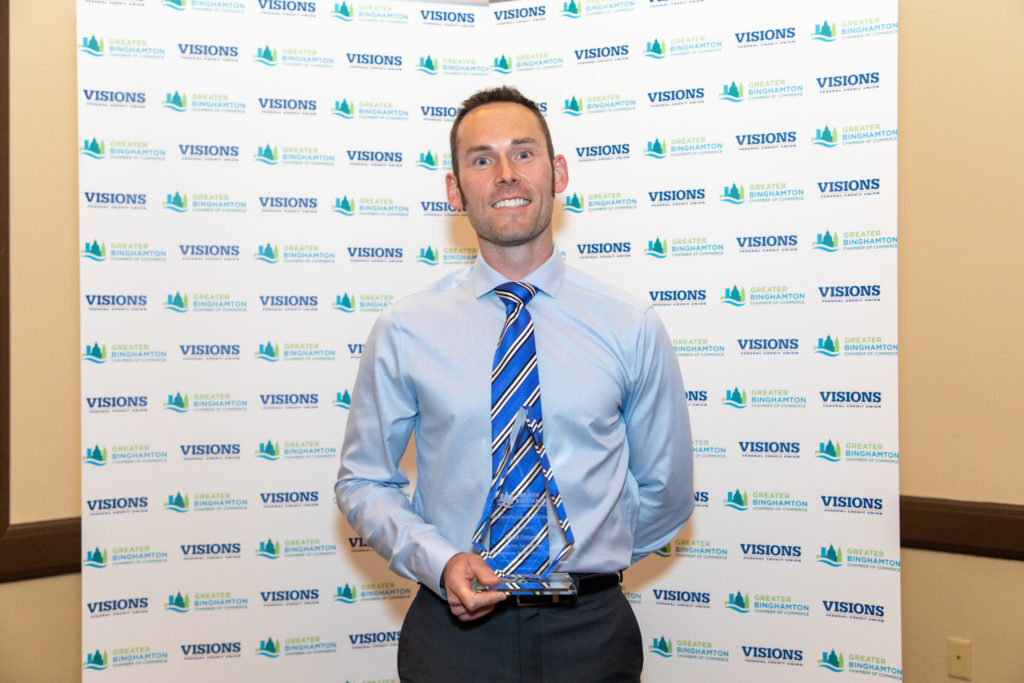 Patrick Dickerson, President
Mountain Top Clambakes
The Small Business Person of the Year shows evidence of growth in the number of employees; the business must have a minimum of 5 full-time employees and growth in sales with an emphasis of the past 3-5 years. They must show innovation of their products or services and contribute to their community.
Mountain Top Clambakes is a family-owned catering business which Patrick and his wife Sarah purchased from Patrick's parents in 2015. They provide the total clambake experience for their guests and even have an on-site complimentary wedding planner to help brides.
They have two locations and a food truck, which has served them well as they navigate this challenging business climate.
Staffing has grown from 25 employees in 2014 to 70 employees in 2019. They consider their staff their most important asset and offer a Simple IRA to any existing or new staff!
Sales have grown a total of 49% from 2015 through 2019. To increase the freshness of their food and decrease costs, they buy direct from the processors or harvesters, thus passing the savings on to their customers.
Patrick and Sarah are dedicated to their community; the list of fundraisers they organize and donations they make is extensive and include the American Cancer Society, the Humane Society, the Disabled American Vets, Mom's House and Southern Tier Aids program, to name just a few.
Jeff Schapiro, President of Cleaner's Supply summed it up very nicely when he said: "Pat exemplifies how working hard, being innovative and genuinely understanding what customer service is about are the essential components for any small business to grow. His interaction with his employees…is something to be commended."
2020 Distinguished Chamber Volunteer of the Year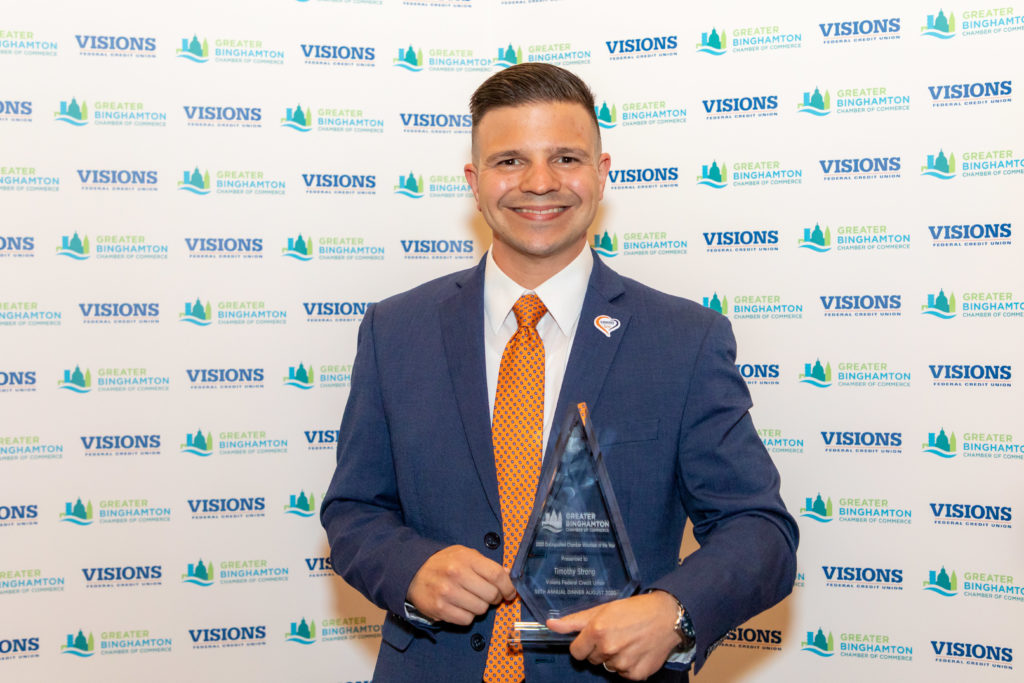 Tim Strong, Community Development Manager
Visions Federal Credit Union
The Volunteer of the Year Award recognizes the dedication of one of our many Chamber volunteers. The Chamber is fortunate to have so many dedicated volunteers who deserve recognition. Without them, we would not be able to accomplish our mission.
In his role at Visions, Tim oversees philanthropic giving, sponsorship and grant programs for the credit union; he manages and promotes employee volunteerism and supports political advocacy efforts. There could not be a more perfect role for Tim. He embodies the true spirit of volunteering! Tim has served on the Greater Binghamton Education Outreach Program Board since 2014 and has been the President since 2017. Under Tim's guidance, GBEOP has transformed to an increased role in workforce development in our region.
Tim serves on the Chamber's Board of Directors as the non-voting member representative for GBEOP.
We can't talk about Tim's Chamber involvement without talking about the Young Professional Alliance and the YP Summit. In late 2016, the Chamber embarked on a new path to include our area's young professionals in the Chamber. The YP Alliance was created as a new strategic partnership with area young professional groups. Tim stepped up as the Chairman of this new group for two years, helping to shape its mission. This partnership would not have seen the success it did without Tim's guidance and leadership.
Concurrent to the formation of the Alliance, a new event was created, and in 2017, the first Young Professional Summit was held. Again, Tim was there, leading, offering invaluable advice to make this first-time event a success. And it was a success and continues to be as we prepare for the 2020 YP Summit with Tim's continued help with his innovative ideas for this challenging year.
Tim, there is so much more you do for us; you are there to help whenever we ask. You give of your time freely and generously and we are so grateful!
2020 Civic Leader of the Year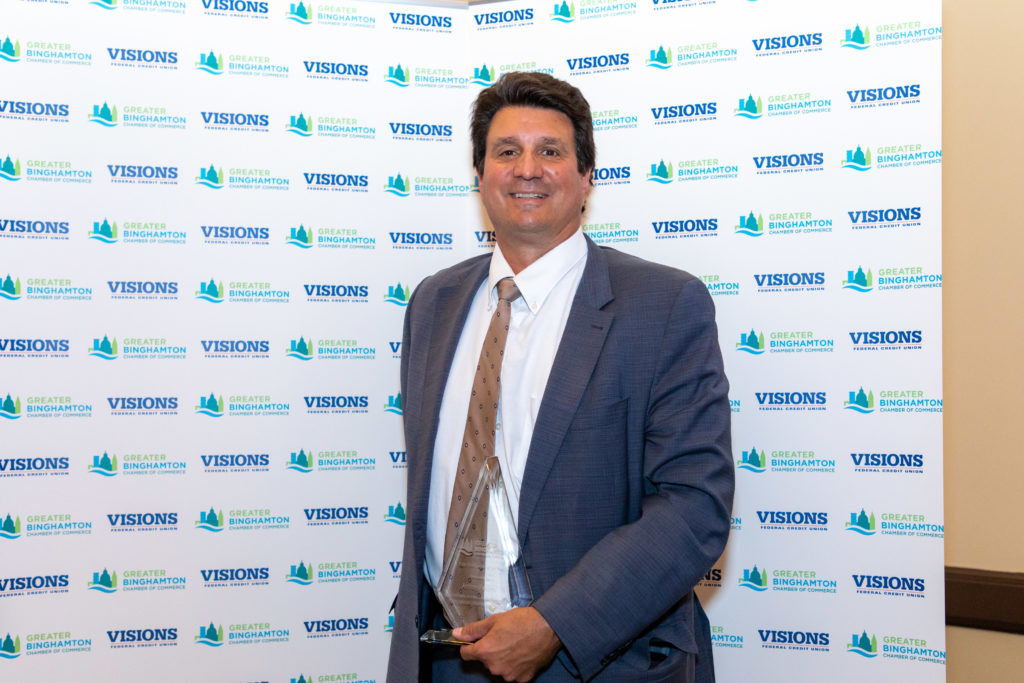 Anthony Paniccia, President and CEO
Delta Engineers, Architects & Land Surveyors, DPC
The Civic Leader of the Year shows evidence of having had a long-term beneficial impact on the community. They demonstrate civic engagement by using a combination of knowledge, skills, values and motivation to make a difference in our communities.
Anthony is President and CEO of Delta Engineers and Land Surveyors working his way up from Engineer upon his return from working in Silicon Valley. He was born and raised in Endicott and has a strong sense of community and what it means to belong to that community. The organizations and projects he is involved with exemplify that commitment and passion.
He is currently Board President of Spiedie Fest, which he has been involved with for several years. As you know that festival has grown to over 100,000 attendees with over one million dollars being given to Broome County organizations and causes. He served as Trustee of the BCC Board for five years and a Foundation member for over 10 years. Anthony established a Delta Engineering Scholarship Foundation to help students pursue their dream of a higher education.
Anthony helped develop and start Mercy House in Endicott, a beautiful community care shelter for the terminally ill. He has served on their Board for six years and is an ex-officio Board Member chairing the strategic committee.
The best way to get a true sense of Anthony as Civic Leader is through those who know him well. Dr. James Terzian says: "Our area is very fortunate to have dedicated individuals like Anthony as one of our shining stars and would be a much better off with more people like him."
2020 Community Champions Award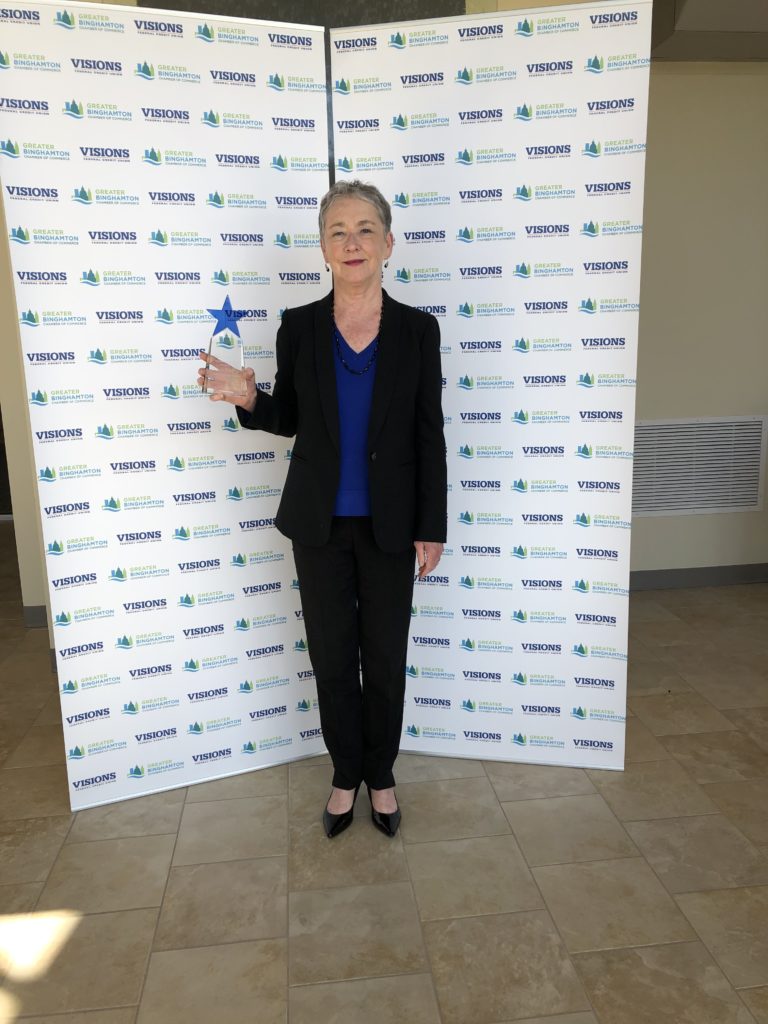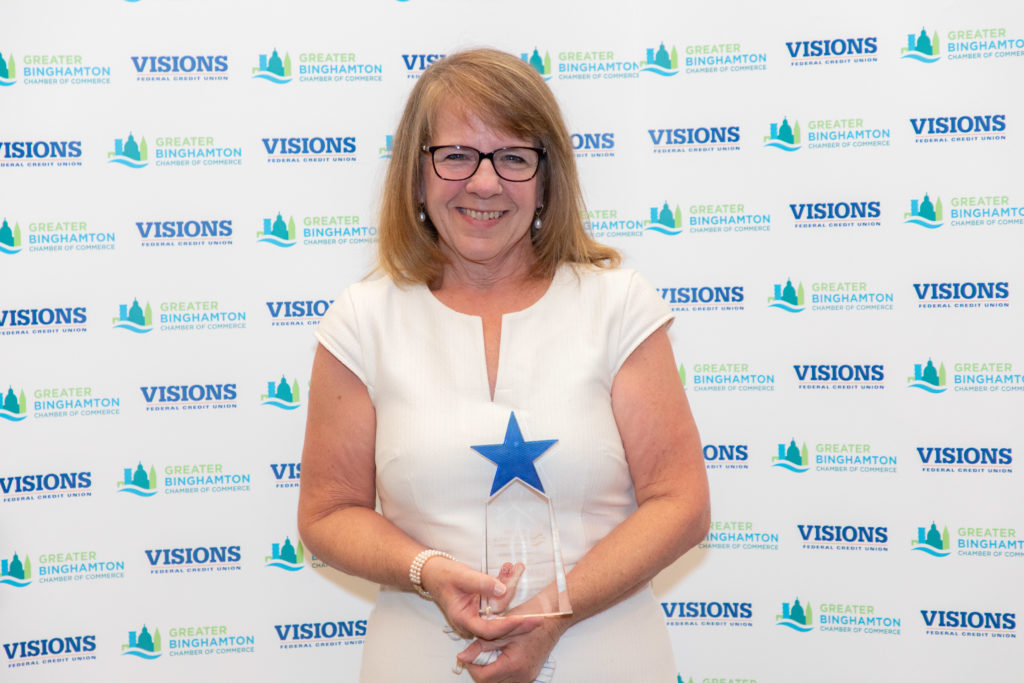 Diane Brown, Executive Director, Community Foundation for South Central New York
LoriAnne Welch, Executive Director, United Way of Broome County
This has been and continues to be an extraordinary year. From the onset of the pandemic, two local agencies led by two extraordinary women went above and beyond to help our community. Diane Brown is the Executive Director of the Community Foundation for South Central New York and LoriAnne Welch is the Executive Director of the United Way of Broome County. For this reason, the Chamber decided to honor these women with a very special Award: the Community Champions Award. This Award serves to recognize and acknowledge the hard work and innovation and commitment of Diane and LoriAnne through difficult and unprecedented times.
One shining example of Diane's efforts was the formation of a foundation so non-profits could apply for much-needed financial relief. Together with LoriAnne and the United Way of Broome County and other foundations, the Broome County Funders Alliance Covid-19 Relief Fund was established. Lori and her team at United Way have continued non-stop with offering help and connecting volunteers with area food organizations to pack up desperately need boxes of food.
Diane and LoriAnne, we cannot thank you enough for your efforts and continued efforts in helping our community during this crisis.