2022 Greater Binghamton Job & Career Fair
2022 Greater Binghamton Job & Career Fair
THURSDAY, SEPTEMBER 8, 2022
2:00 P.M. – 6:00 P.M.
HOLIDAY INN BINGHAMTON
CONFIRMED COMPANIES (AS OF 9/06/2022)
ACHIEVE
Amrex Chemical Co., Inc.
BAE Systems
Binghamton City School District
Broome County Department of Social Services
Broome OPWDD
Broome Tioga Workforce
Buckingham Manufacturing Co., Inc.
CFE, Inc./Evans Roofing Company
The Children's Home
Community Options New York, Inc.
Coughlin & Gerhart, LLP
EMT Metals
Express Employment Professionals
Family & Children's Counseling Services, Inc.
Ferrellgas
Five Star Equipment
Gearcor, Inc.
Good Shepherd Communities
Greenlight Networks
H&R Block
HCA
Helio Health
Holiday Inn Binghamton
homePLUS
iA
Keller Williams Greater Binghamton
Lourdes Hospital
McIntosh Labs
Mirabito Energy Products
New York State Department of Corrections and Community Supervision
New York State Veterans Home Oxford
North Atlantic States Regional Council of Carpenters
Rapid Response Monitoring Services
Rural Health Network of SCNY, Inc.
Scorpion Security Products, Inc.
Security Mutual Life Ins. Company of New York
Southern Tier 8 CREST
Stafkings Personnel and Stafkings Healthcare
Susquehanna Home Care Agency
Susquehanna Nursing & Rehabilitation Center, LLC
The Raymond Corporation
Tioga Downs Casino Resort
TownSquare Media
Triple Cities Metal Finishing
Trivium Packaging—Carousel Ballroom
Unity House of Cayuga County Inc.
Vestal Army Career Center
Visions Federal Credit Union
Volunteers of America Upstate New York
Walmart
WBNG-TV
Willow Run Foods, Inc
WIVT-TV/News Channel 34
YMCA of Broome County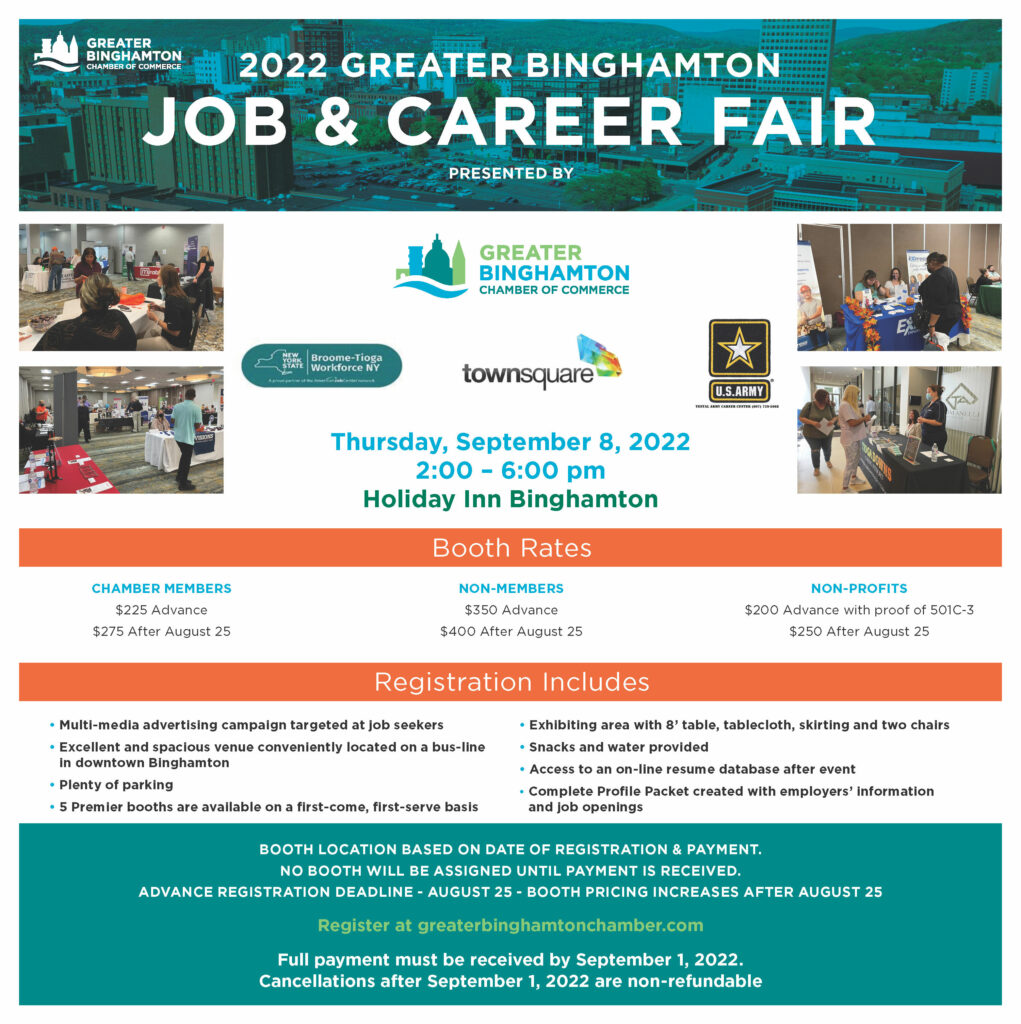 Is your company hiring? Register now for the 2022 Greater Binghamton Job & Career Fair.