2021 Greater Binghamton Job & Career Fair
2021 Greater Binghamton Job & Career Fair
Thursday, September 9, 2021
2:00 p.m. – 6:00 p.m.
Holiday Inn Binghamton
Confirmed Companies (as of 9/7/21)
A.L. Burke, Inc.
ACHIEVE
AMETEK PDS
Amrex Chemical Co., Inc.
Auchinachie Plumbing, Heating & Air Conditioning
Bates Troy, Inc.
Broome-Tioga Workforce
Buckingham Manufacturing
Children's Home
Community Options, Inc.
Crothall Healthcare
D & R Technical Solutions, Inc.
Eastern Staffing & Recruiting
Express Employment Professionals
Family Enrichment Network
GHS Federal Credit Union
Good Shepherd Fairview Home, Inc.
Greater Binghamton Health Center
HCA (Helping Celebrate Abilities)
Helio Health – Binghamton Evaluation Center
Hinman, Howard & Kattell, LLP
iA
LaBella Associates
Lourdes Hospital
Magic 101.7/102.5 The Vault
McIntosh Laboratory, Inc.
Mirabito Energy Products
National Pipe & Plastics, Inc.
Plumbers & Pipefitters Local 112
The Raymond Corporation
Southern Tier Independence Center Inc.
Springbrook, NY Inc.
Stafkings of Binghamton, Inc.
Tioga Downs Casino
TravelCenters of America – Binghamton
Trivium Packaging
UHS Ideal Senior Living Center
United Health Services
Vestal Army Career Center
Visions Federal Credit Union
WBNG-TV & Binghamton CW
Willow Run Foods, Inc.
WIVT-TV
JOB SEEKER INFORMATION:
View the job seeker packet here.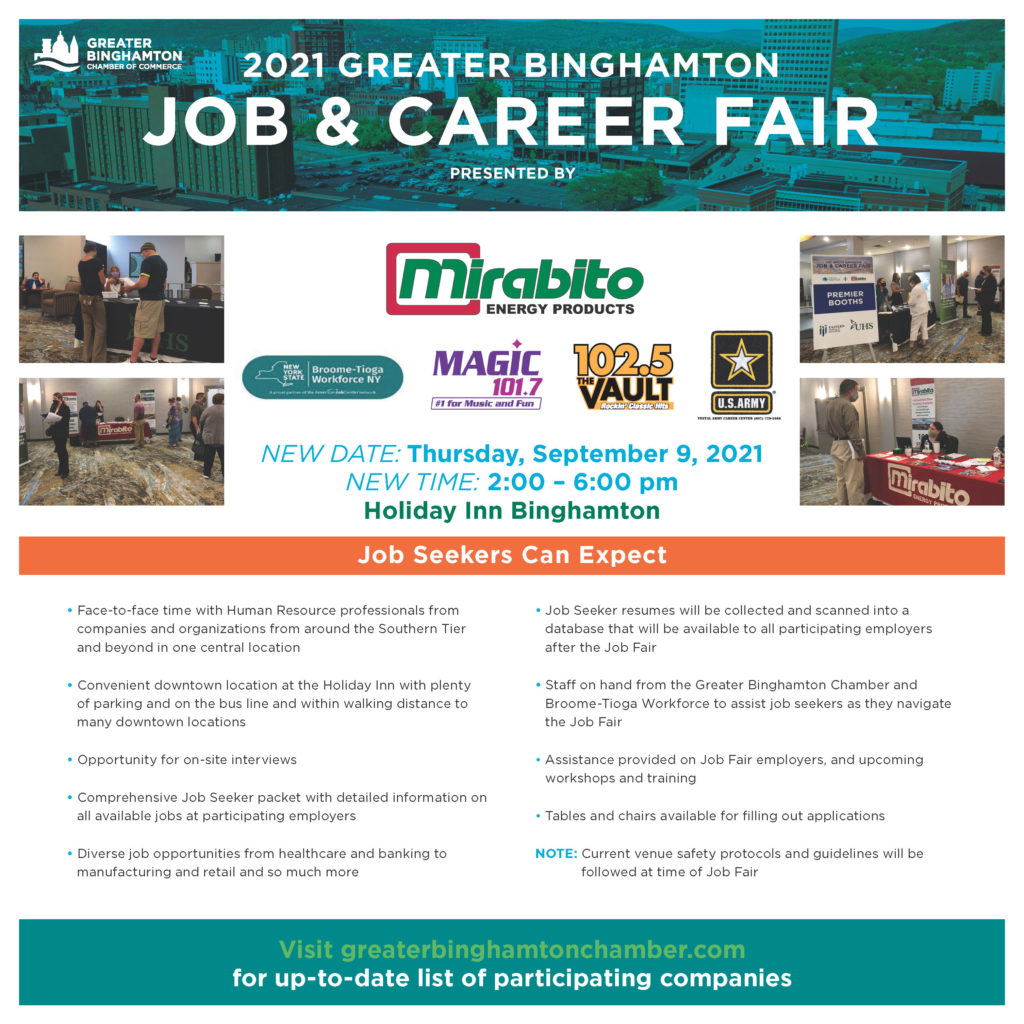 Is your company hiring? Register now for the 2021 Greater Binghamton Job & Career Fair.