Congratulations to our 2021 Building BC Award Winners
The Greater Binghamton Chamber is pleased to congratulate and recognize the Chamber's 2021 Building BC Award Recipients:
2021 Innovative Award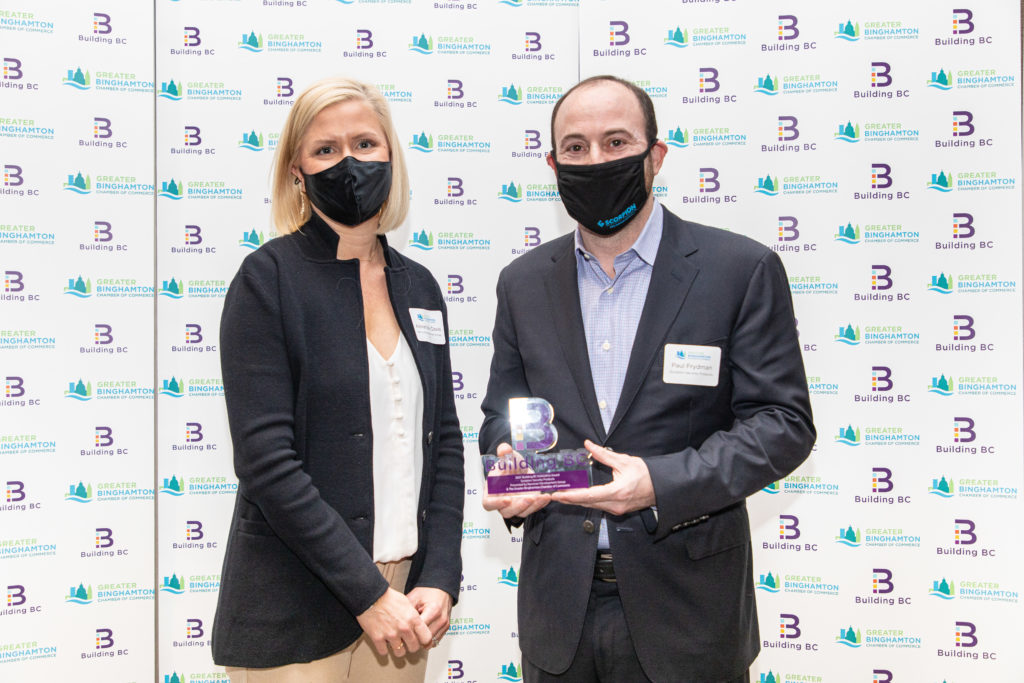 Presented to: Scorpion Security Products
Accepted by: Paul Frydman, COO of Scorpion Security Products
This Award recognizes a project, product or service that "thinks outside the box" and continues to stretch the boundaries and has proven to be a leader in innovation.
Scorpion Security Products is a proven leader in innovation for retail security products. Founded in 2008 by CEO, Pete Gulick, Scorpion has secured four fully issued patents and 15 patent pending products. Their mission is to provide retailers of all sizes with the most secure and engaging consumer merchandising experience possible. Their specialty is display security for handheld electronic devices.
Scorpion Security Products designs and develops cutting-edge security products that address the frequent changes in the market. Scorpion addresses the pain points of their customers and can design and develop a working prototype in less than one month. Their line of core products (Scorpions) and their innovative software based technology, SWIS (Scorpion Wireless Intelligent Security) were created to help retailers both large and small, protect their merchandise. Their products can be used to protect devices in a small electronics repair shop or to protect dozens of devices for large, big box retailers. Scorpion has been contracted by international powerhouse companies such as Walmart, Verizon, T-Mobile, AT&T, Sprint, Google and many more.
Scorpion participates in the New Visions Business Academy Program and works with 15-20 high school interns over an 8-month period. They believe it's important to integrate with the local community, especially at the high-school level—and find it very rewarding to be able to mentor interns and help them gain experience in all aspects of a functioning business. Scorpion also takes great pride in supporting their veterans, especially on a local level. They employ veterans whenever possible but also partner with companies that support veterans.
Lastly, Scorpion Security Products, Inc. was Angel Investor funded by local Southern Tier businessmen in 2008. Of the many start-up companies funded by these local, highly successful businessmen, Scorpion is the only surviving company, has created 20+ jobs in the process and continues to see growth.
2021 Transformative Award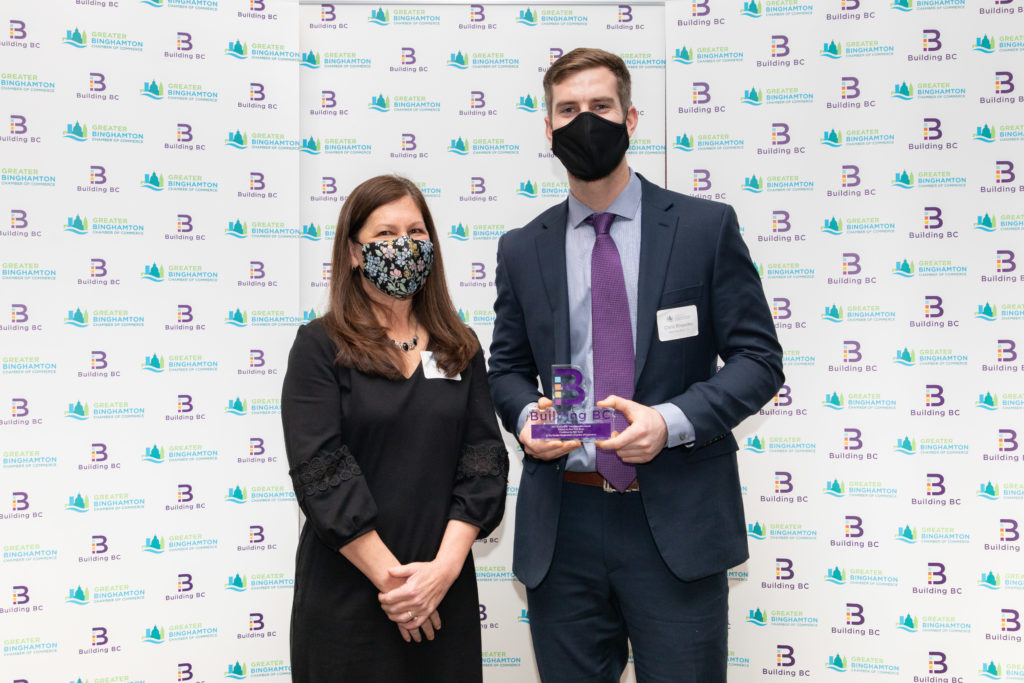 Presented to: Factory by Beer Tree Brew
Accepted by: Chris Rhoades, Co-Owner of Beer Tree Brew
This award recognizes a project that impacts the entire community and fosters growth of those around it.
What started as a dream on a family hop farm quickly turned into a reality rooted in human connection, passion, and quality. Established in 2017 in Port Crane, we at Beer Tree Brew have made it our mission to obtain the best quality ingredients combined with the most hardworking people in order to bring you the most immaculate experience we can," said Beer Tree Brew Co-Owner Chris Rhoades.
The new Factory by Beer Tree Brew is home to Beer Tree's Production & Packaging facility as well as their second taproom and restaurant. All of which is housed in a 23,500 sq. ft. (formerly) vacant building on the North end of the Oakdale Mall (the old SEARS building). Beer Tree renovated the 23,500 sq. ft. building and purchased equipment to turn it into a 13,500 sq. ft. production brewery, 2,000 sq. ft. kitchen, 3,000 sq. ft. restaurant, and 5,000 sq. ft. taproom, along with an added 3,400 sq. ft. deck. With the production and packaging facility, Beer Tree is creating a national and global distribution network. In addition to increased production, the project has resulted in the creation of at least 45 new full-time positions at this renovated facility.
"Our new destination features state-of-the-art dining within the walls of the former Sears building. The two story facility features our pristine brews, mouth-watering eats, and a set of garage doors that open up to our 3,400 sq. ft. deck for customers to enjoy an outdoor experience. Customers can also sip on our brews in the downstairs taproom while peering through the glass walls into the production facility, giving them that 'tap to table' feeling," Co-Owner Brendan Harder said.
Moving into the historic Sears building in the Oakdale Mall has provided the mall with a success story. Critical investments such as the one Beer Tree Brew has made are essential to the success and revitalization of the Oakdale Mall. This new attraction is sure to attract locals and travelers to the mall and help spur economic activity.
Having the opportunity to expand Beer Tree Brew into Factory has allowed them to create an environment where people can come together safely and make memories. It also impacts the economic development within the community, contributing to the overall success and wellness of Johnson City.
2021 Restorative Award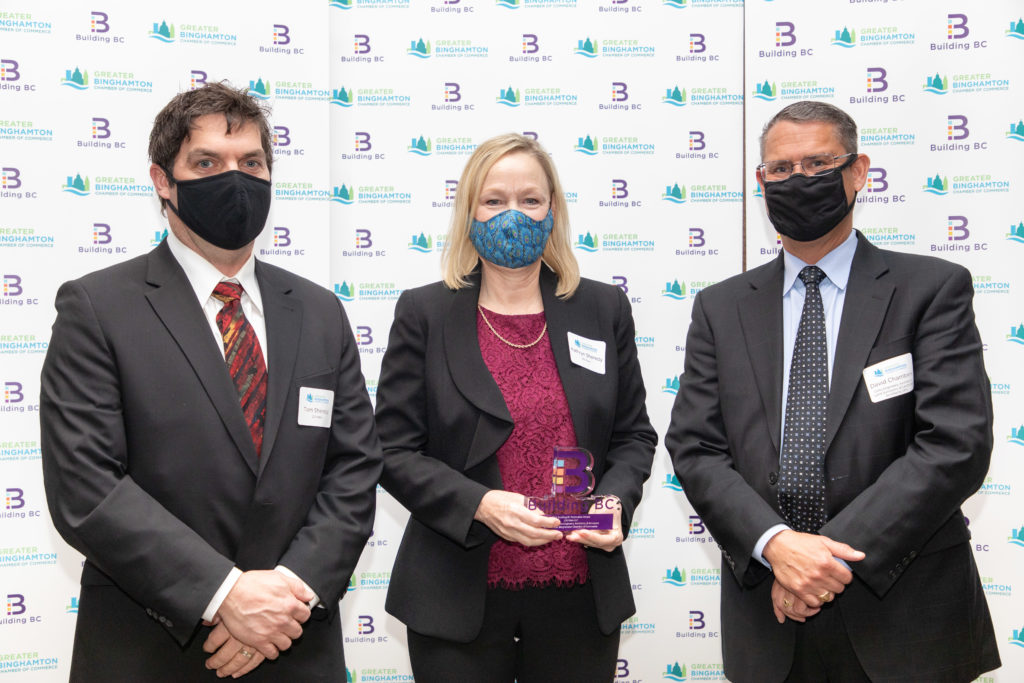 Presented to: 250 Main LLC
Accepted by: Tom & Kathy Sheredy, Owners of 250 Main LLC
The Restorative Award recognizes a project that brings new life into an aging building.
The 250 Main St. project brought new life to a 121-yearold building that was uninhabitable and in great disrepair. Tom and Kathryn Sheredy's goal was to renovate and restore the 3-story building in Johnson City to its original glory by preserving its historic character and architecture. They viewed it as an opportunity to bring new life and purpose to the structure with a passionate vision to spur momentum for the revitalization of downtown Johnson City.
The Sheredy's say that choosing to restore the building instead of building new added value to their project and the community they live in. It is a visual reminder of Johnson City's rich historical past and cultural heritage that they know is important to be preserved. As with most buildings constructed in that era, it was built with quality materials such as brick and old-growth wood which have stability and durability, deeming it sturdy and built to last. In addition, the architectural details on the exterior and interior of the building are interesting and unique, giving the building its character.
Extreme lengths were taken to retain the historic nature of the building. For instance, the first-floor commercial storefront and residence entrance was reconstructed to replicate the era of the original build. The exterior brick was repaired and made beautiful again by re-pointing the missing mortar that matches the original. The cornice at the top center of the building, which is an original architectural design element, was preserved. Even the windows, doors, and transoms were replaced without changing the original dimensions. The commercial space in the building was completely renovated including preserving the original tin ceiling. A coffeehouse where the community can gather will occupy the space in the future. The second and third floors have been transformed into modern 2-bedroom, one bath apartments that include outdoor decks on the back of the building.
The Sheredy's ambitious intention to restore the building at 250 Main St. J.C. has come to fruition and is now a special part of the history of the Village.
2021 Individual Award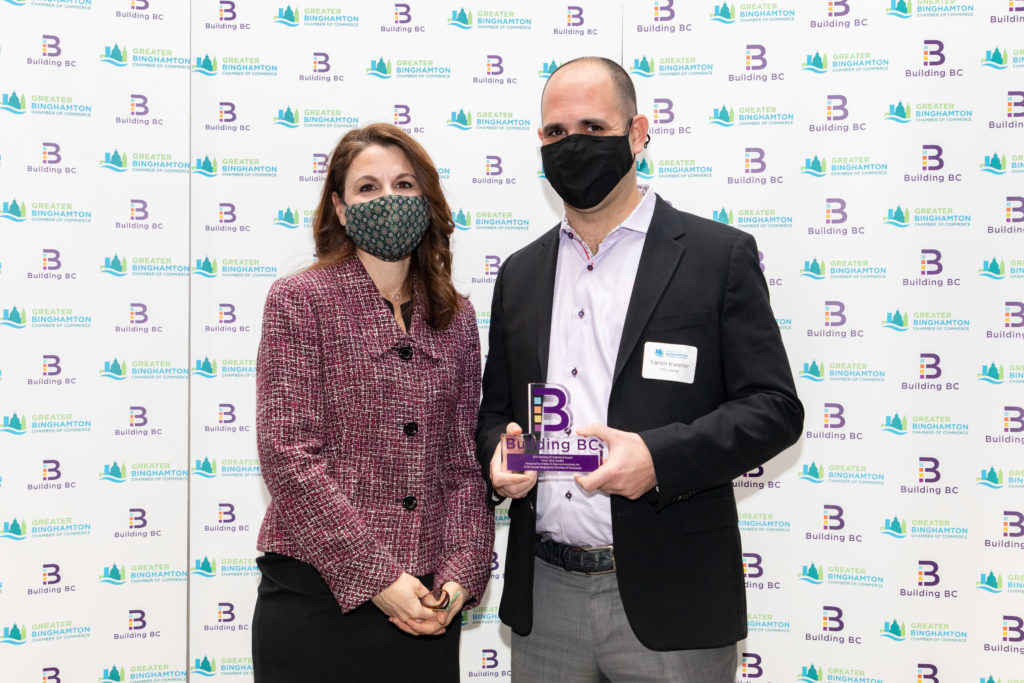 Presented to: Yaron "Ron" Kweller
Accepted by: Yaron "Ron" Kweller, An Owner of The Colonial, Dos Rios Cantina and The Stone Fox
This award recognizes an individual whose investment positively impacts the quality of life and job growth to ensure the success of the region's communities and economy.
Yaron "Ron" Kweller has been a significant contributor to the revitalization of downtown Binghamton. For over 13 years, he has been putting his time and effort in the redevelopment of numerous commercial properties. With several partners, he led the development of three restaurants: The Colonial opening in 2015, Dos Rios Cantina in 2018, and The Stone Fox in 2020. These restaurants together help create a food destination in the heart of downtown Binghamton.
The Colonial, Dos Rios Cantina and The Stone Fox have pushed the envelope in the dining scene, including enhancing the look and feel of the city streetscape with their beautiful decor, outdoor seating, decks, seasonal decorations, and bright lights. They strive to create a unique, fun, and inviting atmosphere with delectable selections of food and drinks. The restaurants hold many awards and numerous accolades for its cuisine and distinctive style of hospitality.
According to Ron, "The Colonial was part of a bigger vision as well for downtown; it was not just another restaurant idea. As a previous student, I wanted to bridge the gap between the student population and the community. My partners and I (two of whom were also BU students and who are from the area) wanted to create a place where a professor, a young professional, or a family could sit next to a student and feel comfortable together. That integration between the student population and the community was very important for us. That mix of energy is crucial for the student experience and for the overall downtown vibe."
The Colonial opened in 2015 to great success. After a few years of planning, Dos Rios Cantina, a modern Mexican Restaurant, opened in July 2018 right next to The Colonial. Dos Rios strived to push the envelope of what people expected from a restaurant in Binghamton. The Food Network named Dos Rios' burrito as one of the best in the country. The creative ventures continued, one as a "pop-up" take-away fried chicken restaurant that opened for the summer of 2020. The most recent venture, The Stone Fox, features fast fired artisanal pizza.
After NYS PAUSE, Ron Kweller was instrumental in helping the City find ways to get outdoor dining set and functioning in downtown Binghamton. He worked with the City and other business owners to find ways to safely reopen within state laws and guidelines. Not only did this benefit Ron's restaurants, but his work also benefitted all restaurants and businesses in downtown Binghamton.
Ron Kweller is a proud board member of Broome County Arts Council as well as Vestal Little League. The restaurants have long supported its community by donating to numerous local events, charities, and civic organizations including LUMA Projection Arts Festival, CHOW, HCA, ACHIEVE, A Room to Heal, Humane Society, and many others.