Congratulations to our 2017 Fall Awards Winners
2017 Community Advocate of the Year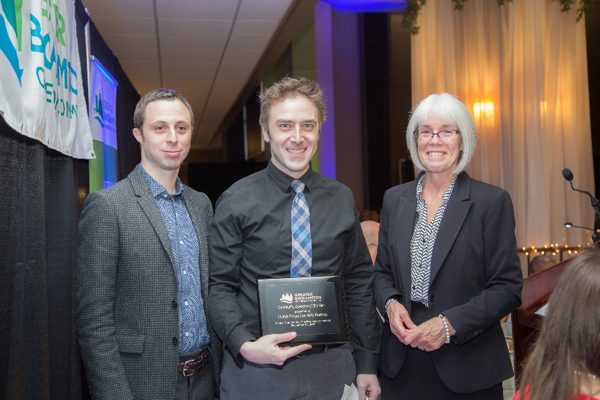 Tiger Ventures, Union-Endicott Central School District

Accepted by: Joshua B. Ludzki, Operations Director; Nick Rubenstein, Creative Director and Tice Lerner, Research Director
Presented by: Cathy Maliwacki

This Award is given in recognition of a grass-roots organization, event, or festival that has made an extraordinary contribution to the improvement and/or enrichment of the neighborhood that it serves within the Greater Binghamton community.
The mission of the LUMA Projection Arts Festival is to create a "world-class" festival in Binghamton, to generate unprecedented tourism to the region and restore a sense of community pride in what our area has to offer.

In its three short years, it has accomplished that and so much more! What is LUMA exactly? If you have not been in downtown Binghamton to experience it, this is what you have missed.

LUMA is a projection arts festival, focused primarily on projection-mapping which is the art of using a 3D model of a large structure to create the illusion that the structure itself is transforming.

In addition to the local creative geniuses of Joshua Ludzki, Nick Rubenstein and Tice Lerner, the festival engaged local artists, international animators and student programmers so they could build an event far beyond what our community has ever offered in terms of entertainment.

In year one, LUMA attracted 20,000 people to downtown Binghamton; this past September 30,000 people attended the Festival!

Visitors came from Rochester, Albany, Philadelphia, Ithaca and beyond.

Artists from all over the world took part in LUMA this year; they hailed from Barcelona; Budapest; San Francisco and New York City. These artists in turn share information and media from the event to their contacts. The social media posts for LUMA have reached into the hundreds of thousands!

One of LUMA's goal is to showcase Binghamton as a city offering cutting-edge entertainment and lifestyle options. With media mentions from a diverse cross-section of the population, it serves as evidence that LUMA is indeed a "game-changer" in terms of the way outsiders view Binghamton. We look forward to seeing what is next for LUMA!


2017 Non-Profit Executive Leadership Award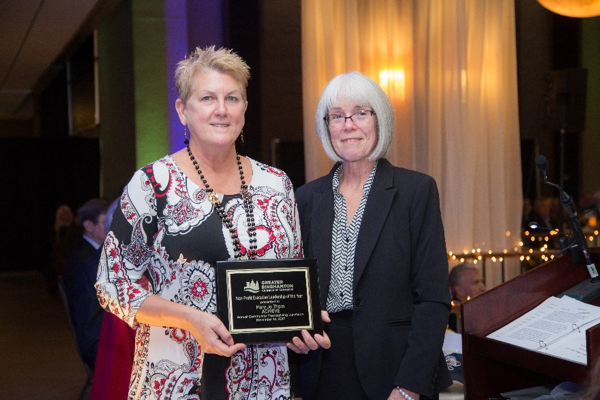 Mary Jo Thorn, CEO of ACHIEVE


Presented by: Jon Sarra

This inaugural award recognizes an Executive of a Non-Profit organization who exemplifies the knowledge, skills and leadership necessary for effective non-profit management; this award must be endorsed by the organization's board of directors.

Mary Jo Thorn became CEO in 2005.

ACHIEVE's mission is to advocate for an enhanced quality of life through skill development, inclusion and integration and independence of persons with intellectual developmental and other disabilities. Back in 2005, the organization provided services in only Broome and Tioga Counties and had a budget of approximately $12 million; since then, they have expanded to include Chenango County as a result of a merger with Chenango County ARC. The operating budget is now at $33 million and they are a major employer in the three counties it serves with 550 employees. Under Mary Jo's direction, the individuals served has grown to over 2,200 individuals.

ACHIEVE prides itself on responding to community needs. When the Sheltered Workshop closed in 2012, ACHIEVE stepped in to transition 80 individuals into their employment center who may otherwise have lost services.

ACHIEVE partners with Binghamton University, SUNY Broome, Marywood University, SUNY Cortland and many businesses throughout our area. Mary Jo takes an active role in our community, serving as a member of the Excellus Regional Advisory Board and she is a board member for the New York State Industries for the Disabled.

In 2013, Mary Jo was chosen to be the New York State Woman of Distinction by Senator Tom Libous. This award was created to recognize the historic contribution of New York women who exemplify personal excellence, courage, selflessness, integrity and perseverance and serve as an example to all New Yorkers. This award Mary Jo said was "humbling, yet also a challenge to live up to the standards of the award through a journey of continued hard work."

There is so much Mary Jo has accomplished, a quote from a letter from Ellen Feldman, President of the Board of Directors of ACHIEVE says it best: "Mary Jo is an excellent CEO, leader and spokesperson for ACHIEVE. She is recognized as an outstanding professional having the highest integrity. She significantly enhances the public image of ACHIEVE and those we serve". She is "extremely effective in a highly regulated, fiscally challenged and extremely dynamic industry."


2017 Corporate Citizen of the Year Award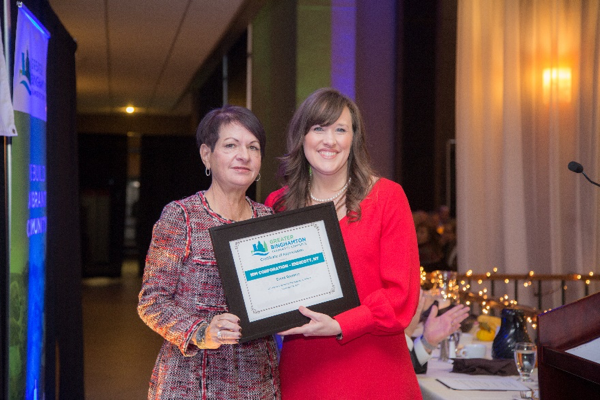 IBM Endicott


Accepted by: Mary O'Malley Trumble
Presented by: Jon Sarra

This award recognizes a company that has made not only a financial commitment to the Greater Binghamton area, but has also demonstrated leadership and hands-on employee participation.

IBM Endicott has a proud tradition in this area, serving as the birthplace of IBM Corporation. Though IBM Endicott has changed throughout the years, what has not changed is the commitment of their executive leadership, employees and retirees to this community. They remain one of the top ten major employers in Broome County and salaries of their employees are higher than the median household income. As the Committee read through their nomination paperwork, it was a unanimous decision to honor IBM Endicott with this award.

The breadth and scope of their charitable contributions and their active involvement in all facets of our community is difficult to explain in a short period of time—I will give you some of the highlights.

IBM Endicott annually gives $500,000 to our community through funding, in-kind services and volunteer hours. The annual Employee Charitable Contribution Campaign, which includes retirees, enables employees to specify a monetary amount to be donated to local charities of their choice. $210,000 was donated to local charities including the United Way of Broome County, the American Cancer Society, CHOW, Tioga United Way, Life Choices Center, Mom's House, American Red Cross and Habitat for Humanity.

In 2016, IBM Endicott donated over $225,000 which included everything from signs for Little League baseball fields to major sponsorships for organizations like the Dick's Sporting Goods Open, the Broome County Arts Council and the American Red Cross, to name a few. This year, IBM was the Title Sponsor for the 2017 Engineering Week at the Watson School of Engineering at BU and was the Major Corporate Sponsor for the 2017 Hyperloop competition, which challenges university teams to design and build the best transport Pod. Only 24 teams were invited to participate in this competition!
Canstruction is a relatively new event in our area, sponsored by the BLI Alumni Association. Since its inception in 2014, IBM Endicott has consistently been one of the large corporate participants. This annual event benefits CHOW and the Food Bank of the Southern Tier. This year IBM Endicott received the "Go Big or Go Home" award for their consistent supersized displays – utilizing 9,000 cans, plus bottles of water to create this year's display.

I think LoriAnne Welch, Interim Director of the United Way of Broome County and her Board Chair, Suzanne McLeod, summed it up best in their letter of support: "The accomplishments of IBM Endicott are appreciated and will continue to be important to the growth of our community. Their innovation and vision for excellence as well as strong community partnerships are reflective of a successful company with core values that exemplify what it means to "Live United".